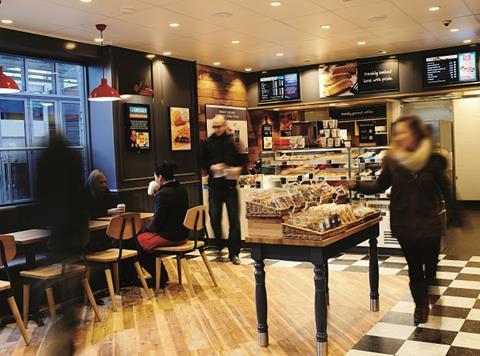 Top Story
Greggs (GRG) has continued to enjoy strong trading in the first four months of its financial year but scrapped its previously announced share buyback in favour of a special dividend.
Sales for the 16 weeks to 25 April were up by 5% and like-for-like sales in its own shops up by a higher than expected 5.9%.
In a trading update issued this morning, Greggs said it completed 69 shop refurbishments during the period and plans to refit 200 to 220 shops this year. It opened 24 new shops, including 17 franchised units in transport locations, in these four months and closed 18 shops – giving it a total of 1,656 shops (comprising 1,594 of its own shops and 62 franchised units).
The bakery firm has also completed a review of its capital structure and has decided not to carry out the proposed share buyback announced at the time of its preliminary results. Instead, it will pay out a special dividend of 20p per share, a distribution of £20m, "given the current strong cash position and expected cash requirements for the year ahead".
Greggs remains upbeat for the year ahead, stating: "The strong start to 2015 has been supported by rising consumer disposable incomes and low input cost inflation. We expect market conditions to remain favourable and support a good first half performance, ahead of our previous expectations. In the second half of the year we will come up against stronger sales comparables and a less certain cost outlook. However we expect to deliver good growth for the year as a whole and further progress against our strategic plan."
Morning update
Sainsbury's (SBRY) has updated the market on a bizarre legal case in Egypt involving CEO Mike Coupe. Coupe was sentenced to jail in Egypt two years over allegations that last July he tried to seize cheques connected to an Egyptian business Sainsbury's invested in 16 years ago. Coupe was convicted in absentia in September last year and, according to The Times, has subsequently travelled to Egypt to appeal the decision.
This morning Sainsbury's strongly rejected the court's finding, stating: "This relates to a historic commercial dispute in which Mike Coupe had no involvement… Mike Coupe was not employed by Sainsbury's at the time of the original business deal in 2001 and has never met the complainant.
"In September 2014 Mike Coupe was convicted, without notice of the proceedings against him and in his absence, in an Egyptian Court. We have taken all necessary steps to appeal against these groundless claims and will continue to do so. This process is being handled by our legal team and we do not anticipate it having any material operational or financial impact on the company."
Chocolate supplier and retailer Thorntons (THT) also issued a trading update this morning, though it was far more downbeat with falling sales in both its retail and fmcg businesses. For the 15 weeks to 25 April 2015, Fmcg sales decreased by 6.7% to £26.5m, with UK commercial sales down by 6.1% largely due to reduced orders from one retailer. Retail sales fell 5.4% to £27.7m, though like for like sales were broadly flat at 0.1% and remain up 1.5% for the year-to-date.
Jonathan Hart, Thorntons' chief executive, commented: "The sales decline in UK Commercial is now solely due to reduced levels of orders from one customer which have continued into the second half of the year. We are, however, encouraged by positive sales across the balance of our trade partners.
"Looking ahead to our fourth quarter we remain cautious about the outlook for the full year and continue to maintain strict control of costs as the economic situation is still challenging for many of our shoppers and trade customers."
This morning also saw an interim management statement from British American Tobacco (BATS). BAT saw revenue increased by 1.7% at constant rates of exchange for the three months to March 31, however the strong dollar meant revenues declined by 5.8% at current rates of exchange. Cigarette volumes decreased by 3.6% to 152 billion, but market share grew by 40bps. Chief executive Nicandro Durante said BAT "continued to perform well in the first three months of the year despite the challenging trading environment".
Greggs shares were up 1.5% in morning trading to 1,092.9p, but Thorntons has slumped by 9.3% to 75.2p so far today.
Yesterday in the City
UK shares fell yesterday as the City reacted to the disappointing 0.3% quarterly UK GDP growth and weaker consumer confidence data coming from the US.
The index fell 1% to 7,030.5pts, with most of the sector's major fmcg firms involved in the sell-off. Reckitt Benckiser (RB) was 1.6% down to 5,916p, Imperial Tobacco (IMT) was 1.8% down to 3,261p and Unilever (ULVR) slipped 1.7% to 2,929p.
One of the FTSE 100's few risers was Marks & Spencer (MKS) – up 1.4% to 555p.