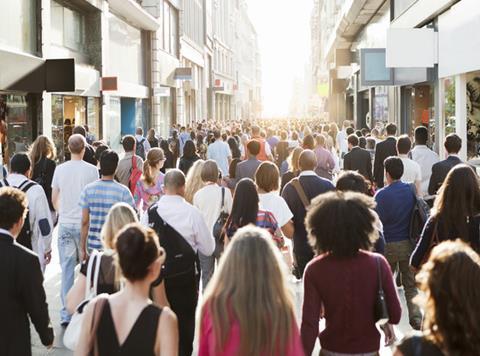 Top story
UK footfall was down 2.2% year on year in December, with traffic on UK high streets slumping by 4% according to the BRC/Springboard Footfall and Vacancies Monitor.
The 2.2% overall footfall decline was lower still than the 2.1% decline seen in November and well below the three-month average rate of -1.6%.
The high street suffered its sharpest footfall decline since November 2014, with shopping centres also a 2% footfall decline.
Footfall in retail park locations increased 2.1% year-on-year, slightly above November's 2.0% rise.
The only region or nation to report a rise in overall footfall was Scotland, albeit marginally at 0.2%.
Helen Dickinson, BRC Chief Executive, said: ""Retailers are having to revamp their businesses in order to respond to the profound changes in the way we are all shopping.
"This trading environment should also be considered with the impact of the industry's regulatory burden. BRC analysis shows that the combined cost of policy announcements since the General Election adds up to approximately £14bn over the next five years."
Diane Wehrle, Marketing and Insights Director at Springboard, said: "The surge in online spending in December clearly impacted heavily on traditional urban retail destinations. The catalyst was the plethora of online discounts on Black Friday which then continued throughout December;
"Whilst urban destinations undoubtedly have long term immovable constraints in terms of their built fabric, retailers trading in these locations need to harness the opportunities created by the new shopping reality – a demand for greater convenience, choice and customer service – and deliver offers and environments that excite and entertain shoppers, so incentivising them to abandon the sofa and tablet for the store."
Morning update
After the plethora of Christmas trading updates last week, things are quietening down again this week with no grocery market announcements of note this morning.
Home Retail, owner of Sainsbury's (SBRY) target Argos, has confirmed this morning it has reached an agreement to sell Homebase to Australian contemporary Wesfarmers for a cash sum of £340m.
Home Retail said the deal "realises good value for shareholders" and will enable it to "focus on the ongoing transformation plan at Argos".
John Coombe, chairman of Home Retail Group, said: "We believe that this is the best deal for shareholders and for the business. Wesfarmers is an experienced and successful retailer with exciting plans to invest in and grow their presence in the UK through Homebase.
"This transaction crystallises value for our shareholders from our ownership of Homebase and specifically the work that we have been doing through the productivity plan. Following completion of this transaction, the Board will remain focused on the continuing transformation of our Argos business and the options for delivering shareholder value, supported by a strong overall financial position."
Home Retail's shares have risen 3.5% to 150.5p in early trading, having traded at below 100p before news of Sainsbury's approach broke.
It's been a solid start to the week on the markets, with the FTSE 100 up 0.5% to 5,831p.
There's little dramatic movement so far in the grocery/fmcg sectors. The biggest mover is Fevertree (FEVR), which has dropped 5.2% to 517.5p after its massive share price growth throughout 2015. Also down this morning, despite the good news of last week, is Morrisons (MRW), which is 1.5% down to 160.4p.
Forecourt operator Applegreen (APGN) is up 2.8% this morning to 394.2p and Compass Group (CPG) is up 1.5% to 1,138p.
This week in the City
The market is scheduled to calm down again this week after the hectic rush of Christmas trading updates in the first two weeks of the year.
There are still a few Christmas updates to come, most notably is the WH Smith (SMWH) trading statement scheduled for Wednesday. SABMiller (SAB) has a trading update on Thursday as its takeover by ABInBev rolls on. Also Pets at Home has an update on Wednesday.
There is more scheduled in the way of UK economic announcements.
Tuesday brings the latest CPI and RPI UK inflation figures, while Wednesday sees the release of the latest UK unemployment figures. The official ONS retail sales figures for December (including online sales) will be released on Thursday.