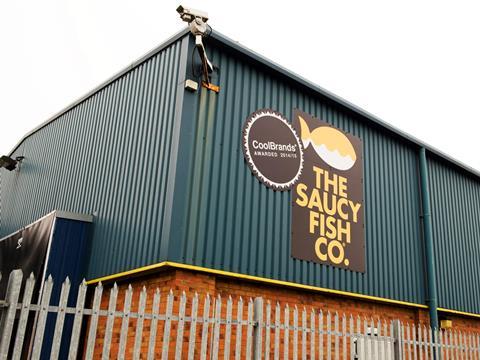 Top story
Red meat packer Hilton Food Group (HFG) has completed an £81m deal for Seachill to expand its presence to the supply of fish.
Hilton confirmed it was in talks to acquire the chilled UK fish processor and Saucy Fish Co owner, Icelandic Seachill, in August.
This morning the group, which supplies red meat to Tesco, said it had agreed to buy Icelandic Group UK, known as Seachill, for a cash sum of £80.8m. The enterprise value of the deal was £84m.
Seachill will become a standalone division of Hilton following completion, expected to happen next month, with the existing management team, led by CEO Simon Smith, remaining in place. Smith will become a divisional head of Hilton as a result.
Hilton said the transaction was "strategically and financially compelling" and was presented a n "attractive growth opportunity".
"The processing and supplying of fish and seafood into the UK is an attractive and growing market and one where we see considerable opportunities to build Hilton's business," CEO Robert Watson added.
"Our initial discussions with key customers support this view and we look forward to broadening our offering to both our UK and overseas customers alongside our existing meat business."
Hilton plans to fund the deal with a placing to raise £56m and a new debt package made up of a banking facility totalling £34m.
Numis Securities is acting as sole sponsor, financial adviser and joint bookrunner in respect of the placing. Panmure Gordon has been appointed as joint bookrunner with Numis.
Founded in 1998, Grimsby-based Seachill has grown to be one of the largest chilled fish processors in the UK, operating from three sites in the area and supplying a number of retail customers in the UK.
Tesco is Seachill's largest customer and accounts for approximately 80% of its net sales, which totalled £266.3m in 2016.
Shares in Hilton have opened 0.7% down to 783.6p - but are up 26% in the year to date.
Morning update
Like-for-like sales declined 1% to £3.2bn in a "soft" quarter for Reckitt Benckiser (RB), with the group announcing it was creating two new business units for health and hygiene.
The consumer goods and healthcare giant was hit by the cyber-attack earlier this year that affected global companies, with supply availability leading to a 2% reduction in sales in the third quarter.
Reckitt cut back its full-year like-for-like growth target from 2% to flat as a result of the challenging market conditions.
Revenues in the third quarter jumped 30% including the impact of exchange rates and the contribution from the recently acquired Mead Johnson, which grew sales 1% to $948m in the period.
"Q3 was a soft quarter as we experienced both the tail end of known issues, and the impact of a continuing challenging market environment," CEO Rakesh Kapoor said.
"Our underlying performance was in line with current market growth of around 2%. Mead Johnson Nutrition (MJN) had a better quarter, in particular in Greater China. Given these moving parts, we are now targeting flat full year LFL net revenue for the RB base business. MJN is progressing well against our reiterated H2 target of -2% to flat."
Reckitt now plans to combine its infant formula and child nutrition (IFCN) division, which has been run separately while it integrates Mead Johnson, with the health and some hygiene brands, to form the Health Business Unit (BU). The home and other hygiene brands will form the Hygiene Home BU. Each BU will be focused on and fully end-to-end accountable for its business - from innovation, through brand development and supply to the customer, Reckitt said.
Kapoor will be president of the RB Health, in addition to his role as group CEO, with the unit representing approximately 60% of revenues and including Enfamil, Nutramigen, Nurofen, Strepsils, Gaviscon, Dettol, Mucinex, Durex, Veet, Scholl, Megared, Airborne, Move Free, Digestive Advantage and Clearasil.
Rob de Groot will be president of the Hygiene Home unit, which will include Air Wick, Finish, Calgon, Cillit Bang, Harpic, Lysol, Mortein, Vanish and Woolite.
Analysts speculating that the group was being spilt to ready a sale of the hygiene side of the business.
"We have made great progress over the last five years, as we have transformed our group into one where consumer health now represents more than half of our business," Kapoor added.
"The acquisition of MJN closed earlier than planned and good progress has been made in preliminary integration. Today we effectively have two management teams in a number of our markets - both MJN and the base business. MJN provides us with both critical mass in consumer health and a fantastic opportunity to look at RB not just today, but where we want it to be in ten years time. We are working to create two focused, agile and fully accountable business units, effective from Q1 2018.
"I am very excited about our medium and long-term prospects. We expect strong growth trends in the broader consumer health category in the medium term, and our new organisational structure will provide us with a platform for growth and outperformance. The two business units will together form one RB - a single company devoted to delivering on our mission of creating healthier lives and happier homes - as well as positioning RB to deliver superior shareholder returns for years to come."
Shares fell 1.2% to 6,951p at Reckitt as markets opened this morning.
Conviviality (CVR) has appointed a new CFO to replace Andrew Humphreys, who has been in the role for the past three years and is leaving at the end of the month. Mark Moran will join the board as group CFO, effective from 30 October. He has more than 20 years' experience at CFO level across a number of different businesses, including three public companies - Porvair Plc, SSL International Plc and Premier Foods Plc. He was latterly was CFO of the private equity-owned Priory Healthcare Group before its acquisition by Acadia Healthcare in 2016.
Conviviality CEO Diana Hunter said: "We are hugely grateful for Andrew's contribution to Conviviality, having played a key role in the company's significant growth, including his pivotal roles in the Matthew Clark and Bibendum PLB acquisitions.
"He leaves with the best wishes of the board for his future career. We are delighted to welcome Mark to the company and look forward to him supporting and contributing to the company's further development as the UK's leading independent wholesaler and distributor of alcohol and impulse."
Yesterday in the City
The three listed grocer all recorded share price rises yesterday as the latest Kantar Worldpanel market share data showed the 17th consecutive month of growth. Sainsbury's (SBRY) leapt 2.2% to 249p as sales in the past 12 weeks increased 1.9% year on year. Tesco (TSCO) and Morrisons (MRW), which also recorded growth, fared less well, with a rise of just 0.3% to 235.1p and 0.2% to 186.5p respectively. Ocado (OCDO) fell back 1.2% to 297.5p.
Danone (BN) jumped 2% €70.70 after it comfortably beat analyst expectations for the third quarter. The French dairy group increased like-for-like sales 4.7% to €6.5bn as its baby formula and water businesses boomed in China.
Elsewhere, Hilton Food Group (HFG) increased 2.2% to 790p, Greencore (GNC) rose 2.2% to 190.2p and Reckitt Benckiser was up 0.5% to 7,054p ahead of this morning's results.
SSP Group (SSP), TATE & Lyle (TATE) and Britvic (BVIC) also closed in the red, down 1.6% to 559p, 1.3% to 645p and 1% to 762.5p respectively.
The FTSE 100 slipped in the late afternoon after spending most of the day up as sterling lost more ground. London's leading shares closed 0.1% down to 7,516.17 points as it was revealed that the rate of inflation hit a five-year high in September.