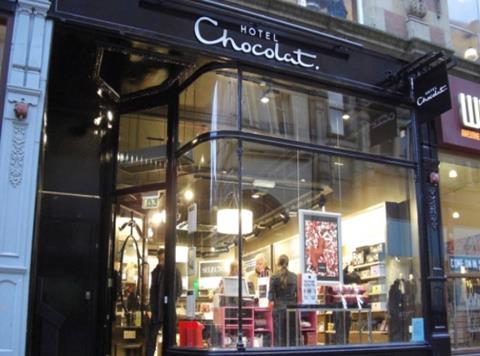 Top story
Profits have doubled at Hotel Chocolat (HOTC) as investment in new stores, a new website and expansion in factory capacity helped drive a 12% jump in full-year revenues to £105.2m.
The luxury chocolatier said in its second preliminary results statement since floating in May last year that strong cost control improved margins, with pre-tax profits up 100% to £11.2m. Underlying EBITDA also rose 32% to £16.3m in the year ended 2 July 2017.
The retailer opened 12 new stores during the period, taking its total estate to 94, with 15 of the site now including the café shop format.
Outside of retail, Hotel Chocolat invested £4m to upgrade its truffle making production line, increasing capacity for the range by 70%.
It has also won six new wholesale accounts since the year end, including Amazon, Ocado and Fenwicks department store.
CEO Angus Thirlwell said: "I am pleased to report another year of growth and good results. The Hotel Chocolat brand has continued to strengthen and we have made excellent progress with our three strategic priorities of investing further in our British chocolate manufacturing operations, growing our store estate and developing our digital offering.
"All our channels are growing. In retail, the new Shop+cafe format is proving popular, our new website has improved conversion on mobile devices and, since the year-end, we have signed six new wholesale accounts that will make it easier for consumers to buy Hotel Chocolat products.
"Given the encouraging performance of our retail and internet channels, along with the pipeline of opportunities ahead of us, we are confident of further growth. This of course depends on the availability of suitable sites. We have further improved our Christmas ranges and this year will be our biggest ever seasonal offering."
Chairman Andrew Gerrie added that despite challenges and uncertainties in the wider economy, trading since the end of the financial period had been "encouraging".
The board proposed a maiden final dividend of 1.6p per share on the back of the results.
Shares in Hotel Chocolate opened 1.5% higher at 298p, down from its peak of almost 400p in May but well ahead of the IPO price of 148p.
Morning update
Losses have widened at discount butchers chain Crawshaw Group (CRAW) in its first half as a result of the combination of the devaluation of sterling and investment in lowering prices to win back customers.
A 10% drop in the value of the pound took 1.5% off the gross margin and lower prices reduced it by another 1%.
Pre-tax losses for the 26 weeks to 30 July 2017 were £1.2m, compared with £400,000 a year ago, with EBITDA down from £300,000 to £200,000.
Crawshaw, which revealed it a new partnership with 2 Sisters in May, is fighting to turn the business around after a dramatic slowdown in footfall to stores last year as the supermarkets became more competitive in the meat aisles.
Like-for-like sales in the half declined by 4.2%, an improvement on 4.4% 12 months ago, with momentum building across the period from a 5.1% fall in the first quarter to 3.2% in the second.
Customers numbers were also down 3.5% year on year, with a big improvement from the first three months of the financial year, when they were down 5.6%, to the second, down only 1.1%.
Food-to-go sales were also back in growth after recovery actions taken in the previous financial year.
Group sales for the half increased 2.3% to £22.1m as the business opened another of its new factory shop formats, with four more planned by the year end.
CEO Noel Collett said: "These results demonstrate progress in ensuring we have high quality products at the lowest possible prices. The improvements to the breadth, depth and price of our ranges are driving the significantly improving trend in customer numbers, which is a key metric of loyalty and success in preparation for the important winter and festive season ahead.
"As part of our focus on achieving unbeatable value, we are prioritising and accelerating the rollout of our proven factory shop format. The economics of these sites are hugely attractive, and they allow us to offer a wider range of fresh meat and associated products at a price not possible in our high street shops.
"We remain excited by our 2 Sisters supply agreement and believe this partnership will be transformational for the long-term growth of the group. Market conditions remain challenging, but we are confident that our focus on value leaves us well placed for the long-term."
Chairman Jim McCarthy, the former Poundland boss, added: "Since joining Crawshaws earlier this year, I have been impressed by the progress that Noel and the team are making. The accelerated roll out of the successful factory shop format is strengthening the business's reputation for delivering amazing value, which is underpinned by the transformational supply agreement with 2 Sisters.
"Crawshaws is one of the most exciting businesses in the value sector and the board is confident that all the work done this year means the business is well set to create value for investors."
The positive customer and sales momentum has continued into the third quarter, with customer numbers for the first six weeks of second half returning to growth, up 5.4% on the prior year. Like-for-like sales for the same period are tracking at -1.1%.
But margin pressures from the continued weakness in sterling remained and Crawshaw has chosen not to pass on the resulting price increases to protect its recovery momentum.
The City was less than impressed with the recovery, with shares slumping also 7% so far this morning to 19.2p. The share price hit historic highs of more than 90p back in November 2015.
PZ Cussons (PZC) has warned that the tough trading conditions in most of its markets, which have been evident in the first quarter, are expected to continue for the full year. However, the Imperial Leather maker said in a trading update ahead of its AGM today that it was on track to deliver full-year growth in operating profits, with its performance underpinned by the innovative product pipeline and tight control of costs.
"In the UK, it is increasingly clear that consumers are shopping cautiously reflecting general cost inflation outstripping wage growth, and broader economic uncertainty," the business added.
In the washing and bathing division, product launches across Imperial Leather, Carex and Original Source brands were well received, but volumes remained "very sensitive" to price points and discounting.
In the beauty division, recent new product launches such as the new Sanctuary Being range performed well over the summer.
In Australia, there has been an improved performance across all categories of personal care, home care and food & nutrition, continuing the positive momentum of the second half of the prior year, and despite general tough trading conditions.
In Indonesia, good growth has continued across both the core Cussons Baby range as well as from recent new product launches across Imperial Leather and Cussons Kids.
In Nigeria, the Naira has been stable against the US dollar on the interbank market and has strengthened slightly on the secondary market as a result of improved dollar liquidity levels. However, the environment for consumers remained challenging following the very significant cost inflation of recent years.
"In conclusion, the business remains in good shape with market shares holding or growing in key categories," PZ Cussons said. "Whilst tough trading conditions are evident in most markets and expected to continue, brand initiatives, tight cost control and our deep knowledge of our markets provide a solid basis for the year ahead."
Shares plunged 3.7% to 317.1p on the warning of tough times to come.
Yesterday in the City
AG Barr (BAG) managed a 0.6% increase to 616.1p yesterday despite reported a dip in profits as margins came under pressure from the increased investment behind the brand and rising input costs. The soft drinks maker said sales had jumped 8.8% to £136.6m in the six months to 29 July as its new, reformulated Irn-Bru range proved a hit in England and Wales, as well as its traditional home in Scotland.
AG Barr besides it was a quiet day for market announcements. Among the risers were tobacco firms Imperial Brands (IMB) and British American Tobacco (BAT), up 1.5% to 3,274.5p and 1.4% to 4,650p.
PZ Cussons was also up 1.3% to 329.4p ahead of this morning's trading update.
Tesco (TSCO) and Booker (BOK) both closed 1% higher at 184.7p and 202.4p respectively.
Greencore (GNC) continued to sour, falling another 2.1% to 188.8p, with Greggs (GRG) down 1.3% to 1,204p and Associated British Foods down 1.2% to 3,167p.