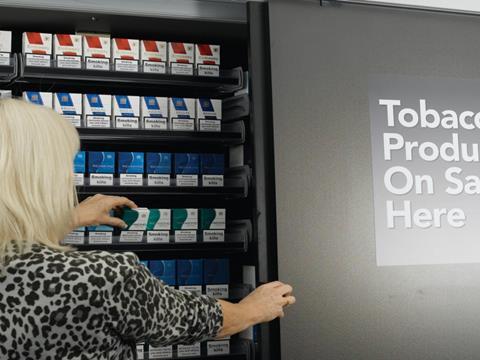 Top story
Tobacco giant Imperial Brands (IMB) confirmed it was involved in late-night talks last night over a rescue deal for wholesaler Palmer & Harvey.
Private equity firm Carlyle was in the midst of thrashing out details for a takeover of the distressed cigarette wholesaler last night ahead of an expected announcement today, according to press reports.
Imperial Tobacco and Japan Tobacco International, which could lose huge sums if administrators are called in, were involved in the talks, advising stakeholders.
"Further to overnight media speculation, we confirm that we have been working, together with other stakeholders, to seek to create a sustainable future for the UK wholesaler, Palmer & Harvey, with whom we have a close trading relationship," Imperial Brands said this morning in a trading update ahead of its close period on 1 October 2017.
Imperial shares have sank 1.8% to 3,244.5p so far this morning as a result of the P&H situation.
The tobacco firm added it was on track to meet earnings expectations for the full year at both constant currency and reported exchange rates.
Continued investment to drive sustainable growth in the challenging industry environment will impact earnings, but Imperial mitigated this through its cost programme, pension scheme restructuring and ongoing efficiencies.
The increased investment is delivering a stronger second half performance with market share gains in most of its priority markets and continued outperformance of the growth brands, the group added.
"We expect to deliver strong growth in revenues and earnings at actual currency, with constant currency performance impacted by the significant additional investments in the year," the business said. "Our cash generation remains strong."
Morning update
Produce Investment (PIL) has increased full-year sales 8.1% to £200.1m despite a difficult year for potato growers as it secured a higher volume contract with a major retail customer.
However, operating profits before exceptional costs slipped 9.1% to £8.4m in the 12 months ended 1 July, which was in line with board expectations. Pre-tax profits leapt 88% to £6.6m, despite first-half losses widening to £1m.
The core potato business, which accounts for 78% of group revenues, with the rest coming from growing daffodils, came under pressure during the year as a below average harvest saw raw material costs increase and intense competition in supermarkets pushed prices down.
Produce Investment managed to secure increased volumes with a major retail customer for a fixed period of three years by adopting a more collaborative and transparent approach to supply chain management, delivering improved efficiencies for both parties, the group said.
It also won a third mainstream retail account, for an initial fixed period of three years.
Sales into the non-retail sectors of foodservice and wholesale also showed good growth during the year.
A strong season for Jersey Royals was followed by good UK demand from the launch of the crop in late April through into June, with the performance of the business further enhanced by a continued focus on cost control and efficiency gains, the business added.
The growing arm also benefited from higher raw material prices.
CEO Angus Armstrong said: "Following a very tough first half year I am pleased to report a significant improvement during the second half as we recovered higher raw material costs in our core potato business.
"Operating profit was lower by 9.1% from 2016 although the EBITDA decrease was reduced to 2%. By working with core and new customers to create a more collaborative supply chain model, the core potato business has benefited from a new business win as well as increasing volume with an established customer.
"Work to improve operational efficiencies has continued and the benefit from investment in a new ERP system is now being realised. The focus on, and continued investment in, improved systems and processes is ongoing.
"Jersey had a good season with favourable growing conditions and excellent demand.
"While the market will remain challenging, the board remains very confident about the company's ability to deal with such pressures. The board remains confident that Produce Investments is in a strong position to grow and take advantage of any acquisition opportunities which may arrive."
Shares in the business are down 2.7% to 180p today.
The Competition and Markets Authority (CMA) has found that the planned purchase of Tesco Opticians by Vision Express could lead to a worse deal for customers in three local areas.
As part of its initial phase one investigation, the watchdog looked at more than 200 local areas where Vision Express and Tesco Opticians both have stores.
It identified three local areas where Vision Express would not face sufficient competition after the merger, which could lead to price increases or a worsening in the quality or choice of the products and services on offer in-store.
These areas are Barrow-in-Furness in Cumbria; Helston in Cornwall; and Ryde on the Isle of Wight.
Adam Land, CMA senior director and decision maker in this case, said: "Opticians provide a vital service for millions of people in the UK and it is therefore important that any competition concerns are addressed. In this case, we have looked carefully where Vision Express and Tesco Opticians compete at present and identified three areas of the country where we believe this merger could result in a worse deal for eye care customers."
Vision Express now has the opportunity to offer undertakings to address the competition concerns identified by the CMA. If Vision Express does not offer undertakings, or if the undertakings offered do not sufficiently address the concerns that the CMA has identified, the merger will be referred for an in-depth phase two investigation.
Revenues have jumped almost 15% at travel concession group SSP (SSPG) in the fourth quarter, with like-for-like sales growth of approximately 3%.
The weakness of sterling has given the business an additional bump in the period from 1 July to 30 September 2017, with total sales rising 17.5%, SSP said in the pre-close trading update.
Like-for-like sales growth in the air sector was driven by increased passenger numbers, while trading in the rail sector remained soft during the quarter.
Net contract gains in the fourth quarter are expected to be approximately 8.5%. This performance benefitted from a strong contribution from the recently opened operations at Chicago Midway Airport.
"Looking forward, whilst a degree of uncertainty always exists around passenger numbers in the short term, particularly in the current environment, we are well placed to continue to benefit from the structural growth opportunities in our markets and to create further shareholder value," the group said.
SSP shares leapt 3.6% to 518.5p on the trading update.
Yesterday in the City
Hotel Chocolat (HOTC) saw the price of its stock sweeten yesterday after it reported a doubling of profits as it invested to expand its truffle making capacity and attracted customers to its stores with the new café format. Sales also jumped 12% to £105.2m in year to 2 July as it opened 12 new stores, taking its total estate to 94. Shares in the retailer leapt 2.9% to 302p.
Crawshaw (CRAW) had a nightmare after posting its half-year figures as shares plunged more than 12% to 18p. The value meat chain reported a widening of pre-tax losses for the 26 weeks to 30 July to £1.2m. The decline in like for like sales slowed, but investors were yet to be convinced by the recovery story.
TATE & Lyle (TATE) shares jumped 1.7% to 636p as the end of the EU sugar quote regime, set for 30 September, edged closed. Associated British Foods (ABF), the UK's main refiner of beet, nudged up 0.1% to 3,170p.
Tesco (TSCO) was among the day's risers, up 1.6% to 187.7p, with Greencore (GNC) recovering some losses, up 1.4% to 191.4p, and Greggs (GRG) up 1.3% to 1,220p.
PZ Cussons (PZC) sank by 1.9% to 323.3p after it warning in a trading update ahead of its AGM that difficult conditions would continue in most of its markets for rest of the financial year.
Dairy Crest (DCG) also fell 3.4% to 604p.