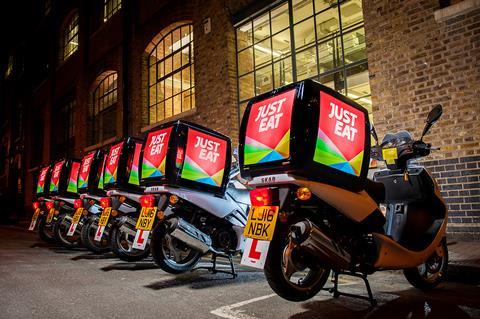 Top story
Takeaway delivery giant Just Eat has raised its full year growth expectations after first half orders jumped 61%.
It said that, given the success of the company's investment programme in the legacy Just Eat markets, expectations for 2021 have improved and management upgrades its previous guidance of more than 42% order growth for Just Eat Takeaway.com (excluding its recent US Grubhub acquisition) during 2021 to now more than 45% order growth for the full year.
Gross transaction values for the full year 2021 for Just Eat Takeaway.com (including Grubhub) is expected to be in a range of €28 to €30 billion.
Including Grubhub, which Just Eat concluded its deal for in June, first half orders were up 51%.
Just Eat said it gained online share in the UK, including a significant inflection in London with triple-digit order growth in the first half of 2021 compared with the first six months of 2020. Delivery order growth in the UK was 733% in the first half of 2021 compared with the same period in 2020.
It also guided that, due to continued investment, adjusted EBITDA losses peaked in the first half of 2021 and it expects its adjusted EBITDA margin to improve going forward, driven by the removal of significant fee caps in the US and Canada, improved unit economics in the company's delivery network and increasing benefits from the investment programme in the legacy Just Eat markets.
As a result, for the full year 2021, management expects Just Eat Takeaway.com (including Grubhub) to generate an adjusted EBITDA margin in a range of minus 1% to minus 1.5% of gross transaction value.
Jitse Groen, CEO of Just Eat Takeaway.com commented: "We have combined Just Eat Takeaway.com and Grubhub into one of the largest online food delivery companies in the world. The new combination grew 51% in terms of orders in the first half year.
"Adjusted EBITDA losses, mainly caused by US and Canadian fee caps and our investment programme, have now peaked. We therefore expect the Company to trend back to profitability going forward while retaining significant growth during the second half of the year."
Meanwhile, post the Grubhub acquisition the company is reviewing optimal listing venues for the its long-term future. No decisions on the structure of the company's listing venues are expected prior to the FTSE's semi-annual review of assigned nationality in August 2021. "Therefore, it is possible that Just Eat Takeaway.com will cease to be eligible for inclusion in the FTSE UK Index Series from the next review decision, expected to be announced on 1 September 2021," it noted.
Just Eat Takeaway.com shares are down 1.6% to 6,341p on this morning's news.
Morning update
Irish nutrition group Glanbia has reported trading ahead of expectations in the first half, causing it to raise expectations for its full year performance.
For the first six months of 2020 Glanbia saw wholly-owned revenues rise 20% on a constant currency basis (up 11% on a reported basis) due to very strong demand.
In the second quarter in particular, demand was strong across both Glanbia Performance Nutrition and Glanbia Nutritionals, Nutritional Solutions businesses.
Both divisions delivered strong EBITA margins in H1 2021 due to positive operating leverage, mix and the benefits from the GPN transformation programme;
Half Year 2021 adjusted earnings per share of approximately 52 cent, which was up 82% on a constant currency basis and 68% on a reported basis.
Previously Glanbia guided full year 2021 adjusted EPS growth to be in the upper end of 6% to 12% on a constant currency basis versus prior year.
Now, as a result of the strong performance in the first half 2021, Glanbia has raised its expectations for the year and expects to deliver full year 2021 adjusted EPS growth of 17% to 22% on a constant currency basis versus the prior year.
"While the Group remains vigilant to the continued volatile and disruptive potential of the Covid-19 pandemic, strategic actions have enabled a strong recovery in the first half of 2021 from the comparative challenges of 2020," it stated.
"The strong first half performance positions the group well to navigate expected cost inflation headwinds in the second half while also providing the opportunity to increase investment behind brand marketing and Nutritional Solutions capabilities, to drive long term sustainable growth."
Glanbia is up 2.6% to €14.65 on this morning's trading update.
On the markets this morning, the FTSE 100 is flat at 7,091.1pts.
Risers include Bakkavor, up 2.8% to 133.6p, McBride, up 2.7% to 90.6p and Diageo, up 1.3% to 3,533.5p.
Today's fallers include SSP Group, down 1.7% to 248.8p, Cranswick, down 1.7% to 3,904p and Naked Wines, down 1.1% to 819.7p.
Yesterday in the City
The FTSE 100 ended the day down 0.5% to 7,091.1pts yesterday.
SSP Group lost 4.3% to 253.1p yesterday on the departure of its CEO.
Fallers included AG Barr, down 3.5% to 528p, Pets at Home, down 2.1% to 464.2p, Just Eat Takeaway.com, down 1.9% to 6,422p, Nichols, down 1.5% to 1,450p, Hotel Chocolat, down 1.3% t 380p, Deliveroo, down 1.1% to 303.6p and Parsley Box, down 1.2% to 170.5p.
Finsbury Food Group was up 1.1% to 92p yesterday after announcing that revenues had almost returned to pre-pandemic levels.
Other risers included Total Produce, up 3% to 225.5p, McColls's, up 2.1% to 37.3p and Science in Sport, up 1.4% to 75p.