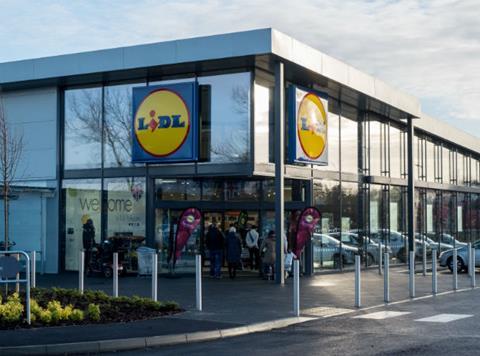 Top story
Lidl GB has pledged to invest £15bn in British food, farming and production over the next five years.
Following its commitment to source 100% of its listed fresh poultry from UK farms, Lidl has also pledged to increase sales of British sourced fresh meat, poultry and fresh produce by over 10% across the next 12 months.
The discounter has also said it will award longer-term contracts to help give suppliers certainty and allow them to invest for the future helping them to create new jobs and develop their business.
It will also launch a young farmers programme designed to support new talent in the farming industry.
Ryan McDonnell, chief commercial officer at Lidl GB commented: "As our business continues to grow, it's vital that our suppliers remain at the heart of our growth plans, and that is why we are committing to investing at least £15bn over the next five years. Our business is only ever as good as our suppliers', so our investments and commitments are key to ensuring that they can invest and expand with us.
"Our long-term partnerships with farmers are all the more important during economic uncertainty, and with 2019 marking our 25th anniversary, we are more committed than ever to supporting our suppliers here in Britain and offering customers British-sourced products in the future."
Fran Bell, a dairy farmer supplying Lidl through Müller, added: "Our farming business had committed to large capital investments, to modernise and promote efficiencies in preparation to include our next generation within the business. The Lidl fixed-price scheme has given us certainty, within a volatile market, to lock in a percentage of our milk at a known price for two years. This will enable us to protect those investments whilst helping to secure a sustainable future for this business."
Lidl GB's commitment builds on a number of existing initiatives to support British food and farming businesses – including its March 2017 backing of the NFU's 'Back British Farming Charter', which followed follows its commitment to the 'NFU's Fruit and Pledge'.
Lidl currently has a market share of 6% and is continuing with its ambitious expansion plans, which will see the supermarket open 50-60 new stores across 2019.
In June, the discounter announced a £500m investment in London over the next five years as it opens new stores across the capital.
Morning update
Sainsbury's (SBRY) has restated its 2018/19 financial accounts ahead of its adoption of new IFRS 16 lease standard, which will be effective its 52 week accounting period ending 7 March 2020.
IFRS 16 will have no economic effect on the business or cash. It does however impact the way assets, liabilities and the income statement are presented.
Stated underlying profit before tax for 2018/19 has reduced by £34m under the new measures from £635m to £601m and statutory profit before tax has reduced by £37m from £239m to £202m.
This restatement comprises a £747m reduction in rent, a £470m increase in depreciation costs, a £323m increase in underlying net finance costs and £12m reduction in other costs
Sainsbury's said the financial impact on the restated 2018/19 balance sheet includes the recognition of right-of-use assets of £5bn, recognition of IFRS 16 lease liabilities of £5.8bn and recognition of deferred tax assets of £162m.
Therefore, 2018/19 restated net assets reduce by £673m and retail net debt increases from £1.14bn to £6.84bn.
The new measures mean the supermarket's 2018/19 net debt to EBITDAR ration moves to 3.1 times compared to previously reported adjusted net debt to EBITDAR measure of 3.2 times.
The supermarket's first financial statements to be prepared under IFRS 16 will be Interims 2019/20, to be reported on 7 November 2019.
Casino Group (CO) has completed the sale of 31 hypermarkets and supermarkets properties to companies affiliated with Apollo Global Management.
Casino has completed the sale of 12 Géant Casino properties and 19 stores properties under the Monoprix and Casino Supermarkets banners, valued at €465m net sales price.
Casino received €327m for the transfer of 30 assets, with an additional €14m to be received within 12 months at the effective transfer of an asset, which was postponed for technical reasons. Another asset had finally been excluded from the initial scope to be sold to a third party by the end of 2019, under the same conditions.
Casino Group remains involved in the value creation of this transaction through an interest in the company formed by funds managed by Apollo. In this context and depending on the company's performance, Casino Group may receive up to an additional €140m in the coming years.
On the markets this morning, the FTSE 100 is once more flat at 7,213pts.
Early risers include Reckitt Benckiser (RB), up 2.2% to 6,070p, Domino's Pizza Group (DOM), up 2.1% to 262.9p, Stock Spirits (STCK), up 1.4% to 212p and Unilever (ULVR), up 1.2% to 4,622.5p.
Fallers so far include Marks & Spencer (MKS), down 3.2% to 190.4p, B&M European Value Retail (BME), down 2.4% to 379.1p, Sainsbury's, down 2% to 212p and Tesco (TSCO), down 1.9% to 239.6p.
Yesterday in the City
The FTSE 100 ended the day flat at 7,211.6pts as the market awaits further news of developments on a possible Brexit agreement between the UK and the EU.
Brewer and pubco Marston's dropped 7.4% yesterday back to 113p after warning the market its full year profits will be below consensus expectations due to weaker food sales across its pub estate.
Other fallers included PureCircle (PURE), down 7.9% to 147.4p, McBride (MCB), down 4.1% to 65p, and McColl's (MCLS), down 1.9% to 47.9p.
A number of FTSE 100 names fell back yesterday, including Reckitt Benckiser (RB), down 2.5% to 5,940p, Compass Group (CPG), down 2.4% to 1,954.5p, Diageo (DGE), down 2.1% to 3,164p and Unilever (ULVR), down 1.7% to 4,568.5p.
Online retail partners Ocado (OCDO) and Marks & Spencer (MKS) were on the up yesterday, rising 4.7% to 1,363.5p and 4.1% to 196.7p after Ocado's shares slumped on Monday after a downgrade from JP Morgan.
More retail risers included Greggs (GRG), up 3.8% to 1,851p, B&M European Value Retail (BME), up 3.1% to 388.4p, Hotel Chocolat (HOTC), up 2.8% to 401p, Naked Wines (WINE), up 2.5% to 262.5p and WH Smith (SMWH), up 2.3% to 2,130p.
Other climbers included Britvic (BVIC), up 3.7% to 1,052p, Hilton Food Group (HFG), up 3% to 1,018p, Kerry Group (KYGA), up 2.5% to 108.8p and PayPoint (PAY), up 2.4% to 911p.