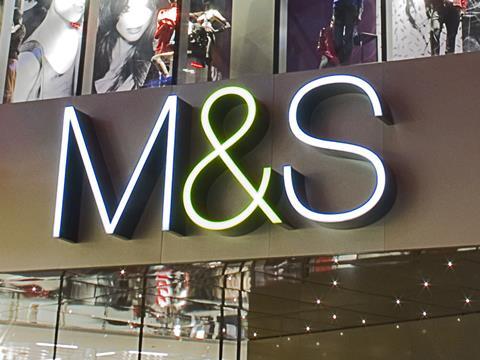 Top story
Annual profits at Marks & Spencer (MKS) have fallen by 64% to £176.4m as a costly overhaul of the business hurt the bottom line, clothing sales declined further and like-for-like food sales went into reverse.
Exceptional charges of £437.4m were incurred as the high street bellwether dramatically restructured its business – with hundreds of redundancies at the head office, international store closures and changes to the pension scheme
However, profits still slumped more than 10% to £613.8m 52 weeks to 1 April as clothing sales plunged 5.9% during the final quarter of the year and the opening of new food stores cost more than expected.
CEO Steve Rowe, who has recently appointed Halfords boss Jill McDonald to lead a turnaround of the clothing division and brought in former Asda boss Archie Norman as chairman, said he was pleased with the progress of the recovery plan but admitted there was "still much to do"
Shares are down a further 1% to 384.8p in early trading after making gains earlier in the week.
Group revenues nudged up 0.6% to £10.62bn, compared with £10.56bn in the 53 weeks of the previous financial year.
Total food sales increased 4.2% in the year, driven by the 68 new Simply Food stores opened, but like-for-like revenues slipped 0.8% as the later Easter fell outside the accounting period. During the fourth quarter, like-for-like food sales declined 2.1%, compared with a 0.6% rise in the previous three months.
Performance of the new Simply Food stores was ahead of expectations in the period, exceeding sales forecasts by 17% overall, M&S said.
Margins were squeezed more than expected (25 basis points) in the food business as cost savings were offset by the rise in input costs from importing food as a result of the weakness in sterling, as well as higher than expected waste
M&S said its expected margins to decline by up to 50 basis points in the year ahead as input cost pressures continued to bite.
Part of Rowe's turnaround strategy at the struggling retailer is to reduce the amount of space dedicated to clothes to make way for its popular food offering. A further 250 Simply Food stores are planned by the end of 2019/20, with about 90-100 in each of the next two years.
"While the grocery market returned to modest growth in the year driven by price inflation in the final quarter, it remains highly competitive," this morning's results statement said.
"We will continue to work with our suppliers, leveraging our volume growth to mitigate cost inflation and ensure our prices remain competitive. Our strategic focus is on quality, innovation and convenience."
Clothing sales, which had returned to growth in the third quarter, slumped by 5.9% on a like-for-like basis in the final three months of the financial year. Overall, clothing and home revenues declined 2.8% – and by 3.4% on a like-for-like basis – during the year as the retailer reduced its reliance on promotions and markdown activity.
M&S added it was "encouraged" by early evidence that its strategy was working as full price sales grew 2.7%, with "strong growth" in the second half.
"Last year we outlined a comprehensive plan to build strong foundations for the future," said Rowe, who has now been in the post for a year.
"We said we would recover and grow clothing and home, continue with our plans for food growth, remove costs and simplify the business.
"We achieved a huge amount in the year and whilst there is still much to do, I am pleased with our progress and we remain on track.
"As we have made improvements to our clothing & home product and proposition, our customers have noticed; we are starting to stabilise market share and importantly have seen full price market share growth, as we removed excessive discounting. In addition, our new food stores continue to exceed our expectations.
Morning update
Soft drink producer Britvic (BVIC) has increased revenues 11.5% to £756.3m in the six months to 24 May, with organic growth of 3.7%. Underlying profits jumped 6.7% to £73.6m, but exceptional charges of £7.2m related to acquisitions and restructuring hit pre-tax profits, which were down from £54m in the same period last year to £50m.
Britvic, which completed a £54m deal for Brazilian juice business Bela Ischia in January, its second deal in the country following the Ebba transaction in 2015, said it recorded strong growth across all its business units.
Britvic also announced John Daly, currently senior independent director and chairman of the remuneration committee, will succeed Gerald Corbett as chairman with effect from 1 September 2017. Corbett has been chairman since Britvic floated on the London Stock Exchange in 2005.
CEO Simon Litherland added: "Britvic has delivered a strong first half performance driven by organic revenue growth in all our markets and successful management of input cost inflation.
"We have continued to make progress delivering our strategic priorities and have exciting commercial plans for the second half of the year. I am confident that we will deliver full year performance in line with market expectations."
The Fruit Shoot, Robinsons, Tango and J2O maker said it had led the value growth in the UK soft drinks category during the half and was focused on driving value ahead of volume to protect profitability.
Britvic, like all suppliers, has experienced rising costs from underlying cost inflation and is further hampered by the weak pound. It said it has managed the challenges so far with disciplined revenue management and cost efficiency.
In the carbonates category, a focus on no and low-sugar offerings was a hit with consumers, and the continued growth of Pepsi Max across volume and value helped battle the "highly competitive" grocery market. The challenging stills category, where Britvic has seen a decline in revenue, continued to improve, with a return to volume growth.
"Robinsons in particular, whilst facing pricing pressure in grocery, grew volume through a stabilisation of the core pack formats and successful targeting of new occasions via new pack formats such as Squash'd, dispense and core range bottle sizes - with this innovation generating 12% of brand revenue this year," the group added.
Britvic shares jumped a further 2.3% to 719p in early trading on the back of the strong results.
Meat supplier Hilton Food Group (HFG) said trading since the start of 2017 has been in line with the expectations. In an update ahead of the AGM later today, the business added it had continued to grow by developing in existing markets and also through geographic diversification.
In Western Europe, good progress had been made in a number of markets, with turnover in the UK continuing to grow relative to the same period last year, reflecting higher raw material pricing and some trading up.
"The group's financial position remains strong, underpinned by good operating cash flows," the statement said. "During the period, we have also agreed to acquire a 50% share in Foods Connected Limited, a market intelligence data management system company focused on the fresh food supply chain, which will be operated as a joint venture.
"Hilton continues to explore a number of further opportunities to grow the business in both domestic and overseas markets."
Property firm LondonMetric Property has sold its Morrisons food store in Loughborough for £32.5m, reflecting a net yield of 4.3%. It acquired the property for £16.8m in 2010 and recently completed a comprehensive refurbishment and 12,000 sq ft extension at a cost of £7.9m. Morrisons subsequently entered into a new 25-year lease in January 2017 on the extended 55,000 sq ft store at an annual rent of £1.5m a year. The sale to a UK Pension Fund will complete in March 2018.
Yesterday in the City
Greencore (GNC) surged 7.3% to 243.8p as CEO Patrick Coveney hailed the transformational nature of the Peaccock Foods acquisition in the US. Shares declined more than 16% in 2016 as profits in the fast-expanding US business failed to come on stream as quickly as analysts hoped, leading to concerns about the November deal to buy Peacock. However, investors rushed to buy the stock yesterday as revenues increased 46.1% to £1bn in the first half – boosted by a contribution from Peacock and strong continued growth of food-to-go in the UK.
Cranswick (CWK) also had a good day as it too reported a 23% jump in full-year sales to £1.2bn and a healthy rise in profits as exports to the Far East grew rapidly and its acquisitions of Crown Chicken and Ballymena bedded in.
Sentiment in Marks & Spencer (MKS) softened before this morning's keenly anticipated results after closing at a 12-month high on Monday. Shares in the retail bellwether closed 2% down at 387.7p.
Britvic (BVIC) had a better day ahead of its own results, with the stock rising 1.2% to 703p. Other winners included Associated British Foods (ABF), PZ Cussons (PZC) and Nichols (NICL), up 1.6% to 2,954p, 1.4% to 340p and 2.5% to 1,763p respectively.
The three listed grocers all went backwards yesterday, led by Tesco (TSCO), which dropped 1.1% to 182.5p, followed by Sainsbury's (SBRY), down 0.5% to 276.7p, and Morrisons (MRW), dipping 0.04% to 245.1p.
The FTSE 100 edged down 0.2% to 7,485.29 points as mining stocks proved a drag on the blue-chip index.