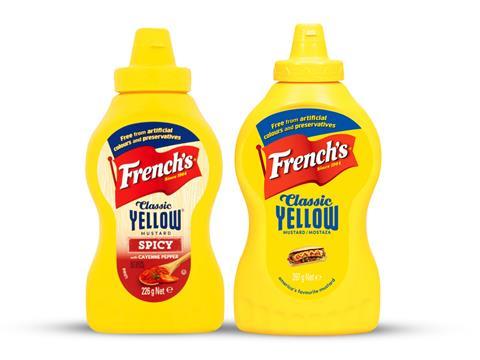 Top story
Schwartz spice maker McCormick (MKC) has acquired Reckitt Benckiser's (RB) food division for $4.2bn (£3.2bn) in cash.
The owner of Dettol, Vanish and Durex put the non-core division up for sale earlier this year to help raise money for its takeover of US baby formula business Mead Johnson.
Made up of the French's, Frank's Red Hot and Cattlemen's brands of condiments, the division predominantly operates in the US and generated revenues of £411m and operating profits of £118m in 2016. Average organic growth in the past five years has been 3%, with zero margin growth over this time.
Reckitt said the valuation achieved, which was above the £2.2bn price tag expected by the market, reflected the quality of "a highly profitable, growth business".
"Our French's food business is a true reflection of RB's strengths – a portfolio of great brands driven through a culture of innovation by passionate people to deliver consistent outperformance," Reckitt CEO Rakesh Kapoor said.
"We are pleased to be selling to owners who can provide the necessary resources, market expertise and global platform, whilst being a good home for our people. French's Food is well positioned to continue on its successful growth trajectory under the food-focused ownership of McCormick.
"Following the acquisition of Mead Johnson Nutrition, this transaction marks another step towards transforming RB into a global leader in consumer health and hygiene, ensuring we continue to deliver for shareholders and give people innovative solutions for healthier lives and happier homes."
McCormick, which failed in its pursuit of Premier Foods last year, will integrate RB Foods into its consumer and industrial segments and will retain the brand names of French's, Frank's RedHot and Cattlemen's, the US group said. The group will leap from its current market position of number 10 to the leading business in the US condiments category thanks to the acquisition.
Combined pro forma 2017 annual net sales are expected to be approximately $5bn, with a "significant" boost to margins, the business added.
"The acquisition of RB Foods strengthens McCormick's flavor leadership with the addition of the iconic French's and Frank's RedHot brands to our portfolio, which will become our number two and number three brands, respectively," McCormick president and CEO Lawrence Kurzius said.
"RB Foods' focus on creating products with simple, high-quality ingredients makes it a perfect match for McCormick as we continue to capitalize on the growing consumer interest in healthy, flavourful eating.
"The addition of Frank's Red Hot Hot Sauce, the clear consumer favourite in an attractive and high-growth category, French's Mustard and the other beloved products enables McCormick to become a one-stop shop for condiment, spice and seasoning needs, providing our customers and consumers with an even more diverse and complete flavour product offering.
"RB Foods' track record of creating market-leading products and its dedicated state-of-the-art manufacturing facility are a strong complementary fit that we expect will strengthen McCormick's business opportunities as we expand our presence in condiments, a core category for the Company in the US and internationally."
Reckitt intends to use the net proceeds to reduce its debt pile. The transaction is subject to certain regulatory approvals and completion is expected during the third quarter of 2017.
More than a £1 was added to Reckitt's share price as markets opened, with the stock up 1.4% to 7,923p. McCormick announed the news after markets in New York closed last night.
Morning update
Sales at Hotel Chocolat (HOTC) have grown faster than expected in the past year as the luxury chocolate retailer opened more stores and its new shop+café concept proved a hit with consumers.
Revenues in the 53 weeks ended 2 July were £105m – and £104m on a comparable 52-week basis, a rise of 12% on the prior year.
The group opened two new stores in the second half of the year, bringing the total openings in the financial year to 12, which contributed 5% to group sales year-on-year.
Eight of the 12 new stores also include a café, with the new format "working well". The business added that a refit of the existing Milton Keynes store, due to open before the end of July, will test the impact of adding a cafe to an existing location.
The spring seasonal ranges delivered "encouraging results" and, following successful trials, the cocoa-infused ice cream, 'Ice Cream of the Gods', is now on sale in 37 locations.
CEO Angus Thirlwell added: "Hotel Chocolat has had another good year, with encouraging growth. We are excited about the progress made with our new shop+cafe format stores and our seasonal ranges continue to perform well."
Trading since the year end continued to be in line with management's expectations, the group said.
Shares in the premium retailer are up almost 2% this morning to 342.1p.
The FTSE 100 opened 0.2% higher to 7,404.43 points. In the grocery and retail world, Morrisons (MRW), Sainsbury's (SBRY), Tesco (TSCO) and Booker (BOK) all started well, climbing 1.1% to 249.9p, 0.5% to 248p, 0.4% to 174.9p and 0.6% to 193.2p respectively. Dairy Crest is up another 0.6% to 580.5p
McColl's Retail Group (MCLS) is up 1.4% so far to 209.7p ahead of interims next week, which are expected to show solid progress.
Diageo (DGE) is down 0.5% to 2,274.5p, with B&M European Value Retail (BME) and Ocado (OCDO) falling 0.3% to 342p and 0.1% to 289.2p.
Yesrterday in the City
Dairy Crest (DCG) enjoyed a 3% rise to 573.5p despite the business warning in its first quarter update that increased butter prices were squeezing margins and it was ending promotions of its Countrylife brand. The group reported strong volume growth in its branded portfolio of Cathedral City, Clover, Country Life and Frylight.
Eagle Eye Solutions (EYE) slumped 2.6% to 245.3p after revealing it made no progress on losses last year. The grocery tech firm will post a £1.8m loss, it said in a pre-close trading update.
Conviviality (CVR) continued to have a good week, with shares up another 1.4% to 337.8p. The drinks group more than doubled profits last year thanks to its run of transformative acquisitions.
The FTSE 100 shook off early falls to finish just 13.91 points lower at 7,390.22 – having been down more than 40 points at one point. The index was helped by further falls in the value of sterling, which dipped after a surprise slowdown in inflation for June.