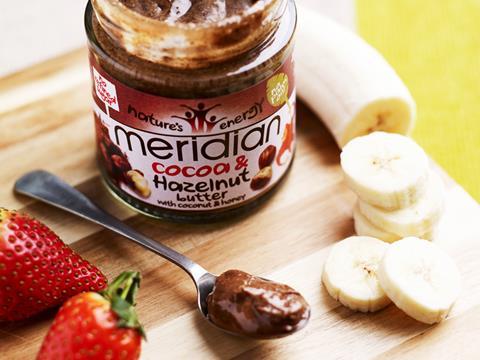 Top story
Nut butter brand Meridian has been bought by Northern Irish consumer goods company SHS Group in a deal exclusively flagged by The Grocer.
SHS emerged victorious in a highly competitive auction for Meridian parent group 3V Natural Food, which also owned premium soft drinks brand Rocks.
The value of the deal has not been disclosed but is understood to be in the region of £50m, according to City sources with knowledge of the transaction.
A handful of PE houses lodged bids of more than £40m for the business, but SHS was able to offer a significantly higher price, with a double-digit EBITDA multiple, according to industry insiders.
SHS Group CEO Elaine Birchall said: "The acquisition of Meridian and Rocks strengthens our owned-brand portfolio and manufacturing capability as we continue to invest in bringing high quality brands to a wide range of channels and geographies."
Click here to read the full story.
Morning update
Grocery news is thin on the ground in the City this morning.
The release of the official CPI and RPI inflation figures from the Office of National Statistics will come later this morning. Market predictions are that the CPI will tick back up to 2.6% in January from 2.5% in December, still comfortably above the Bank of England's 2% target.
On the markets this morning, the FTSE has edged down 0.1% to 7,169.8pts so far this morning after an early spike to 7,191 soon after opening.
Early risers include Stock Spirits (STCK), up 3.3% to 281p, PayPoint (PAY), up 2.9% to 876p and Total Produce (TOT), up 2.1% to 216.5p.
Down so far today are Applegreen (APGN), which has lost 1.8% to drop to 494p, Nichols (NCLS), down 1.7% to 1,555p, Hotel Chocolat (HOTC), down 1.7% to 322p and Ocado (OCDO), down 1.4% to 465.1p.
Yesterday in the City
The FTSE 100 has started the week back on the front foot after a torrid period, clawing back 1.2% on Monday to 7,177pts.
It was a day of gains for many consumer stocks, with notable risers including PZ Cussons (PZC), up 2% to 292.2p, Ocado (OCDO), up 2% to 471.8p, Reckitt Benckiser (RB) up 1.5% to 6,402p and Just Eat (JE) up 1.9% to 822.4p.
Investors appear cautiously optimistic over Tesco's (TSCO) apparent plans to launch its own discount offer revealed on Sunday, with the supermarket the biggest riser amongst the grocers, gaining 1.2% to 201.6p. Morrisons (MRW) and Sainsbury's (SBRY) were up 0.8% to 218.5p and 0.5% to 246p respectively.
TATE & Lyle (TATE) was one of few notable fallers, the sweetener producer falling 1.8% to 571.4p, continuing its falls after issuing what amounted to a profits warning last week.
Other fallers included McColl's (MCLS), down 2.7% to 247p, McBride (MCB), down 2.7% to 169p and C&C Group (CCR), down 2.5% to €2.77.