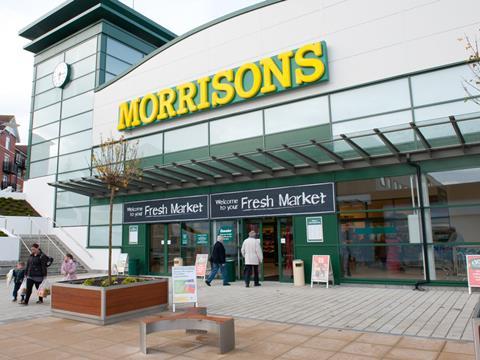 Top story
Morrisons (MRW) has announced a 5.1% fall in first half revenues and a 2.7% drop in like-for-like sales in the as new CEO David Potts plots his turnaround of the beleaguered supermarket.
Total turnover fell 5.1% to £81bn while store turnover, excluding fuel, was down 1.1% to £6.4bn. Profit before tax dropped by 47% to £126m during the period.
Morrisons also said it was closing a further 11 stores in the second half of the year, incurring a one off cost of £20m
The results come after yesterday's announcement of the sale of its M Local convenience chain to turnaround specialists Greybull Capital – a deal which Morrisons said would result in a balance sheet loss of "around £30m".
Potts also expanded somewhat on the results of Morrisons' strategic review, listing six priorities including "be more competitive" and "make core supermarkets strong again".
Potts said: "The immediate priority is to deliver a better shopping trip to stabilise trading performance. Our six strategic priorities will then deliver improvement in the core supermarkets, where we have the greatest opportunity.
"It will be a long journey. We approach the challenge with energy, confidence and many strengths, particularly our strong balance sheet and cash flow, which enables investment in improving the customer shopping trip."
Click here to read The Grocer's full report on Morrisons' interim results this morning.
Morrisons's shares have fallen 4% in early trading, dropping back to 168.9p.
Morning update
The other major news this morning is that Waitorse has reported stronger than expect profits in the face of falling sales.
Waitorse first half gross sales were 1.1% up to £3.18bn – a like for like sales drop of 1.1%. Operating profit before exceptional items fell by 6.7% to £135.5m (up 0.6% before 2014's property profits), but this was considerably better than market expectations of a heavy double-digit drop in profitability.
Waitrose said it "continued to outperform the industry" during the period, growing its total volumes by 1.8% and its market share to 5.1%.
John Lewis Partnership said: "Effective management of our costs and capital expenditure, together with a focus on efficiency throughout the business, helped our [Waitrose'] profit position."
The "Pick Your Own Offers" scheme which launched in June has had a "strong" take-up with 700,000 customers. Online gross sales fell 13% "impacted by a strong promotion-driven performance last year", though average order value was up by 8.2%.
To read The Grocer's full report of Waitrose's first half results click here.
Also this morning, Carr's (CARR) has announced that Ian Wood has been appointed as a non-executive director from British Gas owner Centrica to replace retiring non-exec Robert Heygate. Meanwhile, Chinese seafood supplier Aquatic Foods Group has appointed Jonathan Quirk as senior non-executive director.
The FTSE 100 has opened 0.6% down 6,188.5pts, undoing some of yesterday's progress. As well as Morrisons' 4%-plus share price fall this morning, Tesco (TSCO) has opened 2% down at 187.4p.
Yesterday in the City
Yesterday was another better day for the FTSE as it continues to recover from the China-drive late August crash.
The FTSE 100 was FTSE 100 ended the day 1.3% up to 6,229pts. One of the biggest FTSE movers was Morrisons, which climbed 3.5% to 175.9p in anticipation of its interim results this morning and the news yesterday afternoon it had secured a deal to sell its M Local business to Greybull Capital.
The other supermarkets were also on the up, with Sainsbury's (SBRY) rising 2.1% to 243.4p and Tesco climbing 1.2% to 191.2p. Greggs (GRG) also rose 2.3% to 1,147p.
FTSE 100 fmcg firms also benefitted from yesterday's positive sentiment in the City. Coca-Cola HBC (CCH) was up 3.1% to 1,341p, Imperial Tobacco (IMT) rose 2% to 3,265p and Associated British Foods (ABF) was up 1.9% to 3,176p.
Also on the rise were Hilton Food Group (HFG), up 2.9% to 444.8p and Glanbia (GLB), up 2.3% to €17.75.
One of the only notable fallers in the grocery space was Poundland (PLND), which dipped 1.8% to 339.3p.