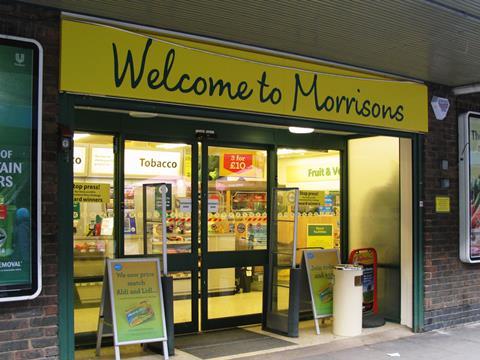 Top story
A less charitable observer might say that general election day is a good day to bury bad news for Morrisons (MRW), which reported another quarter of falling sales this morning.
However, Morrisons like-for-like sales fall of 2.9% beat expectations of a 3-3.5% sales fall and its total sales for the 13 weeks to 3 May (excluding fuel) were only down 1.1%.
This also compares favourably to the 7.1% collapse in like-for-like sales recorded in the first quarter last year, though it is slightly down on its fourth quarter 2014/15 like-for-likes of -2.6%.
Including fuel sales were down 5.1% and 6.6% like-for-like.
Under the new leadership of David Potts, who joined as CEO on 16 March, Morrisons said its priorities were making its core supermarkets strong again and improving customers' shopping trips.
Potts commented: "My initial impressions from my first seven weeks are of a business eager to listen to customers and improve. I have been very pleased by the desire and support of colleagues, and by the genuine warmth and affection for Morrisons shared by both colleagues and customers.
"This is a business with many attributes, some unique. Our task is to use those advantages to improve the shopping trip for customers and create value."
The supermarket group closed more stores than it opened during the period, which led to a net reduction in selling space of over 50,000 square feet. It also said that a restructure of head office will incur one off costs of £30-40m.
Morrisons said it anticipates that underlying profit before tax will be higher in the second half than the first.
Morning update
Despite beating sales expectations, Morrisons has opened down 1.2% at 177.5p.
However, most stocks have also opened down, with British American Tobacco (BAT) 1.3% down to 3,537 and supermarket rivals Tesco (TSCO) and Sainsbury's (SBRY) also falling 0.5% to 225.7p and 0.9% to 263.8p respectively.
Given its general election day today it is perhaps not entirely surprising that, Morrisons apart, the market is fairly quiet this morning.
Reckitt Benckiser (RB) has chosen today to hold its AGM and the fmcg giant will be hoping for an easier ride from shareholders after a revolt on pay last year. In 2014 43% of shareholders refused to back the FTSE 100 firm's remuneration report, while 31% of investors actively voted against the proposals. The revolt did not cut pay packets, with the total remuneration of Reckitt Benckiser CEO Rakesh Kapoor rising by almost two-thirds last year to £11.2m.
The troubles at AIM-listed Chinese food preservative firm Sorbic are far from over as its shares continue to be in suspension. The company today said sacked CEO Wang Yan Ting "has declined to hand-over the company's corporate seals and business licences" and has "transferred funds belonging to the company" for £7.7m. "Sorbic International plc is wholly reliant on the transfer of funds from China to meet its operating costs and to repay the loan notes of approximately £3.75 million which remain outstanding and are therefore in default," the company stated this morning.
Yesterday in the City
Sainsbury's boss Mike Coupe was defiantly upbeat about Sainsbury's position relative to its competitors, but the market was spooked by the supermarket's first loss in a decade, driving the share price down 3.2% to 266.3p.
Underlying trading profits beat expectations at £681m (forecast was £659m) and the reduction in dividend to half of earnings (a 27% drop year-on-year) was well flagged, but the supermarket's recent recovery that had seen it gain almost 5% since 23 April came to an abrupt end.
Conversely, there was some encouragement for Imperial Tobacco (IMT), which had trended down on Tuesday, but had a better Thursday after releasing its half year results. Imperial was up 1,8% to 3,175p after reporting it was still confident of approval of its bid to buy a range of US cigarette brands. Revenues fell 4% to £12.1bn and underlying volumes were 5% down.
Poundland (PLND) eased back 0.5% to 314.4p after pushing ahead with its 99 Stores takeover bid yesterday, while Finsbury Food Group (FIF) rose 1.3% to 80p after its bolt-on acquisition of Jonestone's Just Desserts.
Other big movers included Ocado (OCDO), up 5.5% to 375.1p, Hilton Food Group (HFG), up 3.9% to 450p, and Thorntons (THT), which rose 3.4% to 83.75p.
On the eve of the General Election the FTSE was surprisingly calm, edging up just 0.1% to 6,933.7pts.
Yesterday's Kantar Worldpanel market share data showed overall supermarket sales were down 0.2% in the 12 weeks to 26 April, with Waitrose the only mainstream supermarket to see an uplift (of 1.5%).