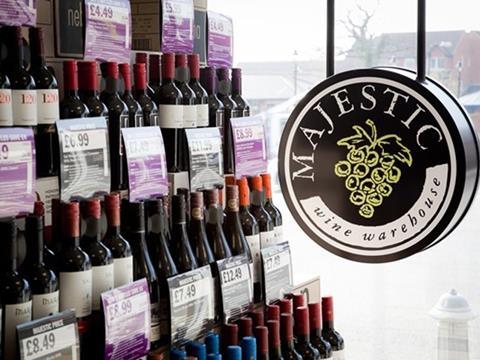 Top story
Online crowd funded retailer Naked Wines is launching a 'text for wine' service as it continues to seek a boost in the fortunes of new owner Majestic Wine (MJW).
The listed group said the option for Naked's 150,000 UK customers to order wine by text message was the "first of its kind in the wine world".
If the pilot UK programme proves successful it will also be rolled out to Naked Wines' US and Australian operations.
Majestic CEO Rowan Gormley said: "Access to Naked's digital marketing skills was a clear benefit for Majestic following the acquisition, and the launch of 'text for wine' is a fantastic demonstration of these skills in action. The fact that the idea came from an employee is testament to Naked's strong entrepreneurial culture, which we are working on bringing across to Majestic."
The text service adds to a host of other new initiatives brought in by Gormley since the £70m acquisition of Naked in April.
Majestic has changed its business model with the trial of sales of single bottles of wine; it is slowing the roll out of its stores; and Naked has also launched a click & collect service across UK in Majestic outlets after a test run in 22 sites.
Shares in Majestic slid 3.7% on opening this morning to 408.6p as part of a general decline of world stock markets as troubles in China continue to take their toll.
Morning update
Tesco (TSCO) is expected to finalise a shortlist of bids for its Korean business today, according to reports. Three private equity groups are competing for the asset in the £4bn auction: MBK Partners and a fund run by Goldman Sachs have teamed up with the South Korean National Pension Service, Asian firm Affinity has joined forces with KKR and Carlyle is expected table an offer with GIC of Singapore.
Tesco's stock opened down again this morning, falling 1.6% to 185.3p – a low not seen since January.
Pub group Punch Taverns has agreed to sell 158 of its non-core sites to real estate investor NewRiver Retail for £53.5m.
On the stock market, the woes in China are continue to send values on the FTSE 100 plummeting. The blue-chip index is already down 2% this morning to 6,062.94 points as investors across the world take fright over the state of China's economy.
Most grocery and fmcg stocks have been caught up in the sell-off, with the biggest fallers so far including Fever Tree (FEVR) – down a whopping 13.3% to 397.8p – Premier Food (PFD) – down 6.6% to 32.9p – Poundland (PLND) – down 3.6% to 336.9p – and SABMiller (SAB) – down 3.7% to 2,912.5p.
The week in the City
In the run up to the August bank holiday all looks quiet in terms of scheduled updates from grocery companies.
In wider economic updates, Wednesday brings this month's CBI Distributive Trades Surveys, while the second estimate of the UK's official second quarter GDP figures is out on Firday.