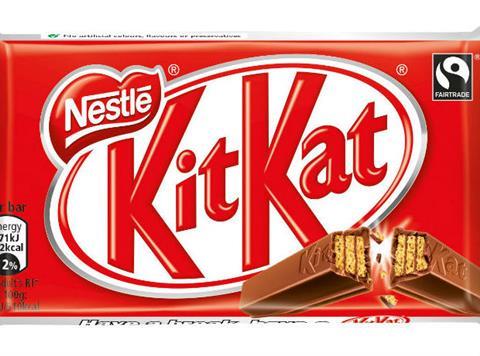 Top story
Organic growth at Nestlé slowed for the fifth year in a row in 2016 as trading in the final quarter came in below expectations, with the Swiss food giant giving a subdued outlook for 2017.
Growth has been hard to come by for many fmcg multinationals in 2016, with a perfect storm of currency volatility, input cost pressures, political uncertainty and changing consumer preferences.
Nestlé said the UK had been "particularly challenging" in 2016, with both volume and pricing declining slightly and intense competition.
Organic sales increased 3.2% to CHF 89.5bn (£71.4bn), with volumes up 2.4%, but the impact of currency translation dragging reported revenues to just 0.8% higher than a year ago.
The group struggled to get through price rises (+0.8%) but said there some improvement in the second half of the year, with further increased expected in 2017.
Margins were up 30 basis points in constant currency, reported trading operating profit margin up 20 basis points to 15.3%, despite restructuring costs doubling to CHF 300m (£239.5m) in 2016 to support structural cost-saving initiatives.
Trading operating profits came in at CHF 13.7bn (£10.9bn), but net profits fell to CHF 8.5bn due to several items, the largest being a one-off non-cash adjustment to deferred taxes.
CEO Mark Schneider said: "Our 2016 organic growth was at the high end of the industry but at the lower end of our expectations. We saw a solid trading operating profit margin improvement and our cash flow grew significantly. Based on these results, our board of directors is pleased to propose the 22nd consecutive dividend increase, underlining our commitment to continuity.
"In 2017, we expect organic growth between 2% and 4%. In order to drive future profitability, we plan to increase restructuring costs considerably in 2017. As a result, the trading operating profit margin in constant currency is expected to be stable. Underlying earnings per share in constant currency and capital efficiency are expected to increase."
The markets have reacted negatively to the results, with shares falling 1.3% in morning trading to CHF 72.20.
Morning update
The Competition and Markets Authority (CMA) has invited comments on Heineken's acquisition of 2,000 pubs from Punch Taverns as it weighs up whether to scrutinise the deal further. The deadline for comments is 2 March and the watchdog expects to make a decision on whether the deal will result in a lessening of competition by 24 April.
Sales slumped 3.7% to $6.9bn (£5.5bn) at Kraft Heinz in the fourth quarter, partly driven by increased promotional support in the UK. The food giant was also hurt by an extra week of trading in 2015 and currency volatility, with organic net sales up 1.6%.
European revenues plunged 13.3% to $600m (£480.3m) as Kraft Heinz was hammered by currency headwinds, including the devaluation of the pound since the Brexit vote.
Group pricing decreased 0.1 percentage points as price increases to offset input cost inflation in rest of world markets, primarily in Latin America, as well as gains in the US, were more than offset by the timing of promotional activities in Canada.
Operating profits for the quarter increased 22.8% to $1.6bn (£1.3bn) thanks to the huge cost-cutting drive implemented by new owner 3G Capital after the 2015 merger of Kraft and Heinz.
"We finished 2016 consistent with our expectations and with good momentum heading into 2017," said Kraft Heinz CEO Bernardo Hees. "Looking forward, our objectives and opportunities are clear. But we need to sharpen our focus on profitable sales, and further improve our capabilities and execution to deliver another year of strong, sustainable growth in 2017."
The results were released late last night UK time and markets in the US have not yet had chance to react, but shares slipped 2.4% in after-hours trading.
Revenues at Coca-Cola HBC (CCH) fell 2% to €6.2bn (£5.3bn) in 2016 after currency movements took a toll on the Hellenic Coke bottler. On a constant currency basis, sales rose 3% as the group maintained volumes from the year before. It sold 2.1 billion unit cases in the year, led by good growth in Nigeria and Romania but offset by a continuing decline in Russia and weaker performance in Italy and Austria.
Operating profits leapt 21.1% to €506.3m (£430.8bn) thanks to continued progress in margin recovery as the business cut costs and was helped by benign input costs.
CEO Dimitris Lois said: "I am delighted with our 2016 performance and the momentum in the business. We have delivered solid currency-neutral revenue growth and another year of significant growth in margins and profits, representing a sustainable and well established recovery. Cost and efficiency actions continue to improve profitability and enable the business to maximise the gains from top line growth.
"In 2017, we expect slightly better economic conditions to support volume growth. We take confidence from these improving underlying trends as well as the success of both our commercial activities and cost initiatives, which will remain key focus areas in our plans. We are confident that 2017 will be a year of currency-neutral revenue growth and margin expansion as we continue to make progress towards our 2020 targets."
Shares in the group have risen 0.4% so far to 1,831p.
PepsiCo boosted sales 5% in its fourth quarter to $19.5bn thanks to steady demand in its domestic US market and a 53rd week in the financial year. It helped the drinks-and-snacks giant shake off the currency volatility plaguing multinationals. However, the effects of the strong dollar versus devalued currencies in Latin America and the UK dragged down full-year revenues in 2016 by 3% to $62.8bn, down 0.4% on the previous year.
PepsiCo, like rival drinks giant Coca-Cola in results last week, has improved its performance in the US and has developed healthier products to appeal to changing consumer tastes. "We concluded 2016 with another strong quarter of operating performance, capping off a successful year," CEO Indra Nooyi said. "We met or exceeded every financial goal we set for 2016, while delivering a good balance between revenue performance and productivity."
Reported operating profit increased 6% in the final three months to $2.4bn but net income for the quarter slipped 18% to $1.4bn as the deconsolidation of the Venezuelan operations hit the bottom line. Full-year net income was rose 16% to $6.4bn. The group was cautious in its outlook for 2017, forecasting organic sales growth of just 3% as foreign exchange translation and the extra reporting week in 2016 held PepsiCo back.
Nooyi said: "Looking ahead to 2017, we expect solid financial performance despite anticipated continued macroeconomic challenges. Further, reflecting our commitment to providing attractive cash returns to shareholders, we are increasing our dividend per share for the 45th consecutive year, beginning with our June 2017 payment."
Yesterday in the City
French dairy group Danone had a volatile day, plunging in the morning after it announced figures for 2016 before recovering and falling once again. Shares ended the day 0.2% down at €59.94. Sales fell 2.1% to €21.9bn as the business faced into severe currency headwinds and the dairy division struggled, with an Activia relaunch failing to gain traction.
Heineken shares fizzed 3.7% higher to €75.63 after it reported a strong set of numbers for 2016. Organic revenues increased 4.8% to €20.8bn (£17.6bn) as volumes grew 3% and premium brands volumes jumped 3.7%. It comes after the Dutch brewer announced the acquisition of the Kirin business in Brazil earlier in the week.
With no news in London yet again in half-term week to drive share movement, Unilever (ULVR) was up 1.1% to 3,320p, PZ Cussons (PZC) climbed 1% to 315.1p and Diageo was up 0.9% to 2,261.5p.
Fallers included B&M European Value Retail (BME), which was down 2.2% to 295.7p, Marks & Spencer (MKS), down 1.8% to 330.3p, and Ocado (OCDO) gave back some gains, falling 0.7% to 258.6p.
The FTSE 100 bounced back from inflation-driven falls on Tuesday to close 0.5% higher at 7,302.41 points as noises from the US indicated interest rates could be set to climb.