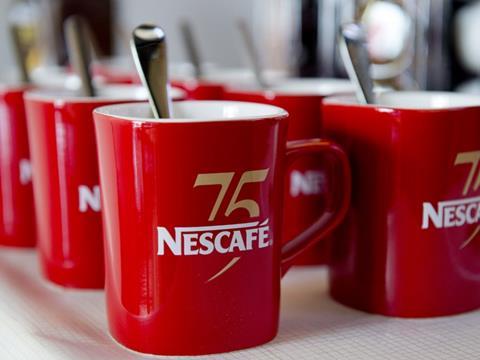 Top story
Nestlé shrugged off the strength of the Swiss Franc to record better than expected first quarter sales this morning.
Sales of CHF20.9bn were 0.5% up and represented organic, constant-currency growth of 4.4% - slightly higher than the 4.3% predicted by analysts, according to a Reuters poll.
Paul Bulcke, Nestlé CEO said: "Our three-month sales growth was in line with expectations and driven by both real internal growth and pricing.
"Our full-year outlook is confirmed: we aim to achieve organic growth of around 5% with improvements in margins, underlying earnings per share in constant currencies and capital efficiency."
Its organic growth in developed markets was 2.5%, while emerging markets grew 6.7% on an organic basis. The 4.4% growth represented 1.9% real internal growth and 2.5% pricing, but was dampened on a reported basis by negative foreign exchange of -4.5%.
The KitKat maker grew in all categories, recording organic growth of 5.6% in the Americas, 4.5% in Europe, Middle East and North Africa and 2.2% in Asia, Oceania and sub-Saharan Africa.
Morning update
Waitrose saw its weekly sales fall by 9.6% in the week to 11 April as Easter closing impacted year-on-year comparatives. Waitrose said a more realistic comparison is provided by comparing the trading week with the full seven day week beginning Easter Sunday last year, which shows divisional sales (excluding fuel) down by 1%. Excluding the impact of new stores, this suggests a like-for-like fall of around 5%.
The BRC/Springboard footfall and vacancies monitor out today shows footfall in March was 0.2% higher than a year ago, an improvement on the 0.5% fall in February. High Streets were the only location to report a decline, falling 1.4%. Footfall in out-of-town locations fared the best with a 3.8% increase year-on-year, while shopping centres reported a 0.4% rise.
On the markets this morning, Tesco (TSCO) again opened down after a few days of weakness – dropping another 0.4% to 240p in early trading. tobacco giant British American Tobacco (BAT) opened strongly, up 0.5% to 3,759p after a positive earnings release from Philip Morris in the US yesterday.
Nestle opened 0.5% up at €77, but was soon back at last night's closing price of €76.6.
Yesterday in the City
There were contrasting fortunes for the UK's largest listed alcohol firms on Thursday as Diageo (DGE) shares tumbled on an unexpected earnings drop, while SABMiller (SAB) shares were buoyant as the brewer beat fourth quarter expectations.
Diageo shares fell by 3.6p yesterday to 1,896.5p after a surprise 0.7% fall in organic third quarter sales as the Guinness brewer missed analyst expectations in every region. Conversely, Peroni brewer SABMiller was up 1.4% to 3,636p after posing a higher than expected 4% rise in beverage volumes in the fourth quarter.
Elsewhere, Unilever (ULVR) was up 2.6% to 3,011p as it surprised the market with better than predicted 12.3% turnover growth in its first quarter thanks to currency tailwinds and underlying growth.
WHSmith (SMWH) continued its trend of falling sales and rising profits as it grows its travel business and squeezes savings out of its remaining high street estate. The shares fell back 1.2% to 1,385p.
The supermarkets had a generally poor day yesterday as investor mull just how thorough Dave Lewis' kitchen sinking might be next week. Amid talk of rights issues and £4bn property write-downs, Tesco (TSCO) was down 2.4% to 241p, while Sainsbury's (SBRY) also fell 2.4% to 277p. Morrisons (MRW) was 1.2% down to 201.2p.
Thorntons (THT) was one of the day's strongest risers, climbing 4.5% to 81p.