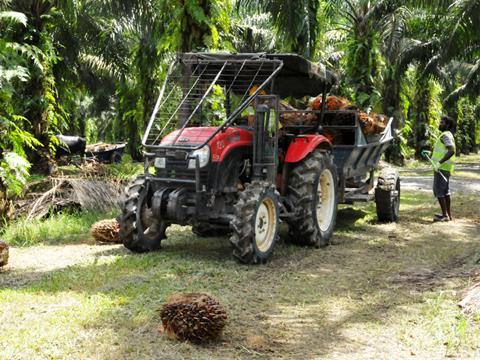 Top Story
New Britain Palm Oil (NBPO) announced this morning it has cut the offer period for the takeover bid for Sime Darby Plantation to speed up the acquisition process after the deal received EU backing.
The offer for the £1.07bn takeover deal will now remain open until 23 February, having previously been extended twice – most recently in January to 27 March. The offer period was previously extended in case the EU needed more time to rubber stamp the takeover.
The proposed acquisition received EU approval on the 28 January, meaning the additional time "is no longer required".
Malaysia's Sime Darby made the offer for the London-listed Papua New Guinea-based palm oil producer in October. The offer represented an 85% premium on New Britain Palm Oil's share price.
Morning Update
It's a relatively quiet Monday morning on the wires so far today, but the market has opened down thanks largely to yesterday's stories about the failings of HSBC's Swiss subsidiary.
Weak Chinese economic data was also a factor in the FTSE 100 falling by 0.7% (over 50 points) in early trading.
The major fmcg were caught up in the sell-off, with Unilever (1.4% down to 2,762p) and Reckitt Benckiser (1.1% down to 5,515p) amongst those hit.
The big news over the weekend was the Sunday Times' revelation that Tesco (TSCO) is demanding suppliers cut their prices to pass on commodity savings and is threatening to delist those who don't. The market doesn't seem too perturbed, with Tesco dropping just 0.2% in early trading to 228.3p.
Last week in the City
Friday was a tale of two firms with contrasting fortunes.
Poundland's(PLND) still to be approved acquisition of 99p Stores was euphorically greeted by the City, sending the discounter's shares shooting up to their highest ever level. Poundland ended the day 15.4% up at 413p – now 37.7% higher than its 300p float price of March 2014.
The day was far less pleasing for Tate & Lyle (TATE), which saw its shares plunge after its third profits warning in less than a year. The sucralose producer's troubles are nothing new – supply issues go back to the cold US winter and the temporary closure of a factory in Singapore – but they are still having an effect, meaning its full-year profit will be lower than the guidance it gave in October. The firm dropped 13.7% to 573.5p on Friday, albeit still above its mid-December low of 551.5p.
Among the other notable movers were Conviviality Retail (up 3.3% to 141.5p) and Hilton Food Group (up 2.6% to 401p).
The FTSE 100 dipped slightly on Friday, falling 0.18% to 6,853.4pts as official statistics showed the UK's trade deficit grew to its highest level since 2010 as consumer took advantage of falling oil prices by increasing spending while eurozone weakness hampered UK exporters.
In The Diary
This week looks fairly quiet on the UK front (unless there's another sudden M&A glut like last week), but the US earnings season is in full swing.
Tomorrow Coca-Cola will issue a fourth quarter earnings release, bringing to a close a difficult year for the soft drinks giant. Earnings struggled in 2014 thanks to a drop in volumes hitting revenues in European and China. Coca-Cola also finds itself at the wrong end of growing consumer awareness of health and diet issues as well as currency headwinds. The market will be particularly interested to hear an update on sales of green-labelled low sugar drink Coca-Cola Life.
Tuesday also sees a Q4 trading update from US-listed MillerCoors.
Wednesday brings the Q4 update from the other soft drinks behemoth PepsiCo, which has had a slightly better time of things than Coke. Its Q3 results beat expectations, sending its stock to an all-time high – its shares have risen further since then on rumours it may be a takeover target for investment giant 3G Capital.
Wednesday also brings the full-year results from newly slimmed down Reckitt Benckiser. Reckitt floated its pharma arm just before Christmas to allow it to concentrate on consumer health. The re-focus seems to be paying off, with Reckitt reporting a 3% sales boost in the third quarter.
Finally, Cadbury owner Mondelez issues its fourth quarter earnings release in New York on Wednesday, while Whole Foods Market has a Q1 trading update.
Next up, on Thursday comes a fourth quarter update from Coca-Cola Enterprises, Coke's Western bottling firm, which has previously warned that unfavourable currency movement will hit its full-year results. Kraft Foods also has a Q4 earnings update on Thursday.
Away from company news, this week will also bring the latest market share updates from Kantar Worldpanel tomorrow and Nielsen on Friday.
Tomorrow also brings the latest figures from the BRC's retail sales monitor, with UK Industrial and manufacturing production stats will also come through tomorrow. Wednesday sees the release of the latest Bank of England inflation report.