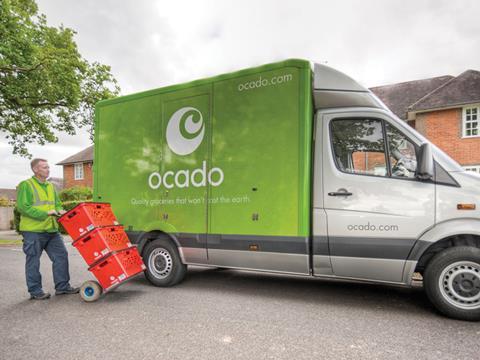 Top story
Ocado (OCDO) has signed a long-awaited US partnership with retail giant Kroger to use its technology to launch a grocery delivery operation in the country.
Kroger will exclusively adopt Ocado's Smart Platform technology in the US for grocery and other food distribution related activities.
The partnership will build "multiple CFCs across the US". The pair are already working to identify the first three sites in 2018 for development of new, automated warehouse facilities in the US, and will identify up to a total of 20 over the first three years of the agreement
Ocado will now discontinue discussions with all other US-based retailers. This exclusivity in the US conditional on it meeting market share targets or ordering an agreed number of CFCs per annum.
Kroger is one of the world's biggest grocery retailers, and a market leader in the US, with sales in of $122bn in its most recent financial year.
Kroger will pay Ocado monthly exclusivity and consultancy fees which will offset in part the total fees that are expected to be agreed between the two parties
As part of the deal Kroger will take a 5% stake in Ocado worth £183m and consisting of 33m ordinary shares.
Tim Steiner, CEO of Ocado, said: "Ocado's unique, proprietary and industry-leading technology is set to transform the shopping experience of consumers around the world. Our success as a retailer shows that we can offer customers unrivalled choice, quality and convenience, efficiently and profitably.
"The opportunity to partner with Kroger to transform the way in which US customers buy grocery represents a huge opportunity to redefine the grocery experience of Kroger's customers and create value for the stakeholders of both Kroger and Ocado.
"As we work through the terms of the services agreement with Kroger in the coming months, we will be preparing the business for a transformative relationship which will reshape the food retailing industry in the US in the years to come."
Rodney McMullen, Chairman and CEO of Kroger, added: "We see Ocado as an innovative, exciting and transformative partnership in pursuit of our Restock Kroger vision, to serve America through food inspiration and uplift. We are actively creating a seamless digital experience for our customers. Our partnership with Ocado will speed up our efforts to redefine the food and grocery customer experience - creating value for customers and shareholders alike."
Ocado expects the earnings impact of this announcement to be neutral in in the current financial year and that the structure of the terms to be agreed with Kroger will be broadly similar per CFC to those already agreed with Groupe Casino, Sobeys and ICA Group.
Ocado and Kroger will, however, explore value neutral alternatives to its normal fee structure to reduce the initial capital requirements for Ocado, compensated by an appropriate reduction in ongoing fees.
Ocado shares have surged by 39.8% in early trading to an all-time high of 771.8p. The new shares price vaulues Ocado at £5.2bn, which is more than Marks & Spencer (MKS) and comfortably enough to propel it into the FTSE 100.
Morning update
Ahead of its AGM today, Fever-Tree (FEVR) has announced "further positive progress" in the first four months of its new financial year, particularly in its home UK market.
Bill Ronald, chairman of Fever-Tree, will say at the meeting: "The first four months of 2018 has seen further positive progress, most notably in the UK where, as market leader, our brand strength, pioneering approach to flavours and formats, as well as our relationships with key customers and spirits partners means we are increasingly well positioned as the wider mixer category continues to evolve."
He will add that its transition to wholly owned operations in the US is "continuing to plan". "We have made excellent progress, with the Fever-Tree US team now in place ahead of taking direct management of our distribution network and marketing effort on 1st June 2018."
"The Group's performance in the year to date has been encouraging and at this early stage in the year we are trading in line with market expectations for the full year ending 31 December 2018."
Fever-Tree has also this morning appointed Domenic De Lorenzo to the board as a non-executive director.
De Lorenzo has spent 20 years at SABMiller, the former FTSE 100 beverage company, focusing on strategy and corporate development before reaching the position of CFO.
Bill Ronald, Chairman of Fever-Tree, said: "I am delighted to welcome Domenic to the Board of Fever-Tree. As a former FTSE 100 CFO, with significant beverages experience gained over 20 years at SAB Miller, he has valuable experience of building global premium brands and of scaling already significant businesses and I have no doubt he will further strengthen our board's capabilities."
Elsewhere in UK retail, Mothercare (MTC) has asked investors to stump up £28 million as part of a restructuring plan that will lead to the closure of a further 50 stores.
Its company voluntary arrangement (CVA) will enable it to shut 50 stores and achieve rent reductions on 21 further outlets.
Additionally, former boss Mark Newton-Jones had agreed to return as chief executive after just a month away from the business to lead the restructuring process.
On the markets this morning. Other risers away from the Ocado share price surge, include Mothercare, which is up 17.4% to 25p on this morning's news.
Fever-Tree has plunged 7.7% despite the comments on solid trading as investors seem disappointed the company hasn't issued yet another earnings upgrade - as has almost become customary.
Marston's (MARS) has clawed back 2.8% after yesterday's falls to 101.5p, Stock Spirits Group (STCK) is up 2% to 261p and Majestic Wine (WINE) is up 1.4% to 444.5p.
Other fallers including SSP Group (SSPG), easing back 1.6% to 636.5p, Total Produce (TOT), down 1% to 197.5p and Coca-Cola HBC (CCH), down 0.7% to 2,579p.
Yesterday in the City
The FTSE 100 edged 0.2% higher to 7,734.2pts yesterday as it continues to hover just shy of January's record highs.
Travel food specialist SSP Group jumped 3.1% to 647p yesterday after rising air passenger numbers drove a surge in sales and profits in the first half of its financial year.
It was, however, a grim day for the pub and leisure sector after a profits plunge at pub company Mitchells & Butlers (MAB) led to a 7.2% slump in its share price back to 255.4p. Brewer and pub company Marstons (MARS) fell by an even more severe 12.2% to 98.3p, while sector contemporary Greene King (GNK) dropped by a more modest 2.1% to 546.6p.
C&C Group, which reported a full-year profits drop largely driven by its domestic market in Ireland ended the day up 0.5% to €3.08.
Elsewhere, Greggs (GRG) was up 2.8% to 1,048p, Diageo (DGE) rose 1.4% to 2,711p, Ocado (OCDO) rose 1.3% to 522p and PureCircle (PURE) was up 4.5% to 357p.
Beleaguered butchery group Crawshaw (CRAW) jumped 39.3p to 7.8p after appointing former Asda exec Jim Viggars as its boss on Friday. Mothercare leapt 6.5% to 21.3p ahead of the announcement of its CVA this morning.
Other fallers included Greencore (GNC), down 3.1% to 157.8p, PZ Cussons (PZC), down 0.7% to 243.2p and Associated British Foods (ABF), down 0.7% to 2,705p.