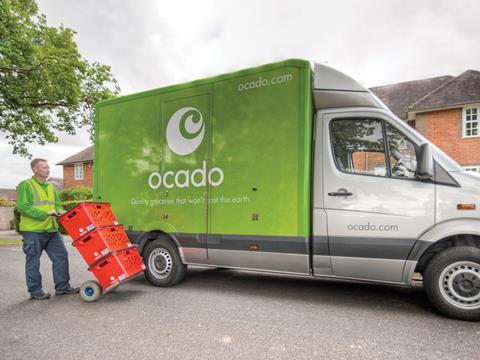 Top story
Ocado (OCDO) has reported a £0.5m 52-week loss despite double digit revenue growth as the cost of funding expansion and new technology hit the bottom line.
Headline revenues for the 53 weeks to 3 December were £1.46bn, which constitutes a 12.7% rise on a comparable basis with last year's 52 week turnover of £1.27bn.
Ocado said it had delivered double digit revenue growth despite a shortage of capacity limiting its UK growth potential.
Retail revenue growth of 12.4% to £1.35bn was driven by a 14.3% year-on-year increase in orders per week to 263,000.
The average basket at Ocado.com of £107.22 decreased by (0.8)% compared to 2016, primarily driven by an increased frequency of shop from customers, an increase in average price per item offset by a strategic decision to reduce multi buy promotional activity and a reduction in the number of items per basket.
Revenues from its newly split-out solutions business was £115.5 million, up from £99.4 million in 2016. This comprised of fees from its arrangement with Morrisons, for services rendered, technology support, research and development, management fees, and a recharge of relevant operational variable and fixed costs and also for the new store pick implementation.
However profit before tax for its 2017 fell to just £1m from £12.1m and to a loss of £0.5m on a comparable year-on-year basis.
Ocado said profitability in the period was adversely impacted by the wage increases partly impacted by increased national living wage, higher costs associated with the opening of Andover CFC, our continued investment in a number of strategic initiatives to aid future growth.
It also recognised an element of upfront fees relating to international partnerships that were signed in the period with Groupe Casino in France and Sobeys in Canada.
Ocado warned the cost of funding international expansion and technology development will continue to weigh on profits in 2018.
It said earnings "will reflect the fixed costs of our largest ever CFC in Erith, the ramp up of our proprietary solution in both Andover and Erith, and an acceleration in the development of our platform".
However, it expects the trends in EBITDA to improve significantly in 2019.
To help fund its technological developments it also announced this morning a cash placing of approximately 5% of its issued share capital "in order to provide us with the necessary flexibility to take full advantage of our current opportunities to grow Ocado Solutions and accelerate the development of our platform as well as future opportunities in our retail business".
Ocado CEO Tim Steiner commented: "The last twelve months have been transformational for Ocado. We have primed our Ocado Solutions business for growth and received an important validation of the business model through our latest partnerships with Groupe Casino and Sobeys. Looking ahead, we are confident that we will be able to do further deals with the momentum of new signings building over time.
"At the same time, our unrelenting focus on our customers in the UK has delivered 12.4% growth in retail revenue and further significant market share gains as well as a 4.5% increase in Retail EBITDA*. We have ramped up capacity in our revolutionary CFC at Andover, which opened at the end of 2016, and prepared the way for the opening of our fourth CFC, in Erith, this year.
"Now is the time to take advantage of our growth opportunities. We will invest to ramp up our new solution in both Erith and Andover and to have the right resources in place to meet growing demand for the Ocado Solutions offer. We believe that taking advantage of these international opportunities now will make our virtuous cycle turn faster in the years ahead and we expect that to translate into higher returns on capital. We look forward to our future opportunities and challenges".
Ocado shares have slumped 7.7% to 454.8p so far this morning.
Morning update
Despite a seasonal dip in shopper spend post-Christmas, grocery sales still increased by 3.4% in the 12 weeks to 28 January according to the latest market share figures from Kantar Worldpanel.
Fraser McKevitt, head of retail and consumer insight at Kantar Worldpanel, commented: "Following a record-breaking Christmas, January saw customers rein in their spending, with shoppers spending £1.6 billion less in the grocers compared with the month before. Households saved £63.04 on average over January compared to December 2017: customers spent £3.39 less every time they shopped and sales of premium own-label products nearly halved."
Each of the big four remained in robust growth, with Tesco (TSCO) leading the pack at 2.6%, Asda and Morrisons (MRW) both at 2.2% and Sainsbury's (SBRY) at 1.5%.
Lidl once again was crowned the UK's fastest-growing retailer, with the discounter experiencing a market share increase of 0.5 percentage points and saw sales climb by 16.3% compared to this time last year. Aldi sales were up 16.2%.
Still feeling the effect of selling nearly 300 stores to McColls, Co-op's market share dropped by 0.2 percentage points to stand at 5.8%, having experienced sales growth of -0.1%.
Kantar also said that grocery inflation now stands at 3.6% for the 12 week period ending 28 January 2018.
It said prices have been rising since the 12 weeks to 1 January 2017, following a period of grocery price deflation which ran for 30 consecutive periods from September 2014 to December 2016. Prices are rising fastest in markets such as butter, fresh fish and skin care, and are falling in only a few markets, including laundry detergents, washing up products and fresh poultry.
Also, this morning, market share figures from Nielsen show sales rose by the highest year-on-year rate for over six months.
Shoppers spent 4.2% more on groceries during the four weeks ending 27 January versus the same period a year ago, as inflation continues to drive up sales. The last time year-on-year growth was higher was 5.1% in July 2017, following a short heatwave.
Excluding the discounters, sales rose 2.7%, while volumes only rose 0.1%.
Mike Watkins, Nielsen's UK head of retailer insight, commented: "Inflation and New Year's eve falling within the reporting period - which benefited alcohol (spend up 10%) and soft drinks (8%) in particular - helped supermarkets start 2018 in an encouraging fashion, following an extremely good Christmas."
"This offset the fact that most of the major supermarkets saw less visits than a year ago as shoppers are still in an economising mood and may have cut back on restocking the cupboards with household bills coming in after Christmas. Furthermore, half of those who have changed their shopping behaviour are switching to cheaper grocery brands."
Over the twelve weeks ending 27 January, Tesco had the most improved year-on-year performance among the big four (sales up 3.4%), followed by Asda (2.5%). Overall, Marks & Spencer and Iceland (both up 3.7%) had the best growth figures outside of the discounters.
Nielsen found that Lidl's growth of 17.2% is comfortably outstripping its rival Aldi's growth of 12.6%.
On the markets this morning, the record plunge in the DOW in the US last night has hammered shares across the globe this morning.
The FTSE 100 is down 1.7% to 7,210pts so far this morning - though its fall was well over 2% soon after the market opened at 8am.
In addition to Ocado's share price drop fallers include
Science in Sport (SIS), down 6.9% to 68.4p, McBride (MCB), down 6.2% to 165.2p, McColl's (MCLS), down 4.4% to 250.6p and FeverTree (FEVR), down 4.1% to 2,301p.
Amongst the FTSE 100 grocery firms the worst hit are Sainsbury's (SBRY), down 1.9% to 238.8p, Diageo (DGE), down 1.5% to 2,438.5p, Coca-Cola HBC (CCH), down 1.4% to 2,264p and Morrisons (MRW), down 1.3% to 214.9p.
Yesterday in the City
The FTSE 100 dropped another 1.5% to 7,335pts yesterday as the significant share price drops in the US continue to weigh on international markets.
There were heavy losses across the sector, with some of the UK-listed grocery names most exposed to US earnings amongst the hardest hit.
Greencore (GNC) dropped 3.3% to 191.5p, British American Tobacco (BATS) fell 2.7% to 4,632.5p and Reckitt Benckiser (RB) dropped 2.4% to 6,555p.
Other FTSE 100 names caught up in the sell-off included Unilever (ULVR), down 2.3% to 3,947p, Coca-Cola HBC (CCH), down 2.1% to 2,296p and Imperial Brands (IMB), down 2.1% to 2,799p.
The supermarkets also suffered with Ocado plunging 5.1% to 492.5p ahead of its full-year results this morning, Sainsbury's (SBRY) dropping 2.3% to 242.4p, Morrisons (MRW) falling 2.2% to 217.7p and Tesco dropping 1.7% to 198.8p.
Other major fallers included McColl's (MCLS), down 6.4% to 262p, FeverTree (FEVR), down 4% to 2,400p and Majestic Wine (WINE), down 3.5% to 431p.
The few risers included household goods company McBride (MCB), up 0.7% to 176.2p and travel food specialist SSP Group (SSPG), up 0.5% to 605p.