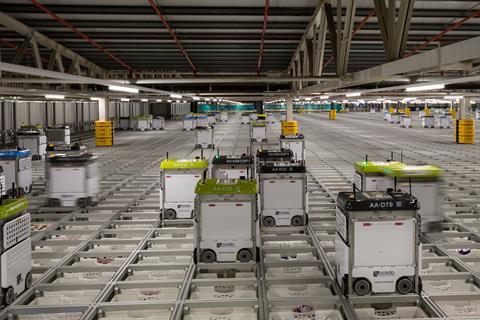 Top story
Ocado (OCDO) has announced plans to open a sixth Customer Fulfilment Centre in the UK to support the growth plans of its joint venture with Marks & Spencer, Ocado Retail.
The new centre, located in Bristol, will be Ocado's first mini-CFC with capacity for over 30k orders a week compared to 85k expected from Ocado's fifth CFC under construction at Purfleet.
The facility, which is being built in an existing warehouse, is expected to go live at the end of 2020 or early 2021. It consists of a 150,000 square feet warehouse and will support 815 jobs in the area.
The mini-CFC will allow customers in Bristol and the surrounding area to have a "wider range of options for delivery", including same day, Ocado said.
"In further developing a mix of different sizes of facility, Ocado is creating a unique and flexible ecosystem. In the future, mini-sized CFCs can complement the standard-sized CFCs to build a fulfilment network including in areas not suitable for larger CFCs," the company added.
"This will deliver long-term network benefits, enabling all Ocado Solutions partners to reach ever more households, while catering to the wide and growing range of shopping missions that customers expect to be served through online grocery."
Ocado CEO Tim Steiner said the company was "constantly evolving" and adapting to changing customer needs.
"Ocado's technology is dynamic and constantly improving, delivered through tried and tested solutions with proven and attractive economics. Our mission is to deliver the future of online shopping today, and we believe we are succeeding."
Ocado shares opened marginally higher at 1,167p.
Morning update
Spirits group Remy Cointreau (RCO) has reported a drop in interim revenues and profits as protests in Hong Kong dented premium cognac sales.
For the six months to 30 September, the French company's sales fell 3.6% on an organic basis, 0.6% on a total basis, to €532.9m.
Group Brands sales grew 6.1% in the period period, 2.8% in organic terms, driven by a strong performance of the company's flagship brand Remy-Martin.
Operating profits dropped 4.7% to €138.3m, with the company attributing the fall to weaker tourism in Hong Kong and a slow restocking of US retailers.
The Liqueurs and Spirits division rose 4.9% benefiting from a recovery in the second quarter following disruption at the beginning of the year due to changes in the distribution network in Europe.
While, exiting several partner brands, led the Partner Brands unit to a 71% fall in organic revenues.
Looking ahead, the company reiterated its ambition to become "the world leader in exceptional spirits", despite warning of a €56m impact on sales and €5m blow to operating profits following the termination of its partner brands distribution contracts.
The spirit makers shares are down 2.8% to €116.90 so far this morning.
Payments specialist PayPoint has announced its interim results for the six months to 30 September.
Net revenues were up 3% to £57.3m in the period and up by 4% on an underlying basis excluding the £0.5m final year impact from the Yodel renegotiation.
Underlying net revenue growth was driven by "strong performance" in UK service fee revenue (up by 31.8%) Romania (up by 6.2%) and a resilient performance in UK bill payments and top-up businesses which were up (0.7%.
However, costs of £33.2m represented a £3m increase from the prior period, reflecting investment into additional resources to integrate new parcel partners into the network and in the contact centre to further improve customer service.
Therefore, profit before tax of £24m was £1.3m down on the prior year. Excluding the one-off VAT recovery benefit of £1.7m and £0.5m Yodel impact in the prior year, underlying profit before tax was up £0.9 million (4.0%).
CEO Nick Wiles commented: "I'm pleased with the progress PayPoint has made over the past six months as continued execution against our stated strategic priorities has seen the business deliver net revenue growth of 3.0% and underlying profit before tax growth10 of 4.0%.
The FTSE 100 opened in the red, down 0.5% to 1,394.31pts.
Risers include Tesco (TSCO) up 0.5% to 235.60p, Marks & Spencer (MKS) up 0.7% to 197.40p and SSP Group (SSPG) up 0.7% to 680p.
Fallers saw British American Tobacco (BATS) down 1.1% to 3,047.50p, Imperial Brands (IMB) down 0.7% to 1,701p, Coca Cola HBC (CCH) down 0.5% to 2,606p and Just Eat (JE) down 0.4% at 760.80p.
Yesterday in the City
The FTSE 100 ended the day in positive territory, closing 0.4% higher at 7,429.78pts.
Among the risers British American Tobacco (BATS) closed 2.8% higher at 3,070.50p after announcing it was "on track for a strong year".
Imperial Brands (IMB) was also in the green, closing 2.5% higher at 1,711p.
Sainsbury's (SBRY) closed 1.1% higher at 220.40p while Tesco (TSCO) was up 0.6% at 234.20p.
Fallers saw Marks & Spencer (MKS) close down 2% at 198.75p, Compass Group (CPG) slump 2% to 1,876.50p and B&M European (BME) down 1.6% to 376.10p.