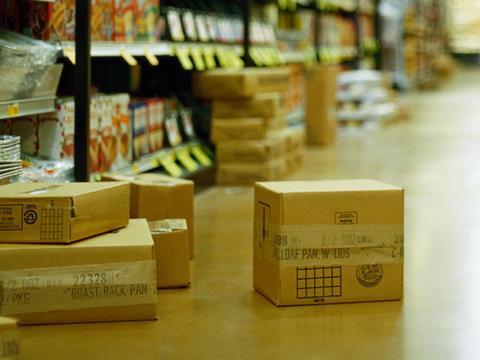 Top story
Packing firm DS Smith (SMDS) is on target to hit full-year expectations after "good" volume growth in its financial year to 30 April.
The supplier of recycled packaging for consumer goods has issued a pre-close trading update for its 2016/17 financial year.
It said the business "continues to perform in line with our expectations", with good volume growth "built on the strength of our relationships with pan-European and e-commerce customers".
DS Smith said it expects to deliver on all our five of its previously announced medium term financial targets.
It added that the the integration and performance of recently acquired businesses is "progressing well" after expanding its presence in corrugated packaging in Iberia, in point of sale capability in Europe, and in flexible plastic packaging in the US during the year.
CEO Miles Roberts said: "We are pleased with the performance in the year, despite challenging economic conditions and have seen DS Smith grow again, both organically and through acquisitions.
"Our success is underpinned by our commitment to packaging that is innovative and adds value to our customers, throughout their global supply chains and also by a focus on our own global supply chain efficiency. This approach, together with momentum in our business and opportunities to further strengthen our customer offering, gives us confidence in the future."
Full results will be released on 29 June. Its shares edged up 0.1% to 436p this morning.
Morning update
Nivea owner Beiersdorf (BEI) said it has has started the 2017 fiscal year with "strong growth momentum" after releasing its first quarter results this morning.
In the first three months of the year, the company grew organic group sales by 4.8%. On a reported basis, the year-on-year increase was even higher, with sales rising to 7.7% to €1.8bn.
Its consumer business Segment achieved organic sales growth of 3% in the first three months of the year. It was boosted by a 3.5 percentage point exchange rate benefit, though structural effects reduced growth by 0.2 percentage points, meaning reported revenues were up 6.3% to €1.48bn.
A good performance in Europe laid the basis for growth. In the Americas, the strong performance was driven by Latin America, while its Africa/Asia/Australia region also contributed to the growth.
Sales growth was driven by all core brands. NIVEA sales rose by 3.5%. Eucerin sales were up 3.3%, while Hansaplast lifted sales by 3.8%. La Prairie continued its strong sales performance and achieved a 10.5% increase in sales.
CEO Stefan Heidenreich commented: "Beiersdorf has further accelerated its growth with another strong boost in the first quarter 2017 and substantial gains in market shares. This applies to both business segments, Consumer and tesa. tesa saw a particularly strong jump in sales, emphasizing its strong position in the world market. Consumer also generated an excellent sales increase in a declining market environment. We therefore look ahead with cautious optimism despite the continuing risks in the markets."
Beiersdorf has opened up 0.5% to €91.48.
On the markets this morning, after a week of strong growth the FTSE 100 has eased back 0.7% so far to 7,240.6pts.
Most major fmcg and grocery names are down, led by British American Tobacco (BATS), down 1.1% to 5,248p, Diageo (DGE), down 1.1% to 2,237p and Sainsbury's (SBRY), down 0.9% to 271.1p.
Other fallers include Real Good Food (RGD), down 1.4% to 36p, Total Produce (TOT), down 1.2% to 165p and PayPoint (PAY), down 1.2% to 1,007p.
The few risers include Applegreen (APGN), up 2% to 403p, Crawshaw (CRAW), up 1.9% to 26p and Finsbury Food Group (FIF), up 0.8% to 109.1p.
Yesterday in the City
Global markets continued their strong run this week yesterday, with the FTSE 100 closing up another 0.2% to 7,288.7pts.
The news that butchery group Crawshaw (CRAW) was selling a 50% stake to Boparan at 15p a share hit the value of the rest of its stock, plunging 15.5% to 25.5p.
It was a tough day for Irish food group Glanbia (GLB) too, falling 3.1% to €18.08 despite the group insisting it had delivered "good" revenue growth in the three months to 1 April.
Nichols (NCLS) was down 1.4% to 1,860p after telling soft drink group's shareholders at yesterday morning's AGM that the trading performance for the first quarter of 2017 is in line with management expectations.
Other fallers included Real Good Food (RGD), down 5.2% to 36.5p, Conviviality (CVR), down 1.9% to 305.8p and Hilton Food Group (HFG), down 1.5% to 738p.
However, it was a better day for Tesco, with the supermarket one of the FTSE 100 stronger risers, climbing 1.6% to 180.5p and Booker (BOK) up 1.3% to 191.5p.
Greencore also started to recover from its Tuesday share price plunge, rising 1% to 230p.
Other risers included Finsbury Food Group (FIF), up 1.9% to 108.3p, Stock Spirits (STCK), up 1.9% to 176p and McColl's (MCLS), up 1.6% to 208p.
In the US Procter & Gamble (PG) was down 2.5% to $87.74 after reporting a 1% drop in third quarter revenues to $15.6bn.
PepsiCo (PEP) was down 0.7% to $113.33 after it reported a 41.6% rise in first quarter profits.