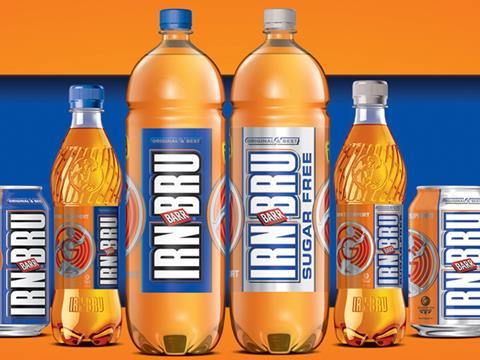 Top story
Irn-Bru maker AG Barr's (BAG) first half revenues slipped by 2.8% as the poor British weather hit soft drinks sales.
Total turnover for the 6 months ended 25 July was down 2.8% (adjusting for the impact of discontinued business) to £130.3m.
The company said it had "been through an extremely demanding 6 months in which we have delivered a substantial level of change and business improvement".
"The soft drinks market in the period has been impacted by continued price deflation and very poor weather, especially in the north of the UK. As expected, our relative revenue performance has also been affected by the stretching prior year comparatives driven by better than average weather, strong execution behind the Glasgow 2014 Commonwealth Games and specific brand promotional phasing changes in the current year."
Adjusted profit on ordinary activities before tax, interest and exceptional items increased by 3.3% to £17.8m, while statutory profit before tax decreased by 11.3% to £16.9m.
Roger White, chief executive, said: "We have delivered a number of significant system, business process and operational improvement projects over the course of the last 6 months, which will ensure we can successfully deliver our long-term growth and efficiency ambitions.
"Market conditions across the first half have been difficult and are forecast to remain so. The business is responding well to the market challenges but the weather since we last updated the market in July has been poor and, although we have recovered some sales momentum, it is not yet at the run rate we have targeted.
"Our focus in the coming months will be to build our sales momentum and continue our long-term brand investment strategy."
Morning update
A busy morning also sees trading updates from Dairy Crest (DCG) and PZ Cussons (PZC).
Dairy Crest issued a pre-close trading update for the six months ending 30 September 2015. It said that in the first quarter total sales of its four key brands, Cathedral City, Clover, Country Life and Frylight, were in line with the first quarter of last year and it expects to report a similar position for the first half.
"We anticipate that the performance of our cheese and spreads and butters businesses will be weighted to the second half of the year ending 31 March 2016 and that first half profits in these businesses will be behind those of the first half of last year.
Dairy commodity markets have been deflationary during the first half and as a result our input costs have fallen - therefore lower milk purchase prices will only be fully reflected in the cost of cheese sold in the second half of this year.
"Our expectations for the full year remain unchanged, reflecting lower cheese costs and an improved performance from our spreads and butters business in the second half."
Dairy Crest said the sale of its dairy business to Muller is still set to complete before the end of 2015 should the CMA accept the undertakings.
Imperial Leather owner PZ Cussons said its performance between 1 June 2015 to 21 September 2015 was "in line with expectations" ahead of its AGM today.
It said it was "pleased with the impact of our product launches and our innovative product pipeline" which are helping the business make progress in challenging markets.
In the UK, performance in the washing and bathing division has been strongly driven by innovation and the launch of a new range of Carex bodywash products. In its key African market of Nigeria it said: "The exchange rate has remained stable against the dollar although low oil prices continue to contribute to an environment of tight liquidity with additional foreign exchange restrictions imposed for certain imported items."
In terms of outlook, PZ Cussons said: "Ongoing challenges relate principally to weakening exchange rates, particularly in Australia, Indonesia and Nigeria where imported inflation is affecting margins as well as consumer disposable income. In Nigeria, the tightening in foreign currency rules is also restricting dollar availability for certain items.
"The strength of the group's new product pipeline and the success of recent product launches leave the group well placed to counter these challenges."
Elsewhere, Morrisons (MRW) this morning has announced that Neil Davidson, former CEO of Express Dairies and Arla Foods UK, has joined its board as a non-exec director. Davidson, who has also worked at Northern Foods and is currently a non-executive director of Produce Investments, will start his role on 1 October.
He replaces Penny Hughes, who is standing down at the end of this calendar year after six years and will replace her as chair of the Morrisons Corporate Compliance and Responsibility Committee.
Andrew Higginson, Chairman of Morrisons, said: "Neil Davidson brings a wealth of experience in the UK food manufacturing and retail sectors from his time as CEO of Express Dairies and Arla Foods and as a major supplier to Morrisons. I am pleased to welcome him to the Morrisons Board. I would also like to thank Penny Hughes for her contribution and dedication to the Board over the last six years."
Meanwhile, pub chain Mitchells & Butlers has promoted its CFO Phil Urban to become chief executive. The appointment came as M&B revealed a small sales growth over the past year, driven a 2.1% increase in food sales, while drink sales fell 0.3%.
This month's Kantar Worldpanel market share figures will be out later this morning.
The FTSE has opened 0.5% down to 6,077.2pts this morning.
AG Barr has plunged 4.9% to 534.4p in early trading, Dairy Crest is 0.9% down to 620p and PZ Cussons is 0.1% down to 290p.
Yesterday in the City
The FTSE 100 crept up 0.1% higher to 6,108.7pts on a fairly low key opening to the week.
Finsbury Food Group (FIF) boosted full year revenues by 45.8% to £256.2m and like-for-like sales 6.1%, but its shares slipped back 2.5% to 99p despite spiking to an annual high of 110p soon after opening.
Stevia producer PureCircle (PURE), which revealed its intention to move from AIM and secure a listing on the main market of the London Stock Exchange later this year, was up 1.9% to 400p – though its shares have fallen by 35% over the past year.
Elsewhere, the supermarkets were amongst the FTSE's better performers yesterday, with Morrisons (MRW), up 1.7% to 159.3p, and Sainsbury's (SBRY), up 1.5% to 231.6p, amongst the FTSE 100's top ten risers. Tesco was also up 1.1% to 176.5p ahead of this morning's latest Kantar Worldpanel market share figures.
Associated British Foods (ABF) was also up 1.2% to 3,175p yesterday.