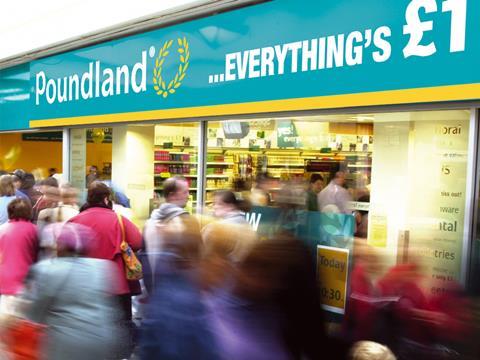 Top story
Poundland (PLND) has confirmed to the market this morning its intention to raise £50m through a share placing to help fund the £55p takeover of rival 99p Stores.
JP Morgan is sole bookrunner and Shore Capital is co-lead manager on the process, which will begin today.
Poundland announced back in February acquisition and costs associated with the integration and restructuring of 99p Stores will be funded by an equity placing and an increase its revolving credit facilities.
Poundland also said today that, given the longer than anticipated CMA review process, it has had limited access to recent detailed trading performance data from 99 Stores. "Indications are that 99p Stores' financial position has weakened somewhat since our original due diligence," it said. "This does not impact the strategic rationale for the acquisition as outlined above and does not affect our plans or the potential synergies that we have identified."
Poundland also said this morning that sales for the 14 weeks ended 20 September 2015 were ahead by 6.6% on a constant currency basis. On an actual currency basis, sales increased by 5.9% to £303.2m. Sales for the 25 weeks ended 20 September 2015 were ahead by 5.5% on a constant currency basis to £532.1m.
Its opening programme is ahead of plan and it expects to have opened 50 net new stores in the UK and Ireland during the first half of the current financial year, compared with 28 in the comparable period last year.
Morning update
Poundland shares have plunged 4.6% to 295.4p after this morning's news that 99p Stores' recent trading had been weaker than expected.
Elsewhere, Sports nutrition firm Science in Sport (SIS) has reported 19~% revenue growth in the six months to 30 June, with sales up to £5.24m from £4.42m last year. It fell to an underlying operating loss of £330k compared to a £239k in the corresponding period last year, but said this was "in line with expectations" and "reflected the phasing of brand awareness investment and US market analysis".
The second half is projected to see EBITDA growth again given planned first half weighting of marketing investment, with full year financial performance expected to be in line with expectations.
Stephen Moon, Science in Sport's CEO, said: "We have invested heavily in digital marketing during the first half and the benefits are evident in both growth and sharply improved brand awareness.
International and online growth has been particularly strong and we believe these channels will continue to play a key role in the medium and long term growth of the business. Our model of consistent investment in the brand to underpin revenue growth, together with attention to gross margin and tight control of overheads continues to work. We remain confident in our strategy and believe we will continue to deliver strong growth."
The FTSE 100 has edged 0.2% down to 6,022.2pts this morning. Supermarkets are amongst the early heavy fallers, with Sainsbury's (SBRY) dropping 1.2% to 226p and Tesco (TSCO) down 0.9% to 167.1p. Tate & Lyle is 3% up to 568p after a broker upgrade this morning. Science in Sport has dropped 4.8% to 65p on its first half EBITDA loss.
Yesterday in the City
The FTSE 100 shrugged off more worrying manufacturing data from China to end yesterday up 1.6% at 6,032.2pts and recover from the 2.8% hit the index took on Tuesday.
The drinks sector was one of the major focuses of the City yesterday. Diageo (DGE) ended the day 1% up to 1,733p despite warning that currency fluctuations would cut operating profits by about £150m.
Also, in the FTSE's top ten risers were Coca-Cola HBC (CCH), up 4.6% to 1,401p, while SABMiller (SAB) rose 2.9% to 3,567.5p. SABMiller's share price has previously eased in recent days, but is still 24% higher than it was before it confirmed an approach from AB InBev.
Elsewhere, Marks & Spencer (MKS) had a strong day, rising 2.6% to 488.4p, and Reckitt Benckiser was also one of day's big risers, climbing 2.6% to 5,850p.
The market's few fallers including Cranswick (CWK), down 1.9% to 1,607p given its growing pork exports to China, and Greene King (GNK), down 1.6% to 793p.