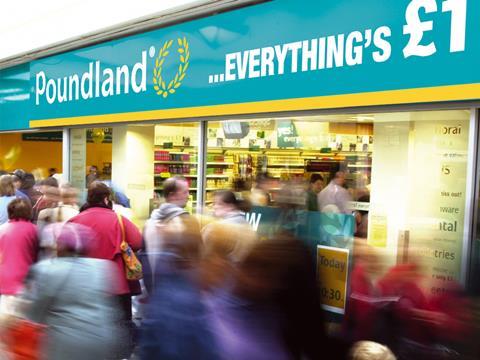 Top story
Poundland (PLND) has accelerated the conversion process of the acquired 99p Stores in an attempt to stop sales and profits haemorrhaging at the format it bought for £55m earlier this year.
Sales fell at 99p Stores during the long-running CME process as its credit insurance was withdrawn, reducing stock and resulting in a further downward spiral in revenues.
The credit insurance has now been reinstated and stock levels have improved but a shortage of imported seasonal stock is expected to lead to losses of between £6m and £8m in the second half in both converted and unconverted stores.
Poundland said it now plans to convert the vast majority of the acquired portfolio of 250 stores to the Poundland format by the end of April 2016.
CEO Jim McCarthy added that sales uplifts from the first converted stores were "very encouraging" and that the group had identified at least £25m of incremental EBITDA from the acquisition.
Poundland has also this morning raised its UK and Ireland store portfolio target by 40% from 1,070 to 1,400.
Total sales at Poundland in the six months to 27 September increased 6.2% to £561.1m, but fell 2.8% on a like-for-like basis compared with a rise of 4.7% a year ago.
Pre-tax profits also plunged 43.5% to £5.3m compared the first half in 2014 which McCarthy said was an "exceptional period" because of a late Easter and the impact of the loom bands craze.
Comparatives are softer in the second half but McCarthy warned trading had been "highly volatile" so far in the third quarter – a key period for Poundland in which it makes more than 50% of its EBITDA due to Halloween and Christmas.
"The 99p Stores acquisition is a transformational deal for us, adding the equivalent of five years of UK organic growth and 40% to our store numbers in one go," McCarthy said
"The early sales uplifts from the first converted stores are very encouraging and we now plan to accelerate the conversion programmes so that the vast majority of 99p Stores will be converted by the end of April 2016. We're confident of achieving at least £25m of incremental EBITDA from the acquisition and we are now increasing our UK & Ireland store target from 1,070 to 1,400 stores.
"The sales comparables in the second half are softer and our Christmas range is our best ever. However, we have seen highly volatile trading conditions so far in the third quarter. The quarter's performance therefore depends more than ever upon the last six weeks' trading towards Christmas."
Despite the City being softened up with a trading update in September warning of problems in the 99p Stores estate, shares in Poundland have plummeted more than 16% since markets opened to a record low of 233.7p.
Morning update
There is little else of not to speak of on the markets this morning, but over at thegrocer.co.uk we have stories on Curious Brew lifting its fundraising target to £3.7m after bringing in more than £1m in a crowdfunding campaign; an Asian sweets business buying a manufacturing hub with bank support and the makers of an innovative new drinking container for enjoying beer-on-the-go looking to raise £200,000 to support further product development.
Yesterday in the City
Majestic Wine (MJW) continued to have a good week with the stock now up 12% since markets opened on Monday. The share price rose another 3.2% yesterday to 344.8p following CEO Rowan Gormley revealing his ambition to hit £500m in sales by 2019.
Tesco (TSCO) climbed another 1.1% to 170.9p to continue gains made after investment bank Citi upgraded the stock yesterday. Fortunes were more mixed for its listed rivals Morrisons (MRW), down 0.7% to 154.5p, and Sainsbury's (SBRY), which jumped 2.1% to 253.6p after being the only one of the big four to show any sales growth in the last 12 weeks, according to Kantar Worldpanel.
The FTSE 100 overcame early losses as tourism-related stocks lost value in the midst of security worries after attacks in Paris on Friday. The blue-chip index closed 0.2% up at 6,279 points.
Other risers included value butchery chain Crawshaw Group (CRAW), up 5.1% to a record high of 93.5p, and Coke bottler Coca-Cola HBC (CCH), up 2.8% to 1,598.9p. Fallers included Reall Good Food (RGD), down 3.4% to 57p, and McColl's Retail Group (MCLS), down 2.1% to 141p.