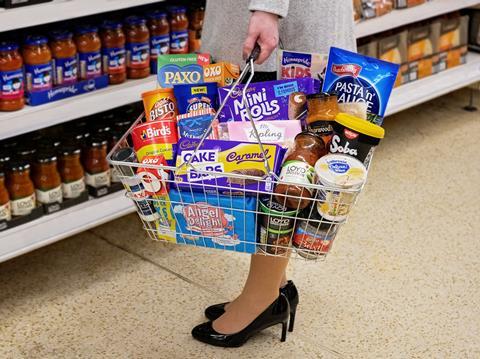 Top story
Premier Foods has upgraded its full year profit expectations as consumer demand for its branded goods continues to boom.
In the 13 weeks to 26 December Premier Foods saw sales growth of 9% and up by 12.5% ahead on a year to date basis.
Grocery Brands were the significant contributor to this performance, as sales increased 14.6% in the quarter and 20.8% year to date.
The vast majority of the Group's Grocery brands continued to see substantial growth with more meals eaten at home by consumers, reflecting further pandemic lockdown restrictions in the UK.
Sales of Sharwood's cooking sauces grew by 40% in Q3 due to strong commercial plans and new product launches while Bisto and Batchelors both reported healthy double digit sales growth, supported by increased investment in television advertising. Ambrosia also delivered increased sales in the quarter, benefitting from a new TV advertisement campaign.
In Sweet Treats, Mr Kipling saw UK sales up 7% in the quarter, alongside further market share gains. The brand has continued to benefit from the launch of new product ranges and an extended period of marketing investment.
The group also continued to build online sales, with growth of 90%, slightly ahead of the market, with notable share gains in Flavourings and Seasonings.
Sales of non-branded slipped back products slipped 2.7% in the period. Non-branded Grocery sales increased by 2.4% in the quarter as increased demand for own label retailer brand products were partly offset by a decline in sales at Charnwood Foods. Sweet Treats non-branded sales were (7.5%) lower following the exit of a low margin seasonal contract.
Premier's international business grew strongly in the quarter, up 43% partly helped by buy in of products ahead of the 31 December EU exit date. In Ireland, Nissin Soba noodle blocks were launched in Q3, while in Q4 both Mr Kipling and Bisto will be supported by TV advertising investment. In Australia, all the group's major listed brands, Sharwood's, Mr Kipling and Cadbury cake delivered very healthy sales growth in the quarter. Sharwood's also enjoyed growth in the US, while the market test on Mr Kipling in Canada has "performed well".
Following the delivery of another strong period of trading, Premier has upgraded its full year trading profit expectations to be in the range of £145m-£150m and for net debt/EBITDA to be below 2x by year end.
The group will also continue to increase its investment in brand advertising and has further new product development planned for quarter four.
CEO Alex Whitehouse commented: "Quarter 3 proved to be another period of exceptional growth as people turned to our product ranges in the face of heightened restrictions on out of home eating.
"We continue to deploy our branded growth model strategy, launching a series of new products in the quarter such as Sharwood's low sugar stir fry sauces and supporting five of our major brands with TV advertising. Together with excellent execution both instore and online, we continue to take market share in volume and value terms.
"Looking to the remainder of the year, out of home eating is likely to remain heavily restricted and we therefore expect to see continued high levels of consumer demand for our products. With more brand investment to come, we now expect trading profit to be in the range of £145-£150m this year."
Premier has also announced that, following strong cash generation in the third quarter, it will be redeeming a further £40m of its corporate bonds due July 20227. This follows previous part redemptions earlier this year which amounted to £120m. This redemption is due to take place on 16 February 2021, will reduce the amount outstanding on the notes to £50m and save the group a further £2m per annum in interest costs.
Premier shares are down 2.2% so far this morning to 105.7p.
Morning update
Hotel Chocolat has reported bumper Christmas sales despite coronavirus restrictions on its instore sales as online growth continues to surge.
For the 13 weeks and to 27 December, total group revenues increased 19% and were up by 11% in the 26-week half year period.
In the UK, the Hotel Chocolat' multichannel model enabled it to respond to the strong demand from its direct customer base. Online growth more than offset the impact of the temporary closures of physical retail due to COVID restrictions.
In the USA, the Hotel Chocolat brand was also able to pivot the multichannel business model to deliver year-on-year growth of 19% in the 13-week period, and 8% in the 26-week period.
In Japan, having opened a further 12 outlets during the half year, the joint venture is now operating from 18 locations, with a substantially increased e-commerce database.
Trading since December continues to be in line with management's expectations, despite materially higher investments in the acceleration of our digital and international growth plan, and ongoing pandemic-related response costs.
CEO Angus Thirlwell said: "The strength of the brand and our ability to flex our multichannel model meant that despite the challenging environment every business and every family has faced, we were able to keep on delivering chocolat happiness, launch new products and deliver strong sales growth.
"The growth momentum stepped up in Japan and the USA, and we have seen that it's underpinned by what the Hotel Chocolat brand brings that is differentiated and exciting to these mega markets. Encouragingly, we have also made significant progress in the period in building an operational platform for future growth.
"We accelerated several of our digital growth initiatives over the last year and can clearly see the huge potential ahead. Whilst there is still further near-term pandemic-related uncertainty, and ongoing increased costs in reacting to it, I am increasingly confident that in the medium-term we can deliver significant further growth in the UK, USA and Japan."
British American Tobacco has announced BAT announces a succession for its role of director, operations.
Alan Davy, current director, operations will step down from the board on 31 January and will leave the group on 31 May. He joined BAT in 1988 and has been with the Group for 32 years, 8 years of which as a member of the management board.
Zafar Khan, currently group head of new categories operations, will succeed Davy as director, operations and will be appointed to the board effective 1 February 2021. He started with BAT in his home country of Pakistan 24 years ago. Through his career he has acquired extensive global operations and supply chain experience, including regional operations director, Asia Pacific and Middle East and group head of plan, service & logistics.
CEO Jack Bowles, said: " Alan's transformation of operations into a dynamic, multi-category function has been a key component of our A Better Tomorrow strategy. Most recently, the group's ability to navigate the challenges presented by COVID-19 is testament to the efficient, agile and globally integrated supply chain he has created. We wish him and his family all the very best for the future.
"BAT has around 13 million consumers of our non-combustible products and Zafar's experience of expanding our capabilities and embedding an end-to-end supply chain for our New Category products makes him the natural choice as director, operations to accelerate the delivery of our A Better Tomorrow strategy.
"We are very proud of the depth and breadth of our management talent at BAT. By carefully developing careers on a global stage, we are, once again, able to ensure a well thought through and orderly internal succession to a key leadership role. Alan and I are confident that Zafar is the right leader, at the right time for the opportunities ahead. I wish Zafar the very best in his new role."
On the markets this morning, the FTSE 100 is up 0.4% today to 6,745.5pts.
Fallers include McColl's. down 4.1% to 25.7, Nichols, down 3.5% to 1,240p and Britvic, down 3.1% to 763.5p.
Risers so far include Hotel Chocolat, up 2.1% to 377.7p after this morning's trading update, Greggs, up 0.7% to 1920.9p and Kerry Group, up 0.9% to €113.60.
Yesterday in the City
The FTSE 100 started the week edging down 0.2% to 6,720.6pts.
Risers included Ocado, up 2.6% to 2,577p, WH Smith, up 2% to 1,622p and Greggs, up 1.4% to 1,907p.
Fallers included PayPoint, down 1.8% to 610p and Reckitt Benckiser, down 1% to 6,212p.