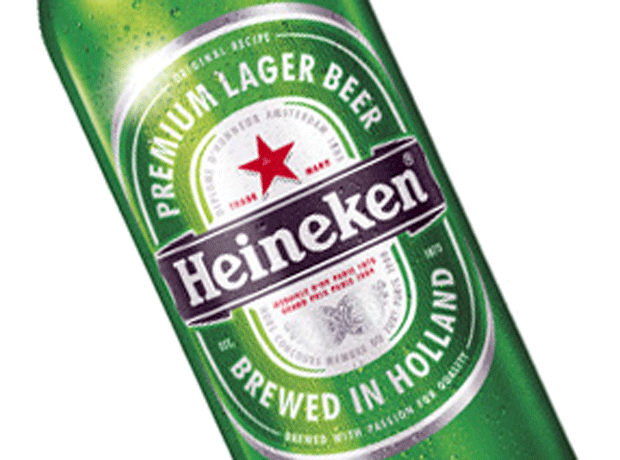 Top story
Heineken has reported a "strong" set of results for 2016 as a 3.7% jump in premium beer volumes drove revenue higher and the success of Strongbow Dark Fruit helped the Dutch brewer win share in the cider market.
It comes just days after the group revealed it had acquired the Brazilian operations of Kirin for €664m.
Organic revenues increased 4.8% to €20.8bn (£17.6bn), with a 2.6% increase in total volume and a 2.2% increase in revenue per hectolitre.
Consolidated beer volume grew 3% organically in 2016, with 4.1% growth in the first half and 2.1% growth in the second. Beer volume in the fourth quarter was up 2.2%, in line with 2% volume growth seen in the third quarter.
A strong performance in the Americas, Europe and Asia Pacific more than offset weaker trading in Africa, the Middle East and Eastern Europe where the difficult economic backdrop and currency pressure hit results.
Cider volume increased mid-single digit, with double-digit volume growth in the first half. In the UK, the brewer continued to gain market share, driven by the ongoing success of Strongbow Dark Fruit, Strongbow Cloudy Apple and Old Mout.
Outside the UK, cider delivered double-digit volume growth thanks to a positive performance in Africa, Middle East & Eastern Europe, South Africa and Russia and encouraging early signs in Asia Pacific.
The bigger top line, along with efficiencies, pushed operating profits up 9.9% to €3.5bn (£3bn) and net profits 8.5% higher to €2.1bn (£1.8bn).
However, profits growth slowed in the second half reflecting tougher comparatives and increased currency headwinds, as well as further challenging economic conditions in some developing markets.
Net profit after exceptional costs of €286m related to asset impairment in Africa, was €1.5bn, compared with €1.9bn in 2015 when Heineken was boosted by a €379m gain from the sale of Mexican packaging opertions.
CEO Jean-François van Boxmeer said: "We delivered strong results in 2016, with clear outperformance of our premium brand portfolio led by Heineken, and sustained momentum from our innovation agenda.
"Our unique diversified footprint was again a competitive advantage, enabling us to deliver more than 50 basis points margin expansion, despite more challenging economic conditions in some developing markets and significant currency pressures.
"Performance in key European markets was good and results in Vietnam and Mexico were strong. In Africa, Middle East & Eastern Europe market conditions remained tough, most notably in Nigeria, DRC and Russia."
Boxmeer added that margin expansion in 2017 was expected to grow in line with guidance, barring any unforeseen political or economic developments and the impact of acquisitions of Punch Taverns and Kirin in Brazil.
Heineken shares have leapt 4% so far to €75.90 on the solid results.
Morning update
Sales fell back 2.1% at French food group Danone as it faced in to currency headwinds of 5.5%, mainly in Argentina, Mexico and Russia, and volumes across the dairy and water divisions were weak in the fourth quarter.
Dairy volumes declined 3.9% in the final three months of 2016 – 2.6% down for the full year – as the relaunch of the Activia yoghurt brand failed to deliver a turnaround so far.
Like-for-like sales climbed 2.9% to €21.9bn (£18.6bn) in 2016, driven mainly by the baby formula business and medical nutrition division.
Margin expansion across the group helped operating profits grow 4.5% to €3bn (£2.5bn) and net income was €1.8bn, compared with €1.4bn in the previous year.
Danone this morning announced a new strategy in a bid to become more agile and reactive to fast-moving trends, as well as launching a €1bn efficiency programme.
CEO Emmanuel Faber said: "With the upcoming addition of WhiteWave, we will soon start a whole new and exciting chapter of our alimentation revolution journey.
"While we delivered a robust performance leading to a very strong recurring EPS growth in 2016, the challenges we faced, including a slower turnaround of dairy in Europe and major market volatility, are a clear case to step up in our ability to seize consumer opportunities and improve our efficiency."
He added: "Today's announced changes will drive horizontal collaboration and vertical delegation across our entire organization, making us more agile to grow, closer to consumers, and driving consistency in resource allocation. On one hand, I have decided to address our efficiency agenda in a radically new way, and to launch a comprehensive, company-wide program allowing us to spend better and more sustainably and to work more efficiently. On the other hand, fuelled by resources generated from higher efficiency, our new integrated growth and innovation process will gradually bring our brands into an entirely new level of relevance with their communities of consumers, which is the core of the alimentation revolution."
Shares in Danone dropped by €1 as markets opened but are currently trading just 0.2% down at €59.93.
Yesterday in the City
The FTSE 100 slipped back 0.1% (10 points) to 7,268.56 points as the latest measure of cost of living increased to the highest level since June 2014. The consumer prices index showed inflation in January rose to 1.8%, from 1.6% in December, to get closer to the Bank of England's target of 2%.
Blue-chip companies such as Reckitt Benckiser (RB), Compass Group (CPG), Imperial Brands (IMB), Diageo (DGE) and Unilever (ULVR) all finished in the red, falling 2% to 6,935p, 1.2% to 1,428p, 0.9% to 3,721p, 0.4% to 2,243p and 0.2% to 3,291p respectively.
Marks & Spencer (MKS), Tesco (TSCO) and Sainsbury's (SBRY) escaped the sell-off, rising 0.5% to 336.8p, 0.2% to 197.2p and 0.2% to 266.3p.
Outside London's leading shares Dairy Crest (DCG) recovered some of last week's losses, climbing 1.3% to 567p. Ocado (OCDO) also made more gains, up 0.9% to 260.5p, and Greencore (GNC) increased 0.8% to 253p.
Value meat retailer Crawshaw (CRAW) continued its nightmare run, plunging more than 10% to 15.2p. The firm has lost 33% of its value so far in 2017 and is down more than 80% in the past 12 months. Crawshaw emerged from obscurity as a micro-stock, trading at less than 4p in 2013, to hit heights of 90p-plus in 2015 as consumers deserted the supermarkets in search of cheaper food. However, as the big four have fought back in 2016, investing heavily in the meat aisle, footfall to Crawshaw stores has collapsed.