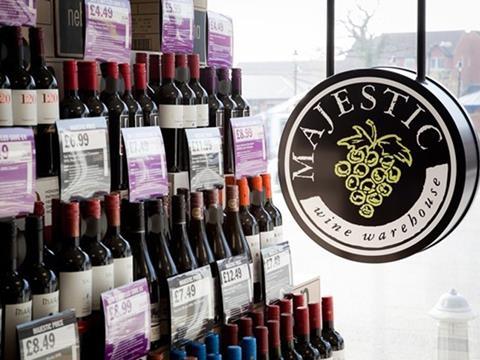 Top story
Pre-tax profits at Majestic Wine (MJW) have slumped by 22.5% in the year to 30 March as the retailer rebuilds its model following its acquisition of Naked Wines.
Revenues were up 2.3% to £284.5m during the year, with like-for-like sales up 1.9%. However, group profit before tax was down from £23.8m to £18.4m and gross profit margin fell by 30bps to 22.7%.
Online sales increased 12.4% to £31.1m, now representing 12.1% of UK retail sales. Sales to commercial accounts were also up 12.8% to £42.1m. Both of these channels are expected to expand significantly following April's Naked Wines acquisition and the subsequent strategic review of the Majestic business that has been undertaken.
New chief executive and former Naked Wines boss Rowan Gormley commented: "I have only been group chief executive for ten weeks but it is clear to me that the enlarged Majestic group has excellent future prospects. Majestic Wine has many unique competitive advantages, especially its incredible staff. When combined with Naked Wine's digital strengths, and both businesses ability to source exclusive and exciting wines for their customers, we are uniquely placed to build a fast growing international leading wine specialist."
"Whilst my review of the business is ongoing it is obvious that we need to make investments to reinvigorate Majestic Wine. These investments will initially suppress profit in the short term but I am confident we can rebuild momentum in this excellent business. At the same time we aim to maintain the international growth trajectory of Naked Wine and crystallise the benefits of having the two businesses in the same group."
The results from the ongoing strategic review to be announced at the time of interim results for the six months ended 28 September 2015.
Morning update
Majestic Wine's shares have opened 2.1% down to 430.7p, despite its slump in profitability being widely flagged by investors.
Away from Majestic it's a quiet morning for fmcg/grocery announcements with eyes firmly fixed on the evolving Greek debt crisis. Worries over a Greek default saw shares fall on Friday and open 0.4% lower this morning at 6,755.4pts.
In the Diary
It's a slow news week this week, with Poundland's (PNLD) full-year results on Thursday the primary point of interest.
Last week shares in Poundland fell to their lowest price since the discount chain floated in March 2014 on the back of a downgrade from its house broker Shore Capital.
Tuesday brings the official RPI and CPI inflation figures for June, while the ONS retail sales for the month are out on Thursday. Unemployment data is issued on Wednesday, while the minutes of the BofE's monetary policy committee's latest meeting are released on Wednesday.
Last week in the City
It was a downbeat end to the week largely on yet more worries emanating from the Greek debt talks.
The FTSE 100 closed 0.9% down at 6,784.9pts on Friday, not helped by the weak performance of major oil firms.
This meant the supermarkets lost some of their strong gains last week, with Tesco (TSCO) falling 0.9% to 213.7p and Sainsbury's (SBRY) down 0.8% to 261.8p. Morrisons (MRW) was one of the sector's larger fallers, dropping 1.8% to 178.3p.