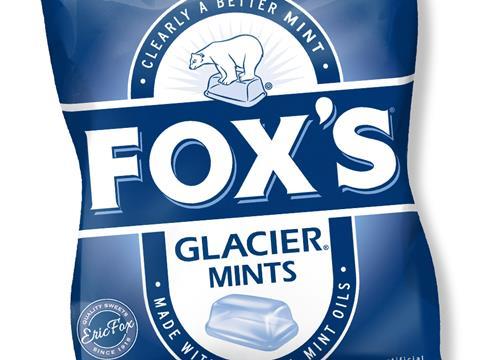 Top story
Embattled Finnish group Raisio has sold its confectionery business, which includes the Fox's Glacier Mints and Poppets brands, to Rowse Honey owner Valeo Foods in a deal worth €100m.
The operations of the confectionery division in the UK and Czech Republic will be transferred to become part of Valeo Foods Group by 29 December 2017 at the latest, Raisio said in a statement to the Helsinki Stock Exchange this morning.
The deal will be carried out as a share transaction with an enterprise value of €100m – the equity value paid by Valeo was €77m.
However, the struggling group will record a €38m loss on the sale.
It follows news uncovered by The Grocer that the Finnish group had replaced its UK MD of Big Bear Confectionery last month and was in the process of exploring a sale.
Raisio has been beset by operational and commercial issues at its Leicester plant over the course of this year leading to falling group sales and profits.
"The divestment of the confectionery business is an important strategic step for Raisio on its path towards a responsibly operating forerunner focusing on healthy foods," CEO Pekka Kuusniemi said today.
"Together with our already strong balance sheet, the proceeds from the deal allow extensive acquisitions that strategically fit our core business."
The confectionery business includes six production plants in the UK and Czech Republic, as well as the Poppets, Fox's, XXX, Just and Pedro brands. Raisio is also a significant confectionery producer for retail and industrial customers.
In the first nine months of 2017, net sales for Raisio's confectionery business totalled €71.3m, with EBIT of €6.4m. The confectionery business employs about 1,000 staff, who will be transferred to Valeo Foods, which has annual sales of about €700m.
Valeo CEO Seamus Kearney added: "This transaction is consistent with Valeo Foods' strategic focus and we are very excited about the opportunities to expand and grow these businesses through a combination of significant new capital and brand investment."
In a separate announcement this morning, Raisio revealed it would also write down €9.4m in its financial statements after updating calculation of goodwill and brand values, as well as the fair values of its balance sheet items.
Including the €38m loss recorded for the sale of the confectionery business, Raisio will take a €49m hit to its operating profits for 2017 as a result.
The group will release full-year results in February.
Morning update
In a pair of editorial columns for The Grocer, two dealmakers take a look at M&A in 2017.
Simon Peacock of Catalyst Corporate Finance examines the key trends that have underpinned M&A activity in the food and drink industry during 2017 and the outlook for 2018. Click here to read the article.
While Akeel Sachak of Rothschilds takes the pulse of mega-deals on the consumer space. Click here to read the full article.
And that's it for 2017 folks. It's been a seismic year for the grocery and fmcg industry.
Have a holly, jolly Christmas and all the best for 2018.
Yesterday in the City
British American Tobacco (BAT), Reckitt Benckiser (RB) and Diageo (DGE) all made gains as we head toward the Christmas weekend, climbing 2.3% to 5,032.5p, 2.3% to 6,733p and 1.2% to 2,689p respectively.
Morrisons (MRW), Tesco (TSCO) and Sainsbury's (SBRY) all made ground, up 1.1% to 214.6p, 0.6% to 207.5p and 0.2% to 237.1p.
Greencore (GNC) sank 3.3% to 220.4p, with Cranswick (CWK) down 0.2% to 3,268p and Greggs (GRG) also down 0.2% to 1,357p.
The FTSE 100, which shuts down for Christmas tomorrow, leapt more than 1% to 7,602.62 points to end the year with a flourish.