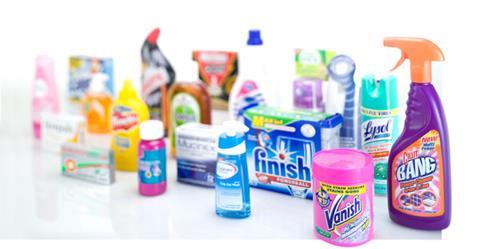 Top story
Sales and profits have soared at Reckitt Benckiser in the first half as hygiene-conscious consumers flocked to buy its disinfectant brands during the Covid-19 outbreak.
The strong performance of Dettol, Lysol, Cillit Bang and Harpic more than offset weaker demand for its Durex brand in the six months to 30 June.
RB outperformed expectations for the half as revenues grew 10.8% to £6.9bn, with a like-for-like increase of 11.9%. The group said it had benefitted from a tailwind from the coronavirus pandemic of 9-10%, with its pharmacy brands such as Lemsip, Nurofen and Strepsils also performing well.
The hygiene division recorded like-for-like growth of 16.1%, with strong double-digit growth in North America, Europe, Australia and New Zealand (ANZ) and most emerging markets.
The health arm saw like-for-like growth of 9.3% thanks to a strong second quarter for Dettol and Airborne, which offset weaker demand for Durex, with stay-at-home and social distancing measures halting solid growth for the condom brand in the first two months of the year.
E-commerce sales jumped by 60% in the half, with the channel now estimated to account for 12% of total revenues.
The strong first-half sales growth – which pushed up global volumes 11% – also resulted in fatter margins.
Adjusted operating profits were up 15% to £1.7bn, with margins of 24.5%, compared with 23.6% a year ago. (2019: 23.6%).
RB maintained an interim dividend of 73p per share – the same as a year ago – to be one of only a handful of businesses to make a pay-out to shareholders since the outbreak started.
Covid-19 related costs in the half were £69m, including investments in temporary social distancing infrastructure for the safety of staff, co-packing costs to increase short-term capacity and additional freight and warehousing costs.
RB said the crisis had created new growth opportunities, with strong demand for Dettol and Lysol set to remain in place as consumers continue to focus on health. As a result, forecasts for the full year are better than previously expected, although, growth is likely to be offset by a weaker cold and flu season affecting sales of over the counter medicine.
The group also expected to benefit as service businesses such as hotels, restaurants and airlines reopen with a greater awareness of hygiene and safety for customers. Its new professional service business has already signed agreements with Hilton, Avis, and Delta Airlines, among others.
CEO Laxman Narasimhan said: "The world has changed beyond recognition in 2020. Covid-19 is likely to be with us for the foreseeable future and, as a society, we are embedding new hygiene practices to protect our way of life. RB's purpose, to protect, heal and nurture in the relentless pursuit of a cleaner and healthier world, has never been more relevant, and the efforts of our people have never been more important. I am extremely grateful to them.
"The first six months of 2020 have been underpinned by resilience, agility and strong execution. I'm incredibly proud of the effort of our people who have worked tirelessly, while staying safe, with focus and dedication in an environment that's been changing daily.
"We have the largest portfolio of surface disinfectant brands, including Dettol, Lysol and Sagrotan. Our largest brands are trusted by our consumers, as evident in their performance. Our supply chain has withstood the challenge of unprecedented demand, demonstrating agility and flexibility, albeit with additional costs and investments."
The group's share price opened down 1.1% at 7,638p.
Morning update
Greggs has slumped to a £65.2m loss in the first half after business came to a standstill with the closure of all its shops during the coronavirus lockdown.
Like-for-like sales collapsed by 49% in company-managed shops in the period, with the three-month closure leading to total revenues dropping 44.9% to £300.6m. The pre-tax losses compared with a profit of £36.7m in the same period a year ago.
Net debt the end of the half stood at £26.2m as a result of £118m of cash pouring out the business and the issue of £150m of commercial paper through the government's Covid Corporate Financing Facility.
The closure of our shops resulted in a number of one-off costs in the half, such as £9m for unusable stock and £7.4m impairments charges for shop closures.
The bakery chain's shops have now mostly reopened following lockdown measures easing, but sales are still below normal levels.
Greggs said revenues had reached 72% of 2019 in the most recent week to 25 July, which has allowed 75% of staff to return from furlough.
The group is now trading broadly at operating cash breakeven but would not break even in profit terms until it achieved sales of around 80% of 2019 levels.
CEO Roger Whiteside said: "Following successive years of unbroken growth, Greggs made a great start to 2020, coming into the year with momentum and clear strategic plans.
"The strength of our business model enabled us to secure the liquidity needed to support our business through the current crisis and then to adapt our operation and strategic investment plans in response to the new environment.
"I want to thank the amazing team of people in our business who have risen to the challenges created by this crisis both in supporting the wider community and working together to redesign our operation to work safely under these new conditions.
"Greggs is now well prepared to deal with the challenges of social distancing and operate through the conditions we are faced with. Greggs remains a much-loved brand with long-term growth opportunities and the business is better placed to adapt to new conditions than ever before."
The business did not declare an interim dividend for the period.
Shares in Greggs fell more than 2% as markets opened this morning to 1,427.98p.
Greencore has posted a trading update covering the 13 weeks from 27 March to 26 June 2020, with group revenues 36% to £240.6m in it third quarter as food to go sales slumped.
However, Greencore said it has seen encouraging sequential improvement of demand in food to go categories through Q3 and into Q4, with sales 23% below prior year levels so far in July.
Greencore has recommenced production at its Bow, Atherstone and Heathrow facilities and has extended production at its Northampton site as demand trends improve.
Year to date, the group ' s reported revenue was £953.3m, a decrease of 10.6% on the prior year, reflecting the impact of COVID-19 on performance at the end of Q2 and during Q3.
In the Group ' s food to go categories, reported sales were down 50.6% to £123.8m in Q3.R Greencore said revenues have recovered progressively as restrictions on population movements have eased. On a pro forma basis, demand in food to go categories declined by 63% in April, by 58% in May, and by 41% in June, as the group's customers' formats and locations have met the emerging demand.
This has continued in July to date, where revenues from the Group's food to go categories were 35% below prior year levels. In the nine months to the end of Q3, reported revenue in food to go categories was £579.6m, a reduction of 16.9% on a reported basis.
Reported revenue in Greencore's other convenience food categories were up 2.2% to £116.8m in Q3.
Greencore said its quick and decisive responses to COVID-19 and its extensive range of mitigating actions delivered positive adjusted EBITDA for the quarter.
Given the ongoing level of uncertainty around the possible duration and impact of COVID-19, the group's financial guidance for FY20 remains suspended.
Meanwhile, Greencore has announced it has agreed to sell its interests in its molasses trading businesses to United Molasses Marketing (Ireland) and United Molasses Marketing.
The core activities of these businesses are importing and distributing animal feed across the island of Ireland. The Group is selling its interests for a cash consideration of approximately £15.6m, subject to customary working capital adjustments.
Drinks maker AG Barr has posted a trading update for the 26 weeks ended 25 July 2020, stating that it has maintained continuity of production and continued to deliver a high level of customer service and quality despite the coronavirus crisis.
Amid the UK-wide lockdown and favourable weather in recent months, the Irn Bru producer said revenue for the 26 weeks ended 25 July 2020 is expected to be down 8% for the half year period to £113m.
For the 3-month period April to June, revenue declined 12% against the same period in the prior year.
AG Barr said the latest IRI Marketplace data shows the total UK soft drinks market increasing in value by 1.2% and in volume by 2.4% for the 20 weeks to 14 June 2020. Against this market backdrop it has maintained our total market value share and have seen a strengthening of our position within Scotland, with value share up 3.8%.
However, its Funkin business has been materially impacted by the challenging hospitality environment, however this has been partially offset by a marked increase in retail and on-line sales, with the nitro infused ready-to-drink cocktails in particular delivering a strong performance.
Given the difficult prevailing circumstances AG Barr said the business "has responded well to the challenges we have faced and has delivered a creditable performance in the first 6 months of trading", albeit against a relatively weaker comparative trading period in the prior year.
Amid uncertainly around the speed of easing lockdown and consumer behaviour, its current scenario planning suggests that full year revenue performance for the year ending January 2021 will be in the region of 12-15% below the prior year, with a modest reduction in operating profit margin reflecting the impact of sales mix and operational de-leverage.
AG Barr also expects to confirm a number of full-year non-recurring exceptional cash and non-cash items at the interim results in September, including the previously communicated compensation associated with the termination of our sale and distribution contract with Rockstar Inc.
CEO Roger White commented: "I am incredibly proud of how our teams across the business have responded to the COVID-19 pandemic. These have been difficult times for everyone however, despite the challenging environment, we have maintained our quality and service standards, thanks to the dedication and adaptability of our people.
"We are a profitable and cash generative business in a robust drinks sector and I am confident that our business will continue to prove its resilience for the balance of the year and beyond".
B&M European Value Retail has said it expected adjusted EBITDA to be in the range of £250m to £270m in the first half to 26 September.
The figure is well ahead of the average forecasts from analysts of £208.1m, the discounter added in the trading update.
B&M previously reported on 1 July that it had made a strong start to the new financial year and, against a highly uncertain economic backdrop and continued impacts from Covid-19, was well placed to continue to grow profitably in the UK and continue to develop and prove the proposition in France.
"There remains considerable uncertainty in relation to both the progression of Covid-19 and the economic outlook and it is therefore hard to predict trading levels for the second half of the year," B&M said this morning.
"The safety of the group's colleagues and customers remains the key priority whilst working hard to continue to meet customers' needs in these difficult times. A more detailed update at the half-year results announcement is scheduled for 12 November 2020."
On the markets this morning, the FTSE 100 is back up 0.3% to 6,123.2pts.
Early risers include McColl's Retail Group, up 12.4% to 38.2p, Greencore, up 4.8% to 117p and B&M European Value Retail, up 3.6% to 458.4p.
Fallers so far this morning include Science in Sport, down 1.2% to 33.6p, Reckitt Benckiser, down 1.2% to 7,630p and Premier Foods, down 1% to 85.6p.
Yesterday in the City
The FTSE 100 started the week by falling back 0.3% to 6,104.9pts.
After the announcement of a new non-exec director, Carr's Group was up 4.6% to 130.8p, with other risers included McBride, up 3.1% to 59.8p, FeverTree, up 2.6% to 2,142p, Premier Foods, up 1.8% to 86.5p and Just Eat Takeaway.com, up 1.8% to 8,310p.
The day's fallers included McColl's Retail Group, down 8.1% to 34p, SSP Group, down 6.7% to 221.6p, Compass Group, down 3.4% to 1,082.5p and WH Smith, down 2.9% to 991p.