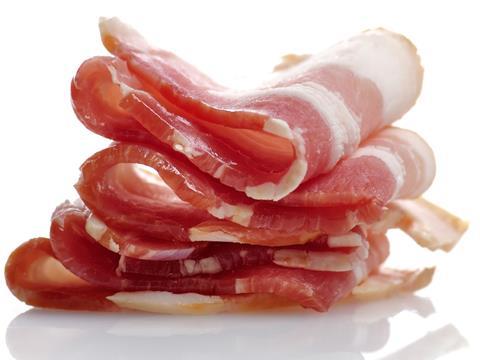 Top story
Revenues soared 16% to record levels at pork supplier Cranswick (CWK) in the first half thanks to strong volume growth across most of its product categories.
Poultry business Crown Chicken, which Cranswick acquired for £40m in April, also helped push up group sales to £580.8m in the six months to 30 September.
Underlying revenues were 8% higher than the same period a year ago, with corresponding volumes 16% ahead.
Cranswick also expanded its adjusted operating margin in the period from 6.2% to 6.6%, with adjusted pre-tax profits 24% up at £37.9m.
The pork producer increased its dividend by12.9% to 13.1p per share in response to the strong results.
Cranswick also invested a record £24m in first-half capital expenditure to support its strong growth pipeline.
Chairman Martin Davey said: "The business performed strongly during the first half of the year. Crown has made a particularly positive contribution to the business and is combining well with the group's pre-existing poultry activity and is being integrated in line with plan.
"Cranswick has made further commercial and strategic progress during the period whilst working closely with customers to maintain its focus on service, quality and innovation in delivering appealing and competitively priced products to the consumer.
"The board believes that Cranswick remains well positioned to deliver our expectations for the current financial year and also to meet the challenges that may arise as it continues its successful long-term development."
Cranswick shares have opened strongly this morning, rising 3% to 2,352p so far.
Morning update
Crawshaw (CRAW) sought to shore up market confidence in the wake of heavy falls to its share price in the past three months (see below in Yesterday in the City). A trading update issued this morning said the value meat retailer had made "good progress" in restoring sales momentum since its last update on 29 September. The like-for-like sales performance also improved from -15.8% for the first seven weeks of the second half to -8.1% for the four weeks ended 27 November driven by a 13% improvement in customer numbers across the same time period. Crawshaw added it expected the rate of improvement in LfL sales to further improve in December as returning customer's trade across its seasonal offer.
CEO Noel Collett said: "We are encouraged by the customer reaction to the changes we've made to the proposition and are confident sales will continue to improve through the important winter and festive period. Our store teams are set to give our customers a great Christmas which will provide the platform to further restore sales momentum in the New Year."
Shares have clawed back 6% of recent losses so far this morning, up to 23.9p.
Travel concession group SSP (SSPG) has boosted revenues 5% to £1.9bn, with like-for-like growth of 3% driven by increasing air passenger numbers and retailing initiatives. Underlying operating profits were up 18% as a result to £121.4m in the year to 30 September. Pre-tax profits climbed 38% to £105.6m.
CEO Kate Swannsaid: "SSP has delivered another good performance in 2016 and we continue to make progress on our strategic initiatives. Constant currency operating profit was up 18% driven by good like-for-like sales growth, further operational improvements and higher new contract openings. We continue to develop our presence across the world, particularly in North America and Asia Pacific.
"The new financial year has started in line with our expectations and whilst a degree of uncertainty always exists around passenger numbers in the short term, we continue to be well placed to benefit from the structural growth opportunities in our markets and our programme of operational improvements."
The share price took off on the back of the results, climbing 6% so far this morning to 362.1p.
Treatt (TET) increased its gross margins in the year to 30 September thanks to its strategy of moving up the value chain and focusing on value-added products. The ingredient manufacturer for the flavour, fragrance and fmcg industries said that revenue growth of 2.5% to £88m was muted by the active management of certain high priced, but low margin, traded business. Operating profits increased by 10% to £9.5m at the business.
CEO Daemmon Reeve said: "Building on our solid progress, the team has once again performed strongly to deliver on our objective of sustainable growth in profits. The new financial year has started well. We have much to do across the business to ensure we build on the work of our people over the past year and be able to take advantage of the many opportunities ahead of us."
Shares have fallen back 3.2% to 258.5p this morning.
Yesterday in the City
B&M European Value Retail (BME) closed 0.2% lower at 248.7p despite an early jump after Peel Hunt said the stock was undervalued in the wake of news that Poundland was planning to close 80 of its stores.
The FTSE 100 fell 0.6% to 6,799.47 points as European shares went off the boil ahead of the referendum at the weekend on constitutional reform in Italy.
Most grocery stock were in the red, with Ocado (OCDO) down 3% to 267.7p, Tesco (TSCO) falling 1.9% to 208.7p, Sainsbury's (SBRY) down 1.2% to 233.1p and Morrisons (MRW) 1% in the red at 217p.
Cranswick also slowed 0.5% to 2,240p ahead of this morning's interims.
Value butcher Crawshaw Group slumped 15.4% to 22p. The stock has lost 73% of its value this year (with 76% coming in the past three months) as trading became more difficult in the wake of a fierce fightback by Tesco and other supermarkets in the fresh meat category.
Greencore (GNC), British American Tobacco (BAT) and Imperial Brands (IMB) all managed to keep their heads above water, climbing 0.4% to 294.7p, 0.4% to 4,439p and 0.3% to 3,513p respectively.