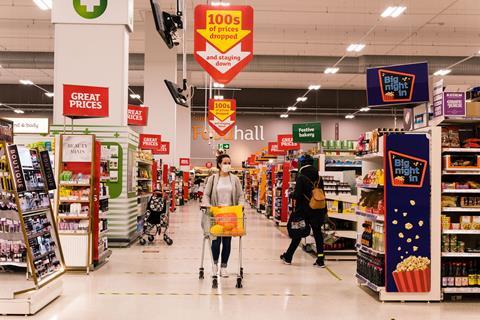 Top story
Retail sales strongly rebounded in June as shoppers returned to stores and grocery sales remained robust despite the reopening of pubs and restaurants.
According to the BRC Retail Sales Monitor, total retail sales increased by 13.1% in June on a two-year basis against a decline of 1.3% in June 2019 – above the three-month average growth of 10.4%.
Retail sales increased 17% on a Like-for-like basis from June 2019, given that online sales now play a far greater role in like-for-like sales so has increased the growth rate significantly.
Over the three months to June, in-store sales of non-food items declined 0.1% on a total basis, but increased 47% on a like-for-like basis. For June alone, the total in-store sales and the like-for-like sales (excluding temporarily closed stores) saw strong growth.
Food sales increased 7.9% on a total basis in the three month period and 9.1% on a like-for-like basis. This is higher than the 2019 Total average growth of 1.4%. Food remained in year-on-year growth in June.
Over the three-months to June, non-food retail sales were up 12.4% on a total basis and 45.2% on a like-for-like basis.
Online non-food sales increased by 31.3% in June, against a growth of 1.5% in June 2019, albeit below the three month average of 40.3%.
BRC CEO Helen Dickinson commented: "The second quarter of 2021 saw exceptional growth as the gradual unlocking of the UK economy encouraged a release of pent-up demand built up over previous lockdowns.
"In June, while growth in food sales begun to slow, non-food sales were bolstered by growing consumer confidence and the continued unleashing of consumer demand. With many people taking staycations, or cheaper UK-based holidays, many have found they have a little extra to spend at the shops, with strong growth in-store in June. Fashion and footwear did well while the sun was out in the first half of June, while the start of Euro 2020 provided a boost for TVs, snack food and beer.
"Nonetheless, UK retail is still facing strong headwinds with many retailers still making up for ground lost during the previous lockdowns. City centre retailers continue to suffer low footfall and spending as commuters and international tourist numbers remained well below pre-pandemic levels. Consumer comfort with the next stage of the roadmap will be key to the ongoing success of retail. Many customers are looking forward to a return to a more normal shopping experience, while others may be discouraged by the change in face covering rules.
"The Government will need to reassure the public on safety, while pushing forward with its hugely successful vaccination programme. The public will also need to be understanding of one another during the easing of restrictions; there has been a big rise in violence and abuse against retail workers during the pandemic and colleagues cannot be put in the firing line because of this change in policy."
IGD CEO Susan Barratt, commented on grocery performance: "The food and drink sector has continued to put in a resilient performance this month; comparisons to 2020 remain challenging thanks to the impact of last year's lockdown, but sales are still significantly elevated against 2019 levels.
"As restrictions continue to ease, IGD ShopperVista insight signals a return to more established shopping behaviour… As restrictions are lifted and with the end of the working from home directive, it is likely that we will see food-to-go missions continue to recover and grow."
Morning update
Hotel Chocolat Group has upped its full year profits expectation after posted a 21% increase in revenues in the year to 27 June despite Covid lockdowns shuttering its estate during much of the year.
The group has posted full year revenues of £165m, which is a 21% increase compared to its 2020 financial year and an increase of 24% compared to the pre-Covid period of 2019.
The group said trading remained strong since its last update in May, with all channels now open sales for the ten weeks from 19 April 2021 to 27 June 2021 grew 34% compared to the same period in 2019, and 63% compared to the same period in 2020 when all physical locations were closed.
It said UK store performance since the reopening on 12 April has been "encouraging" as strong trading in smaller cities and market towns has largely offset lower footfall in commuter and tourist locations.
Following the end of the first lockdown in July 2020, sales from stores progressively increased from July to October and the board anticipates a similar improvement in the coming months.
Having grown the UK customer database by 66% to 3 million in the 18 months since December 2019, digital and subscription sales are now a substantially larger proportion of the group's total revenue and have remained so after full store channel reopening.
In the USA, product sales increased by 62% on the prior year with over 75% of sales achieved directly through the group's US website.
In Japan, the Group's joint-venture partnership grew sales by 277% on the prior year, achieving over 50% data capture from new customers.
Having raised £22million of new equity in March 2020, the group has invested the capital in future growth, including UK digital investments, increasing the footprint of its UK chocolate factory, new lines for truffle-making and its Velvetiser home-drinks product, an enlarged chocolate facility for super-premium fine cacao products and an expanded UK distribution centre.
A total of 30% of the UK store estate has already been renegotiated to lower rents, either in the form of a lower fixed amount, or a reduced variable percent of sales. The remaining 70% of the estate has a lease event due in the next 24 months.
The group has committed to repay the full amount of furlough support received in the financial year (£3.1m).
The board now anticipates underlying pre-tax profit will be higher than its previous expectations.
It stated: "The strength of the Hotel Chocolat brand has made it possible to serve customers in a wider range of ways, which has substantially increased LTV. Combining this with the enhanced ability to recruit larger numbers of customers on an attractive return, has driven these strong results, including underlying pre-tax profits, which are expected to be higher than previous expectations."
Co-founder and CEO Angus Thirlwell commented: "I am fortunate to be able to say that the growth avenues ahead of us have never been better in Hotel Chocolat's history. The strategies we put in place two years ago are now delivering accelerated growth. Our Velvetiser in-home drinks system, our VIP and digital programmes, and our USA and Japanese joint-venture start-ups have step-changed our growth potential.
"Our goal of becoming the most tech-activated chocolate brand is moving forward in leaps and bounds and is already helping to power our major achievements and future growth. Indeed, this year we expect more than 50% of our sales to come from digital, partners, and subscription-continuity models, reflecting how Hotel Chocolat is growing and evolving. Our brand-building stores will continue to play a pivotal role in our digital-led business, with an unrivalled ability to introduce new customers to our brand."
"We are proud to be making our chocolate in the UK and will be creating over 250 new roles this year as we grow our team, from designers and data gurus to engineers and apprentices.
"The whole Hotel Chocolat family is very grateful for the support from our customers, and we are determined to drive forward our ethical programmes in the communities we work within and our cocoa growers as well as our environmental targets and initiatives."
Property giant Land Securities has announced that footfall and sales across its retail portfolio were 86% and 94% of pre pandemic levels in the 7 weeks since the reopening of indoor hospitality on 17 May.
It said it has seen a strong response to the re-opening of indoor hospitality with restaurant sales on the portfolio up 6% in the period compared with the same period in 2019.
Jewellery, accessories, childrenswear, furniture, homewares and convenience stores also demonstrated good growth compared to pre pandemic levels.
Across the business, £87m of rent was due for payment in the June 2021 quarter, comprising of £43m in Retail and £44m in Offices. As of 8 July 2021, 11 working days after the quarter end, the group had collected 85% of the total amount.
This compares to 72% of the total amount collected at the same point following the December quarter end and 76% following the March quarter end.
On the markets this morning, the FTSE 100 has opened up 0.2% to 7,142.5pts.
Risers include Total Produce, up 5% to 230p, Bakkavor, up 2.4% to 135.2p and Hotel Chocolate, up 1.7% to 380.3p.
Fallers include Hilton Food Group, down 2.9% to 1,084p, McColl's Retail Group, down 2.4% to 37p and Deliveroo, down 2% to 299.6p.
Yesterday in the City
The FTSE 100 wiped out early losses yesterday to end the day up 0.1% at 7,125.4pts.
Risers yesterday included B&M European Value Retail, up 2.2% to 557p, Glanbia, up 2% to €13.91, Deliveroo, up 1.9% to 305.8p, AG Barr, up 1.9% to 540p, Ocado up 1.6% to 1,939p and Naked Wines, up 1.1% to 820p.
Tate & Lyle had a strong start to the day after announcing it is to demerge its sweetener arm via a £1.2bn joint venture, but ended the day flat at 762.4p.
The day's fallers included C&C Group, down 3.5% to 228p, Hilton Food Group, down 3.1% to 1,116p, WH Smith, down 3.1% to 1,623.5p, Kerry Group, down 3% to €119.80, Associated British Foods, down 2.9% to 2,122p, Finsbury Food Group, down 2.7% to 91p, Total Produce, down 2.7% to 219p and Compass Group, down 2.6% to 1,486p.