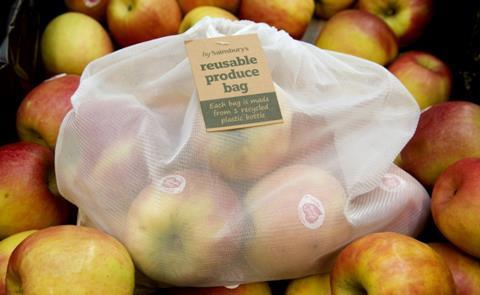 Top story
Sainsbury's (SBRY) has announced a commitment to cut its plastic packaging by 50% by 2025, becoming what it claims is the first retailer to outline plans of this scale.
The supermarket said this new target includes all branded food packaging, Sainsbury's brand food packaging and packaging across all of Sainsbury's operations.
It currently uses almost 120,000 tonnes of plastic packaging per year, having reduced plastic packaging by 1% in 2018.
To meet this new goal, Sainsbury's will launch a programme including switching to alternative materials, using lighter-weight plastics and introducing refillable packaging at scale. Analysis of its plastic footprint revealed the key areas of focus for the biggest impact are: plastic milk bottles, packaging for fruit and vegetables, fizzy drinks, water and fruit juices.
Sainsbury's said some of these alternatives will require customers to change their behaviour – for example, plastic milk bottles are currently one of largest sources of plastic packaging. Sainsbury's is reviewing alternative options including the introduction of refillable bottles, introducing returnable milk bottles or offering a reusable jug with milk in a lightweight plastic pouch.
The supermarket said it "recognises it cannot achieve this commitment on its own" and will work with food manufacturers, packaging suppliers, raw material scientists and other retailers, alongside the waste and recycling industry.
To kickstart this collaboration, Sainsbury's is co-hosting a summit with the Natural Environment Research Council (NERC), part of UK Research and Innovation (UKRI), today bringing together branded suppliers, researchers and government stakeholders to identify potential breakthrough innovation projects.
Sainsbury's has also created a dedicated area on its website for customers, colleagues, manufacturers, entrepreneurs and other interested parties to submit ideas to help reduce plastic packaging.
Sainsbury's will work with Greenpeace on this commitment and will report publicly on progress every six months.
CEO Mike Coupe commented: "We have set ourselves a bold ambition because we understand that we urgently need to reduce our impact on the planet and to help drive change across our industry.
"Reducing plastic and packaging is not easy. Packaging plays a vital role in keeping our food safe and fresh and minimising food waste. We must therefore find alternatives to plastic that protect the quality of our food while minimising our impact on the environment.
"We can't do this on our own and we will be asking our suppliers and our customers to work with us to help us make this important change."
Environment Secretary Theresa Villiers added: "I commend the leadership shown by Sainsbury's and their efforts to introduce new industry-wide standards and reporting, ensuring that our environment is protected for future generations.
"This is a brilliant example of the integral role business has to play in cutting plastic waste, empowering consumers to make more sustainable choices."
Morning update
In this week's edition of The Grocer read about fundraisings for Strong Roots and Snaffling Pig, Whole Foods UK sales slip amid store closures and Asahi UK sees UK sales uplift after marketing push.
Check out thegrocer.co.uk/finance for all the details this morning.
On the markets this morning, the FTSE 100 has opened flat at 7,344.5pts.
Risers so far today include Britvic (BVIC), up 1.9% to 916.5p, Marks & Spencer (MKS), up 1.5% to 201.1p, Morrisons (MRW), up 1.4% to 206p and Tesco (TSCO), up 1.4% to 239.1p.
Fallers so far include Compass Group (CPG), down 2.2% to 1,965p, Premier Foods (PFD), down 1.7% to 33.4p, Diageo (DGE), down 1.6% to 3,326.5 and Coca-Cola HBC (CCH), down 1.3% to 2,674p.
Yesterday in the City
Morrisons (MRW) was unable to continue its run of quarterly sales growth that stretched back to 2016, but any market concerns about sales momentum were outweighed this week by strong than expected profits, a special dividend and a deepening of its relationship with Amazon.
Despite a 1.9% drop in second quarter sales, first half pre-tax profits were up 5.3% before exceptional items leading to a Morrisons share price rise of 4.7% back up to 203.1p – its highest level since mid July.
Overall the FTSE 100 ended the day up 0.1% to 7,344.7pts
Other risers included Premier Foods (PFD), up 6.3% to 34p, Associated British Foods (ABF), up 2.7% to 2,300p, CARR's Group (CARR), up 2.2% to 137.5p, Cranswick (CWK), up 1.9% to 2,970p, Naked Wines (WINE) up 1.7% to 265.5p, Finsbury Food Group (FIF), up 1.6% to 64.5p and AG Barr (BAG) up 1.4% to 583p.
A number of retailers fell yesterday after the Brexit warnings from bosses of Co-op and the John Lewis Partnership.
Marks & Spencer (MKS) fell 2.4% to 198p, Ocado (OCDO) dropped 2.2% to 1,338.5p and B&M European Value Retail (BME) fell 1.4% to 381.7p.
Other fallers yesterday included Nichols (NICL), down 3.5% to 1,637.5p, FeverTree (FEVR), down 3.5% to 2,261p and Bakkavor (BAKK), down 3.1% to 113.4p.