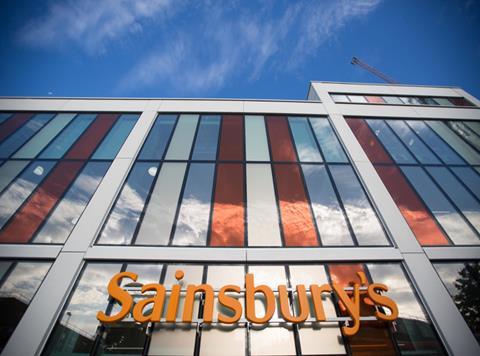 Top story
Sainsbury's (SBRY) CEO Mike Coupe has warned this morning of "very competitive" market conditions as like-for-like sales fell 0.5% at the supermarket in its fourth quarter, including a 4% slump in the general merchandise division.
A good performance at Argos in the nine weeks to 11 March bumped combined like-for-like sales up to 0.3%, but total sales (excluding fuel) at Sainsbury's were up just 0.1%. Argos boosted sales 3.8% in the quarter, with like-for-like growth of 4.3%.
CEO Mike Coupe said: "The market remains very competitive and the impact of cost price pressures remains uncertain. However, we are well placed to navigate the external environment and remain focused on delivering our strategy."
He added: "We are pleased with this performance and are making good progress against our key priorities. Customers appreciate the quality, choice and value of our differentiated food offer and our Tu clothing brand again performed ahead of the market, with sales up five per cent."
However, despite the performance of Tu, Sainsbury's blamed the impact of a later Mother's Day and Easter for a 4% fall in general merchandise sales.
Groceries online grew by 7% in the period, with orders up 8%, and the convenience business also delivered good growth, with total sales rising almost 7% as the retailer opened ten new stores.
Sainsbury's opened a further 11 Argos digital outlets in its own supermarkets, bringing the total to 41, as well as another Mini Habitat store, bringing the total to eight.
Coupe said: "Argos delivered another strong quarter of growth, with like-for-like sales up by over four per cent. We are investing in digital to deliver excellent service and availability, with enhancements to the Argos website and app. Online participation is growing, driven by mobile and Fast Track delivery and customers are responding well to new ranges.
"Sainsbury's Bank continues to deliver good growth and our competitive personal loan offers sold well."
Sainsbury's continued to simplify its trading strategy in the quarter, favouring lower regular prices ahead of promotions in a bid to lower operating costs and reduce food waste.
The supermarket added it was expanding its 'Waste less, Save more' initiative to more than 140 city boroughs, towns and villages across the UK to help customers reduce food waste in their homes.
Sainsbury's share price has fallen 1.6% to 267.2p as the markets opened on the back of its challenging fourth quarter.
Morning update
After decent gains yesterday (see below), the rest of the sector was also dragged down by the Sainsbury's results. Tesco slipped 0.2% to 189.1p, while Morrisons was down 0.3% to 238.9p. Ocado continued to make losses, falling 0.7% to 248.6p, and Marks & Spencer was also affected by the sector malaise, down 0.3% to 329.5p.
Logistics firm Wincanton has secured a five-year contract with discount retail chain Wilko. The contract includes management of all UK transport operations for Wilko, from store replenishment to yard management and backhaul, making at least 100,000 deliveries a year. Wincanton said it would work in partnership with Wilko to transform its supply chain. Additionally, Wincanton's fleet maintenance arm, Pullman Fleet Services, will run two workshops to service the Wilko fleet and maximise vehicle availability.
Wincanton CEO Adrian Colman said: "We are looking forward to developing a new and exciting partnership with the successful high street retailer Wilko. We have a long history of excellent service in the retail sector and this contract further builds upon our expertise and experience to deliver a best-in-class supply chain that meets the increasingly complex demands of consumers. I look forward to Wincanton being part of Wilko's continued success."
Yesterday in the City
Morrisons (MRW) jumped 2% to 239.6p after a note from JP Morgan Cazenove set a target price for the stock of 260p, indicating an upside of more than 11%. The grocer has fallen last week – along with the industry in general – despite strong full-year figures. The market has been jittery about the return of inflation driving shoppers back into the arms of the discounters.
It was a timely bump ahead of Sainsbury's results this morning, with the supermarket only nudging up yesterday by 0.1% 271.4p. Tesco (TSCO) also jumped 0.6% to 189.4p.
Ocado (OCDO) was the day's big faller, down 2.3% to 250.4p, despite having its 'buy' rating reaffirmed by analysts at Numis Securities.
Cranswick (CWK) was also 1.8% in the red, down to 2,397p, along with Associated British Foods (ABF), down 0.6% to 2,634p, and Diageo (DGE), down 0.6% to 2,286p.
Unilever (ULVR) dipped slightly by 0.1% to 4,040p. CEO Paul Polman called on the government, in a Times interview, to tighten up UK takeover rules.
It was a fairly quiet day besides in the grocery/fmcg world.
The FTSE finished 0.2% to 7,368.64 points, supported by higher commodity stocks but worries about Brexit continued to weigh on the index.