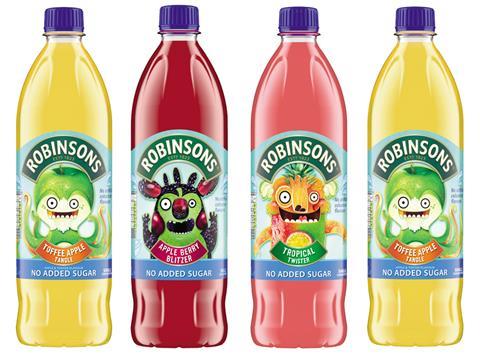 Top story
Revenues at Robinsons, J2O and Tango maker Britvic (BVIC) have fallen 2.4% on an organic basis in the first quarter to £290.1m as a result of declines in the UK, French and international markets.
After the contribution from Brazilian squash manufacturer EBBA, which Britvic acquired last year, was included, sales were up 4.8% to £311.6m.
Sales in Great Britain fell 1.2% in the 20 weeks to 20 December, with average realised price (ARP) flat on last year and volumes slightly down. The business said it reflected the continued tough trading conditions in supermarkets which affected its carbonates and stills portfolios. However, it added that overall Britvic continued to take value share, led in particular by a strong performance by Pepsi Max.
CEO Simon Litherland said: "As anticipated, our first quarter performance reflected both the prevailing challenging trading conditions and a slow start in October. However, trading over the entire Christmas period in our core markets was encouraging, with revenue ahead of last year, and in the quarter, we grew or held market value share in each of these markets [GB, France, international].
"Following the completion of the EBBA acquisition on 30 September 2015, our first quarter performance in Brazil was in line with our expectations and our integration plans are progressing well. In the United States preparation for the launch of the Fruit Shoot multi-pack into the grocery channel is on track.
"With strong marketing and innovation plans for the year ahead, and an ongoing focus on cost control, we reaffirm our EBITA guidance range of £180m to £190m for 2016."
Ireland was a bright spot in the period with revenue increasing 1% thanks to a strong performance by wholesale division Counterpoint as it continued to expand its presence in the on-premise channel.
France sales fell 5.5% as volumes rose 0.8% but prices fell 6.2%, with the majority of the revenue decline attributable to lower margin private label sales.
Brazil, in the first quarter of ownership, generated revenue of £21.5m, in the key summer trading period, in line with the business performance in the same period last year.
Britvic shares have opened 0.6% down at 674p.
Morning update
After yesterday's gains, the FTSE 100 has fallen 0.3% so far this morning to 5,891.2 points. McColl's Retails Group (MCLS) has had a good start, climbing 2.7% to 145p, along with Ocado, up 1.9% to 267.4p, and Greencore, which has made further gains of 1.2% to 366.4p. Real Good Food (RGD) has plunged 5.6% in the red to 42p, as has Finsbury Food Group (FIF), down 2.7% to 108p, and Tesco, down 1.5% to 157.9p.
Yesterday in the City
Tesco (TSCO) investors escaped further suffering yesterday with shares in the supermarkets climbing 3% to 160.4p despite being rapped for mistreating suppliers to boost profits. The investigation by Groceries Code Adjudicator Christine Tacon found Tesco illegally deducted millions of pounds in payments from suppliers so its under-pressure buyers could hit profit targets.
Sandwich maker Greencore (GNC) was another riser yesterday after strong UK convenience foods sales contributed to overall growth of 7.2% to £356m in the 13 weeks to 25 December. Its share price rose 3.4% to 364p on the back of the growth.
Fever-Tree (FEVR) made more gains following an earning upgrade on Monday to close another 3% higher at 630.5p.
Morrisons (MRW) and Diageo (DGE) were also among the risers, up 2.4% to 163.8p and 1.5% to 1,868.5p respectively.
PZ Cussons (PZC) didn't fare so well and was the worst performer of the day in grocery/fmcg with the stock slumping 9% to 249.3p – it had fallen as much as 10% during trading. The City wasn't impressed with a trading update detailing first-half troubles in emerging markets. Revenues at the Imperial Leather manufacturer in the six months ended 30 November 2015 were down 0.2% to £385.9m, representing a like for like decline of 0.3%, as a result of currency headwinds. Pre-tax profits were also down 3.7% to £42.1m, but up 2.1% on a constant currency basis.
Ocado (OCDO) was another stock in the red, falling 3.4% to 262p, after hedge funds made big bets that the shares were over-priced – shorting the stock in large numbers – and the rumoured tie-up with Amazon would fail to materialise.