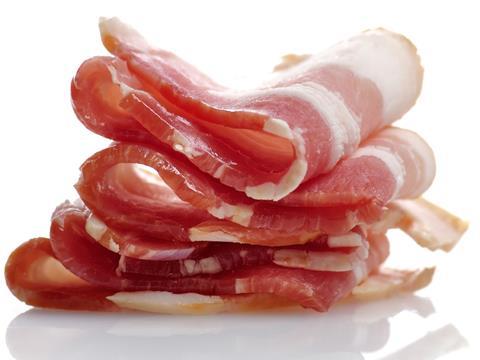 Top story

Meat supplier Cranswick (CWK) has pushed revenues past the £1bn for the first time as volumes grew 3%, with sales of sausages and bacon particularly strong. Underlying pre-tax profit at the listed group climbed 10.6% to £57.8m as turnover increased 0.8% to just more than £1bn.
Cranswick said it had made some significant acquisitions in the year ended 31 March, including the purchase of Benson Park, which positioned it in the food-to-go sector for cooked poultry products.
"Following a year of significant commercial and strategic progress for Cranswick, thebBoard looks forward to the opportunities that lie ahead," chairman Martin Davey added. "Cranswick benefits from some of the most efficient and well-invested production facilities in the UK food producer sector. This, in conjunction with our growing international export channels and strategy of diversifying our product portfolio, leaves the board confident that Cranswick is well positioned to continue its successful long term development."
The board also proposed increasing the final dividend by 6.4% to 23.4p per share.
Shares in the group opened down 1.8% to 1,559p.
Morning update
Chocolatier Thorntons is on the hunt for a new chief executive following the resignation of Jonathan Hart this morning. Hart will leave the company at the end of the current financial year on 27 June. Barry Bloomer, currently chief operating officer, will act as interim CEO while a successor is sought.
Hart implemented the drive to turn Thorntons from a retailer to a fmcg supplier, but the transition hasn't all been smooth sailing as the group issued a profit warning in the run up to Christmas and has continued to report declining sales as major grocers scale back orders.
Chairman Paul Wilkinson said: "Over the past four years Jonathan has turned around our retail business, as well as creating and delivering the vision and strategy that will serve as the platform for the continued transformation of Thorntons into an international consumer goods business. On behalf of the board, I would like to thank Jonathan for his significant contribution and wish him well for the future."
Thornton's stock, which has made a recovery of late to climb back above 90p, slipped back 2.6% on the news to 92.5p.
New Co-operative chairman Allan Leighton managed to stave off any big shocks at the group's much-anticipated AGM on Saturday. The group has now embraced a 'One Member One Vote' governance system, which gives members more of a say in the future of the society. More than a fifth (21%) of the 90,000 members who voted on motions were against the remuneration policy, with CEO Richard Pennycook's £2.5m pay package one of the main bones of contention. 17.5% also voted against Leighton's appointment. The motion which allowed for political expenditure of up to £1m was also narrowly passed, with 55% in favour.
Leighton said: "Today marks an historic moment for The Co-operative Group. For the first time in our history, ordinary Co-operative members have had a direct say on a range of motions, including who represents their interests in the boardroom. We are re-connecting with the people that matter most, and we are determined to take this further by strengthening our links with all our members, as we revitalise this iconic business.
"We are at the start of a three-year rebuild programme. We have put in place a turnaround strategy that will fix the basics and implement compelling commercial strategies in all of our businesses, to ensure we are in great shape for the long-term and that the mistakes of the recent past can never be repeated. At the heart of our rebuild will be our determination to make Co-operative membership more meaningful again and today marks the start of that exciting journey."
Marks & Spencer (MKS) was one of the FTSE 100's top risers this morning following analyst expectations that the retailer will post its first rise in profits under CEO Marc Bolland. The group is forecast to post a 4% increase in its bottom line to almost £650m on Wednesday. Shares in the group are up more than 2% so far today to 580p.