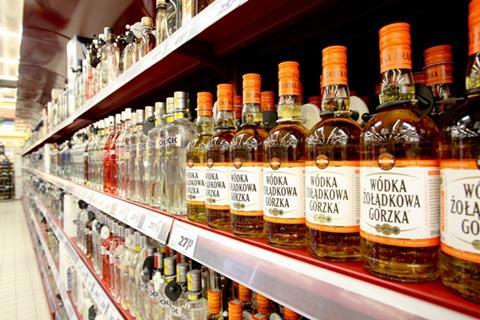 Top story
Sales and underlying profits declined at UK-headquartered Stock Spirits Group (STCK) during a turbulent year for the drinks business, but the new CEO said it was now in a "much stronger position".
The group, which mainly operates in Eastern Europe, was embroiled in a boardroom tussle in 2016 as activist shareholder Western Gate Investments agitated for sweeping changes to the management team.
It resulted in two new non-executives being added to the board and the ousting of former CEO Chris Heath, who was replaced by Miroslaw Stachowicz.
Western Gate was unhappy at the poor performance in the core Polish market and the fall in share price.
Revenue fell 0.6% to €261m (£226.3m) in 2016, despite a 4.2% boost in volumes to 12.3 million nine-litre cases. Sales were up 1.2%, however, on a constant currency basis.
Stock said in its annual results this morning that the Polish business remained challenging but had begun to stabilise.
Adjusted EBITDA slipped 4.1% to €51.5m (£44.7m), but took a hit from the costs of sacking the previous CEO and recruiting a new boss, as well as other boardroom changes and the closure of an office in Switzerland. Pre-tax profits jumped from €31.5m in 2015 to €39.2m.
Net debt also jumped from €57.2m at the end of the previous year to €59.7m after the €5m acquisition of a spirits business in the Czech Republic, completed in October – the group's first deal since the 2013 IPO.
"2016 has been a year of significant change for Stock Spirits, and we have emerged from it in a much stronger position than we were in this time last year," CEO Mirek Stachowicz said.
"Trading has remained challenging in our core Polish market, where there have been several significant changes in the competitive landscape. Against that backdrop, we are pleased to have made tangible progress across a range of strategic initiatives that are aimed at improving the long-term performance of the group.
"Furthermore, we are now starting to see signs of stabilisation in our Polish business, as reflected by the market share gains that we achieved in both value and volume terms during the second half of 2016 versus the first half.
"We have a strong portfolio of award-winning brands, an exceptional distribution network, well-invested production facilities, and an outstanding and committed team at all levels of the organisation. These factors, as well as our ongoing restructuring activities and cost control measures, leave us well positioned to achieve sustainable long-term growth and as a result we look to the future with confidence."
Stock also reviewed the possibility of closing its Buckinghamshire head office and shifting operations to Poland. However, the group decided in November that while the move would result in annual operating cost savings, the return was "not compelling", especially in the face of uncertainty stemming from Brexit.
"Furthermore, the resulting business disruption and diversion of management focus that would arise from a relocation, given the loss of expertise with the need to recruit the entire head office and a large part of the senior management team in Poland, would seriously compromise our ability to deliver our strategy, including the turnaround of the Polish business," Stachowicz added.
Shares in Stock are down 1.6% so far to 174.3p.
Morning update
The Grocer will be covering the Budget later today with a special rolling blog for platinum members. To read ongoing reporting from the last-ever spring Budget, before it moves to the autumn, click here from 12:30pm. There has been mounting pressure for Philip Hammond to ease the pressure on small retailers by reducing business tax. The industry will also be keenly watching any moves on cigarette and alcohol duty. And with plans emerging this morning that the world's biggest food manufacturers have formed a breakaway taskforce to pursue plans for a new European–wide front of pack labelling system, all eyes will be on the Chancellor for further news on the sugar levy.
Revenues and profits have leapt at John Menzies (MNZS) during a "transformational" year for the group. Chairman Dermot Smurfit said the 2016 results were "strong" and that the group was "back on track after a period of underperformance". The aviation business returned to growth during the year – and completed the largest acquisition in the group's history in February with the $202m purchase of ASIG – and the distribution division was broadly in line with previous year.
Turnover increased from £2bn in 2015 to £2.1bn and underlying pre-tax profits jumped 40% to £50m.
Smurfit added: "I am pleased to report a strong performance by the group in 2016. At Menzies Aviation, underlying profits were significantly ahead of last year at constant currency and have been strengthened through favourable foreign exchange translation. At Menzies Distribution, keeping profits broadly flat was a commendable performance in light of increasing cost pressures.
"As we look forward, our group structure review continues and I look forward to updating shareholders at the latest in our interim results announcement."
Shares in John Menzies are down 0.6% to 581.5p so far this morning.
Yesterday in the City
It was a day of mixed fortunes for the listed grocers as Kantar data showed traditional supermarkets growing at fastest past for two years, but Nielsen reported continued rapid growth at the discounters as Aldi and Lidl took more than 12% of the market for the first time. The data also revealed inflation was back with a vengeance in categories such as fish, tea and butter.
Tesco (TSCO) slumped 0.9% to 188.6p despite recording growth in the past 12 weeks, with Morrisons (MRW) – the best performing of the big four – also down 0.8% to 245.1p. Sainsbury's (SBRY) had a much better time of things, rising 1.4% to 263.9p. Online retailer Ocado (OCDO) also increased 0.5% to 261.8p.
Stevia producer PureCircle defied its negative half-year update, where it revealed the trouble with US Customs sent sales 13% backwards and pushed it into the red, to soar 7.5% to 330p. The stock had a tough time in 2016, with the US Customs news breaking in June, but had recovered 30% so far this year.
Just Eat also had a good day, up 5.1% to 544.47, after reporting a huge jump in profits as orders boomed and revenues swelled.
The FTSE 100 fell back again ahead of today's Budget, finishing down 0.2% to 7,338.99 points.