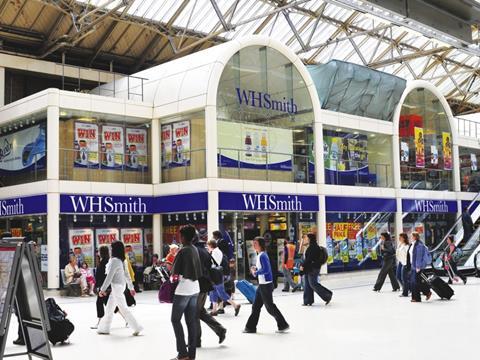 Top story
WH Smith (SMWH) has said this morning that its annual results will be in line with expectations, with the travel division of branches in airports and train stations continuing to put in a "strong performance".
The short pre-close trading update for the year ending 31 August added that the travel arm has recorded good sales across all its channels and the new store opening programme in the UK and internationally was on track.
WH Smith has now opened its first three stores in Italy – in Rome's Fiumicino and Ciampino airports, and one in Turin airport.
"We continue to see further opportunities in the international news, books and convenience travel market," the retailer said.
"Our high street business continues to perform in line with expectations," WH Smith added. "Cost savings and margin improvements have been delivered in line with our profit focused strategy."
The group, which will report its full-year figures on 12 October, did not include any figures in the update this morning.
Back in June, WH Smith reported top-line sales growth of 2% in the third quarter, with like-for-like sales flat as travel sales rose and the high street slumped.
Shares in Smiths slipped 0.2% to 1,845p on opening this morning.
Morning update
An acceleration of food prices in the ambient aisles has seen overall inflation in the industry increase by 1.3% in August, compared with 1.2% in the previous month. The inflation rate of ambient food prices accelerated to 1.9% in August from 1.6% in July. This is the highest inflation rate for ambient food since December 2013, according to the latest BRC-Nielsen shop price index.
However, a second consecutive month of inflation easing in fresh food – down to 0.8% from 1% in July – helped keep a lid on food price rises.
"Food inflation continues to be kept in check by lower increases in fresh and seasonal foods and as fresh is typically over 40% of the shopper spend in supermarkets, this is helping to offset the rising cost of living in household bills," said Mike Watkins, head of retailer and business insight at Nielsen.
"Whilst consumer sentiment is on the turn and shoppers are becoming cautious about spending on big ticket items, prices are still very competitive on the high street and spend on food and drink has been strong over the summer, albeit disrupted by the changeable weather in August."
Overall shop price deflation was 0.3% in August, a slight deceleration from the 0.4% per cent fall in July as non-food deflation fell to a four-year low.
British Retail Consortium CEO Helen Dickinson added: "Non-food deflation reached its lowest rate in more than four years in August as overall Shop Prices edged closer to inflation. The reality is that with protection from hedging policies coming to an end, non-food retailers are running out of options for protecting shoppers from the significant increases in the price of imported goods since the EU referendum in June last year. We expect non-food prices to continue trending towards year on year inflation.
"While the dynamics of individual elements of the index play out in different ways from month to month, the fact is that the overall pressures on prices are still weighted upwards. That will put an increasing strain on already stretched family budgets. Therefore, it is imperative that the government puts the UK's households at the top of its agenda as it enters into negotiations on our future trading relationship with the EU. It should do all it can to avoid a situation where further tariffs and administrative costs lead to price increases on top of those already being faced by consumers."
Marks & Spencer has opened talks with its long-established franchise partner Al-Futtaim for the potential purchase and franchising of the owned retail business in Hong Kong and Macau. A successful conclusion to these discussions would see Al-Futtaim become the new sole franchisee for M&S in Hong Kong and Macau. Al-Futtaim has worked in partnership with M&S since 1998 when it opened the first M&S store in Dubai. Today, Al-Futtaim operates 43 Marks & Spencer stores across seven markets in the Middle East, as well as in Singapore and Malaysia.
M&S and Al-Futtaim have now entered into discussions on the potential purchase and franchise, which includes commencing a period of due diligence. The talks are expected to take several months to complete.
M&S international director Paul Friston said: "In November we set out our plans to create a more sustainable, profitable and customer-centric International business for M&S by focussing on our established partnerships. Al-Futtaim is a key partner to M&S in Asia and the Middle East and we are both committed to putting the customer at the heart of everything we do. With significant scale and retail expertise in the region, we are looking forward to discussing the potential extension of our partnership to Hong Kong and Macau as we continue to grow and develop our business together."
Supermarket shares bounced back in the early going after a torrid day yesterday (see below), with Sainsbury's up 1.4% to 234p, Tesco rising 0.3% to 181.5p and Morrisons up 0.1% to 242.4p. Ocado has made further gains after announcing its tie-up with Amazon's Alexa, with shares soaring 3% this morning to 300.3p.
The FTSE was also back up today, climbing 0.5% to 7,373.40 points.
Yesterday in the City
Shares at the three listed supermarkets tumbled yesterday as markets reopened after the bank holiday. Morrisons (MRW), Sainsbury's (SBRY) and Tesco (TSCO) registered further falls following news last week that Amazon was going on the offensive by lowering prices for essential groceries in Whole Food stores. The retailers fell 3.7% to 242.1p, 2.3% to 230.7p and 1.8% to 180.9p respectively on Tuesday.
Ocado (OCDO), which revealed a tie-up with Amazon for a voice ordering app on voice command device Alexa, escaped the declines and rose 0.8% to 291.6p.
Real Good Food (RGD) clawed back heavy early losses to close down just 1.9% at 26p. The owner of Renshaw cake decoration and Haydens bakery plunged 10% in the early trading after announcing it was lowering profit forecast even further for the year to about £1m. The news came after a profits warning earlier in the month.
Other fallers yesterday included British American Tobacco (BAT) and Imperial Brands (IMB), down 1.7% to 4,752.5p and 1.5% to 3,192p, Cranswick (CWK), down 1.3% to 2,929p, and PZ Cussons (PZC), down 1.2% to 343.3p.
Greencore (GNC) continued to tumble, down another 1.3% to 197.4p.
WH Smith was one of the few risers ahead of this morning's update, up 0.5% to 1,849p, with Dairy Crest (DCG), Coca-Cola HBC (CCH) and Associated British Foods (ABF) all up 1%.