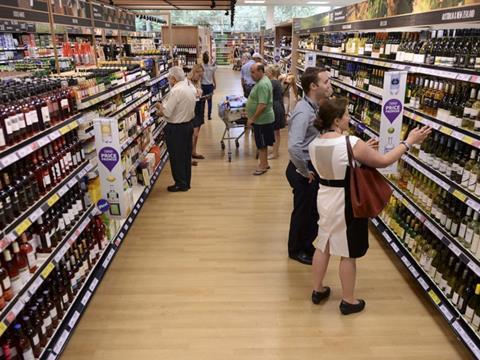 Top story
The big four UK grocers will not see a recovery in margins until at least 2016/17, according to ratings agency Moody's.
Moody's expects the big four's share of the UK grocery retail market to fall by 4% by 2020, with discounters Aldi and Lidl taking a larger slice as they continue to open new stores. Consequently the big four's margins are unlikely to recover over the next 12 to 18 months due to further price cuts and ongoing like-for-like sales declines, the UK's continued economic growth and strategies to offset structural changes in the domestic grocery market could support their gradual recovery from fiscal 2016/17.
"We expect Aldi and Lidl's combined share of the UK market to reach 12%-15% by 2020. Although the discounters' sales densities have caught up with the big four retailers, Aldi and Lidl could continue to gain around 1% market share every year supported by their store expansion plans at a time where the big four selectively close unprofitable stores in order to save costs," said Sven Reinke, senior analyst and vice president at Moody's.
Moody's added that it saw a risk of an intensifying price war "if the big four are not able to develop strategies to operate successfully with lower market shares."
"With the exception of Asda, none of the other three players have the capacity to engage in many more rounds of price cuts as they have limited financial capacity to absorb further margin declines," Moody's stated.
Morning update
Health and beauty specialist PZ Cussons (PZC) has issued a trading update for the year ended 31 May, which said performance is "in line with expectations".
In the UK washing and bathing division, all brands have "performed well" driven by the rebranding of Imperial Leather. It has suffered from instability it its key market of Nigeria, but said the political situation has calmed and the currency is stable following a 25% devaluation in the second half of the financial year.
"Whilst trading conditions in most markets remain challenging, the Group remains focussed on delivering its dynamic brand renovation and innovation programme in conjunction with an ongoing cost reduction programme," the company stated.
On the markets this morning it's been a quieter start to the day after yesterday's retail-related fireworks (see below). The good news for the supermarkets is that so far they have kept their gains from yesterday, with Sainsbury's (SBRY) creeping up another 0.7% to 262.p, Morrisons (MRW) up 0.2% to 180.2p and Tesco (TSCO) up 0.5% to 212.6p.
PZ Cussons is so far unchanged at 362.2p, having risen by 18.5% since the start of the year.
Yesterday in the City
The supermarkets were in the rare position of being the City's star performers yesterday, as strong gains following Sainsbury's first quarter trading figures helped drive the FTSE 100 1.1% higher at 6,830.3pts.
Sainsbury's was up 4.5% to 260.3p after its 2.1% like-for-like first quarter sales fall came in at the better end of analyst expectations.
Importantly, CEO Mike Coupe said the supermarket was beginning to see volume growth and a slight easing of deflationary pressures. The potential for improving sector-wide conditions helped drive up Tesco and Morrisons by 4.6% to 211.5p and by 5% to 179.9p respectively.
The optimism over retail helped Associated British Foods (ABF) rise by 5.4% to 3,070p, while Ocado (OCDO) was up 5.7% to 382.6p and Booker (BOK) rose 4.4% to 183.3p.