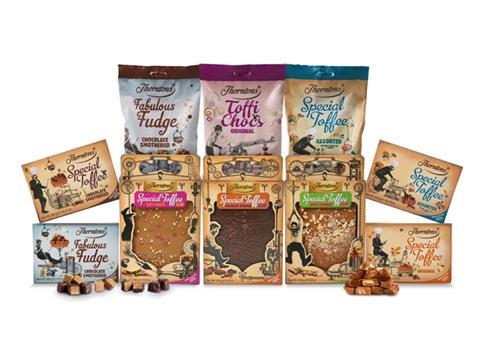 Top story
Thorntons' (THT) shift from a retail-focussed business to an fmcg supplier is not quite going according to plan.
Half year sales have collapsed in its increasingly important UK commercial sales business under pressure from the supermarket price war, while its declining retail division has seen a healthy like-for-like sales boost.
The chocolate maker's pre-tax profit for the six months to 10 January collapsed by 10% to £6.5m, driven by an 11.2% fall in fmcg sales including a 12.4% fall in UK commercial sales. The fall has been blamed on a loss of orders from two unnamed supermarkets.
This commercial weakness was flagged in a pre-Christmas profits warning which saw Thorntons lose close to 40% of its value. This morning the company announced that this weakness would continue into the second half of its financial year.
Contrastingly, its retail division saw 2.2% like-for-like growth, though total revenues fell from £69.1m to £65.5m during the period at it continues to close stores.
Chief executive Jonathan Hart admitted the results represented a "mixed performance", but pointed to the actions it has taken in controlling costs and production to deal with the problems in its UK commercial arm.
Morning update
The market didn't give Thorntons' results the warmest of welcomes this morning – with the chocolatier opening 7.4% lower at 67.6p. The shares have almost halved (44% down) since its Christmas profits warning.
Elsewhere, it's been a relatively quiet start to the week – Imperial tobacco (IMT) has been one of the sector's main early movers, rising 0.7% to 3,216p, while M&S (MKS) is 0.5% up at 506.9p
City diary
After kicking off with Thorntons today, the results calendar looks a little quieter for the rest of the week.
There are though two major annual results announcements still to come this week: Greggs (GRG) on Wednesday and John Lewis Group (including Waitrose) on Thursday.
Investors will be expecting more good news from Greggs which is riding on the crest of the positive wave from 2014 as its reinvention into more upmarket food to go and coffees have helped boost sales and profits.
Shares in Greggs are 75% since this time last year on the back of sharply increased sales. In January Greggs announced that revenue climbed by 5.5% in its 2014 financial year, with like-for-like sales up by 4.5%. Greggs expects to report better-than-forecasted results for the year following the strong finish to the year - in December Greggs said profits would be ahead of analysts' expectations of £54m forcing the City to up its estimates to around £59m.
The news may by more mixed for Waitrose, despite it also recording a strong sales boost during its 2014 financial year. For the 27 weeks to 31 January, sales were up by 5.3%. However, Waitrose's profits fell by 9.4% in the first half, despite a 4.1% rise in sales. Waitrose commitment to match Tesco on price could mean profit margins were further squeezed in the second half. Additionally, Waitrose's sales growth has slowed sharply in 2015 – over the past three weeks sales are up just 0.2%, representing a like-for-like sales decline of around 4%.
Brazilian food group, which is likely to attempt to float its Moy Park chicken business this year, will release its fourth quarter results later today.
There's little else to get too excited about this week. Elsewhere, Morrisons has a general shareholders meeting on Friday – though don't expect the fireworks of last year's feisty AGM as shareholders are only voting on a technical accounting issue. Sports nutrition specialist SSP holds its AGM on Tuesday – though perhaps don't expect shareholder Mark Cavendish there as he recovers from notching up his sixth win of 2015 on Sunday.
Economic updates are also unlikely to set the pulse racing this week. As well as the various PMI sector updates coming through the week, of most interest will be Wednesday's BRC shop price index and the Bank of England's latest interest rate decision on Thursday – though the only question is whether interest rates will be cut in response to collapsing inflation rather than any prospect of an interest rate hike.
Last week in the City
Banana importer Fyffes (FFY) was one of the big fallers on Friday despite increasing earnings by 28.1% to €40.1m in 2014, with sales up 0.8% to €1.09bn. It was the sixth consecutive year of earnings growth for the Irish group, but chairman David McCann warned that a strengthening US dollar would put pressure on the group's 2015 EBIT target. Shares in Fyffes finished the day 2.6% down to 85.3p.
After a generally positive week for the listed grocers – with Morrisons appointing a CEO and Tesco getting the backing of broker firm Bernstein – Friday proved a day too far for any more rises. Ocado's (OCDO) stock fell 3% to 368.7p; Morrisons (MRW) was down 0.3% to 195.7p; Tesco (TSCO) dropped 0.2% to 245.4p; and Sainsbury's (SBRY) fell 1.2% to 271.9p.
Thorntons (THT) price made a remarkable recovery during the day (click here for a closer look at the share's rollercoaster week), finishing 12.3% higher than opening at 71p. It was an extremely volatile week for the chocolatier ahead of today's half-year results. By the close of play on Thursday the business' shares had fallen more than 20% to 63.3p. There was no news flow to explain the decline, and the company wasn't talking as it remained in close period before its results. However, it appeared that investors thought the near two-year low of 63.3p greatly undervalued Thorntons triggering plenty of buying activity.
Another stock on the rise despite no news flow was PZ Cussons (PZC), which ended the day 7% up to 337.8p.