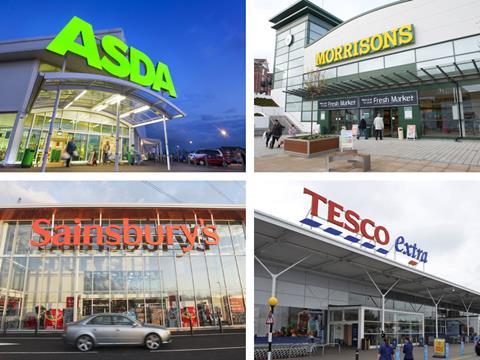 Top story
A rush on electronic bargains on Black Friday and Christmas promotions lowering supermarket prices even further pushed the grocery sector back in decline last month, according to Nielsen. The discounters also suffered, with growth at Aldi slipping into single figures for the first time in four years.
The food retailers are banking on a bumper run up to Christmas to help make up for the slowdown in November, with Nielsen predicting £4bn will be spent in the final week before Christmas Day.
After a turnaround in fortunes for Tesco and Morrisons, in particular, UK supermarkets sales fell for the first time in five months in the four weeks to 3 December. Nielsen retail performance data revealed money taken at the till was down 0.4% and volumes slipped 0.3% versus the same period a year ago – the first time this has happened since mid-July.
The value of general merchandise sales in supermarket sales also plunged 4.3% as shoppers were distracted by heavily-advertised Black Friday deals by non-food retailers.
Shoppers' baskets were also cheaper as Christmas promotions kicked in and the price war dragged on, said Mike Watkins, Nielsen UK head of retailer and business insight.
The discounters were also hit in the past month, with Aldi's annual growth down into single figures (8.5%) for the first time in four years, whilst Lidl's 2.7% was six times smaller than its growth rate this time last year.
"After a strong start to November, shoppers' seemed to have held back on food spend in the last few weeks, despite some the very attractive Christmas offers and price reductions," Watkins added. "However, we expect momentum to pick up again and the week ending Christmas Eve will be a massive opportunity for the big four supermarkets to regain market share."
Nielsen estimated shoppers will spend around £4bn at supermarkets in the week leading up to Christmas, with Thursday 22nd expected to be the biggest day of the year.
"It's not been a great year for the leading supermarkets but an extra day's shopping available, with Christmas Day falling on a Sunday, means this year should end on a bit of a high note with more visits that week, and sales up versus last year despite the ongoing price deflation," Watkins said.
Morning update
Kantar takes a more long-term view than Nielsen and highlights that over the 12 weeks to 4 December there was a strong performance by premium own label ranges in the run up to the festive period. Shoppers are spending 13% more on these lines than they did last year against a backdrop of continued slow growth for supermarkets overall, with year-on-year sales up just 0.7%.
"Top-tier private label finds its way into 12% of shopping trips, with 88% of consumers now buying from these lines," said Fraser McKevitt, head of retail and consumer insight at Kantar Worldpanel.
In the past 12 weeks, 6.3% of own label purchases were from premium lines such as Tesco Finest and Sainsbury's Taste the Difference, well ahead of the 5.7% recorded last year. Morrisons' The Best range also recorded an impressive performance, with sales soaring by 35%, and Asda Extra Special registered growth of 15%.
"Over Christmas it's likely that premium lines will record their highest ever sales figures as even more shoppers trade up to treat their loved ones," McKevitt added.
Where Nielsen points to slowing discounter growth in the past month, Kantar showed that Aldi was the only retailer to record double-digit sales growth over the past 12 weeks. Aldi's premium Specially Selected brand helped it increase sales by 10% year on year, with its share of the grocery market climbing by 0.6 percentage points to 6.2%.
The next fastest-growing retailer was Iceland, with an 8.6% sales uplift contributing to a 0.2 percentage point increase in share to 2.2%. Other retailers growing sales over the past 12 weeks included Lidl, which saw a 5.7% uplift, Co-op, which saw an increase of 2%, and Waitrose, up 1.1% year on year.
McKevitt said: "Tesco's volumes sales are growing faster than its value sales, particularly in the meat and fresh produce categories. Its value sales remain ahead of the market, increasing by 1.6% year on year as the retailer grew its market share to 28.3%. Sales at Sainsbury's fell by 0.6%, with market share down 0.2 percentage points to 16.5%, while Asda saw sales fall by 4.7% at a marginally slower rate than in recent months. Reflecting a smaller store estate, Morrisons' overall sales declined by 1.4%, but the retailer saw particularly strong performance online – recording its highest ever sales in that channel."
Kantar is yet to record any traces of inflation creeping into the supermarkets, with a typical basket of everyday groceries 0.1% cheaper than this time last year. However, some categories are beginning to see prices increase, with fresh fish up 5.3% year-on-year, chilled ready meals up 2.3% and beer up 2.1%.
"Prices are still falling overall despite shoppers now spending less on promoted items than they did this time last year," McKevitt added. "Some 36.9% of spending was on offers during the past 12 weeks, down from nearly 40% in the 12 weeks to December 2015. Promotional activity has dipped across all five of the biggest retailers, reflecting ongoing efforts to simplify shopping and offer more of an everyday low pricing model, which relies far less heavily on promotions."
Investor confidence softened some more in two of thr three listed grocers this morning (see below) as Tesco shares fell 2% on opening to 208.7p and Sainsbury's was down 0.4% to 241p. Morrisons was the only one to rise, up 0.9% so far to 227p.
After yesterday's 1.3% decline, the FTSE 100 has opening 0.1% higher at 6,896.78 points.
Former Poundland CEO Jim McCarthy has been appointed by Ultimate Products as chairman to help lead the consumer products group through a £100m IPO. Ultimate Products, which is behind brands such as Beldray, Salter and Intempo, produces consumer goods in six categories: small domestic appliances, housewares, audio, laundry, heating and cooling, and luggage. It supplies more than 300 retailers across 38 countries, with customers including B&M, Argos, Robert Dyas and all four major supermarkets. It has appointed Shore Capital to prepare for a potential IPO with a valuation of around £100m.
Revenues in the first quarter were up 49% to £33m for the three months to the end of October, with pre-tax profits up 55% year-on-year to £3.4m.
"I have known about Ultimate Products for several years, during which time it was a supplier to Poundland," McCarthy said. "Ultimate Products has a terrific track record of growth which has been achieved by building an impressive range of brands, delivering amazing value for money to customers, whenever, wherever and however they want to shop."
Yesterday in the City
C&C Group (CCR) fizzed 3% higher to €3.65 yesterday after the Magners maker signed an expanded distribution partnership with global brewing giant AB InBev UK. Under the new agreement, ABI will be responsible for the sale and trade marketing of C&C's cider portfolio England, Wales, the Channel Islands and the Isle of Man, including on and off-trade national accounts.
Elsewhere, Tesco (TSCO) and Sainsbury's (SBRY) fell 2.4% to 212.9p and 2% to 242p respectively ahead of this morning's latest Kantar and Nielsen data. Morrisons (MRW) just about kept its head above water, rising 0.04% to 225p. Online rival Ocado (OCDO) was down 2.3% to 246.3p.
Other fallers included Greggs (GRG), Compass (CPG) and Booker (BOK), down 1.9% to 923.5p, 1.7% to 1,353p and 1.6% to 169.8p.
Greencore (GNC), Dairy Crest (DCG) and Marks & Spencer (MKS) were among the risers, up 4.5% to 234p, 1.6% to 588p and 1.4% to 343.3p, with Merrill Lynch releasing a note arguing investors had become too pessimistic about the chance of M&S returning to growth.