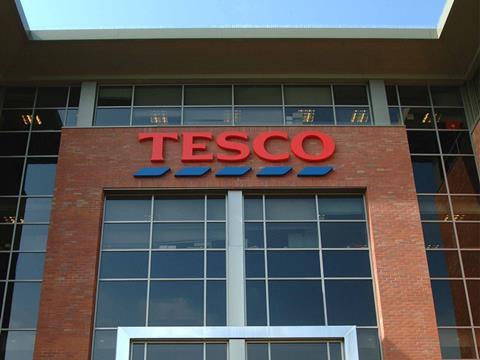 Top story
Tesco (TSCO) has agreed the sale of fourteen of its Spenhill development sites across London, the South East and Bath, to a fund and clients advised by real estate investment firm Meyer Bergman.
The transaction, worth £250m, is for sites suitable for mixed-use and residential development and Tesco said the deal will further "protect and strengthen" its balance sheet.
Tesco and Meyer Bergman have completed deals on eleven sites, with the remaining sites due to complete "in due course".


Dave Lewis, chief executive said: "Since announcing our decision to build fewer stores we have been working with Meyer Bergman to bring forward investment on our Spenhill sites. We are very pleased to have agreed a deal with Meyer Bergman that will bring forward significant investment for these local communities, including opportunities for residential development.


"We will be working with Meyer Bergman and local Councils in the coming weeks to complete a formal handover and look forward to the delivery of investment on these sites."
Morning update
It's is busy morning of trading updates this morning
Booker (BOK) has released its results for the 24 weeks to 11 September 2015. Sales were £2.2bn, a decrease of 1% with like-for-like non tobacco sales up 0.6% and tobacco sales down 3.7%. "Tobacco sales have been depressed by the ban on small stores displaying tobacco products", the group said. Half year profit before tax was £74.1m up 10% from the £67.4m recorded last year.
Chief executive Charles Wilson said: "This was a solid performance and our plan to Focus, Drive and Broaden the business remains on track. Despite the challenges in the UK grocery market we continue to improve choice, prices and service for our retail and catering customers. We are delighted that Londis and Budgens have joined Booker and we look forward to growing with our customers."
WH Smith (SMWH) has issued its preliminary results for the full-year ended 31 August 2015. Total sales were up 1% to £1.18bn from £1.16bn with group like for like sales flat. Profit from trading operations increased 6% on the prior year to £139m headline group profit before tax rose 8% to £123m.
Travel sales were up 9% from last year and LFL sales up 4% drive by improved passenger numbers. Travel trading profit increased by 10% to £80m. On the high street total sales were down 4% and down 3% on a LFL basis, but trading profit was up 2% to £59m.
Chief exec Stephen Clarke said: "Our Travel business continues to perform well with strong sales across all channels in the UK, reflecting our ongoing investment and growth in passenger numbers. Internationally, we have made good progress in growing our sales and profit.
"In the High Street business, our profit focused strategy continues to deliver sustainable growth. In our core categories of stationery and books we had a stronger second half helped by the new phenomenon of 'colour therapy' for adults.
Finally, Unilever (ULVR) has issued a third quarter trading update. Turnover increased by 9.4% to €13.4bn including a positive currency impact of 2.9%. Underlying sales growth was 5.7% with volume up 4.1% and price up 1.5%, while emerging markets underlying sales growth was 8.4% with volume up 4.8% and price up 3.5%
Chief executive Paul Polman said: "The strong delivery in the third quarter shows that our focus to build our company for the long term is paying off. Growth was however helped by some specific factors such as a soft comparator in China, strong ice cream sales and some advanced sales in Latin America.
"The scale and breadth of our portfolio brings resilience in challenging economic conditions. We continue to see soft global markets with no immediate sign of getting help from an improving global economy."
The market seems to be having a better morning, with the FTSE 100 up 0.8% to 6,318.3pts so far today.
Tesco has edged up 0.2% to 192.8p this morning after announcing its property sales. After their respective trading updates Booker is down 2.7% to 175.2, WH Smith up 3.6% to 1,597p and Unilever up 3.7% to 2,892p.
Yesterday in the City
The FTSE 100 recorded its third consecutive day of losses, falling 1.2% to 6,269.6pts as more concerns over China economic figures (this time weakening inflation) hit trading momentum – despite UK unemployment falling to its lowest level since 2008.
SABMiller (SAB) was one of the few FTSE 100 constituents to keep its head above water – rising 0.4% to 3,965p as the AB InBev £44 per share deal continue to support its share price.
Diageo (DGE) fell 1.8% to 1,810p after announcing the sale of the majority of its wine estate to Treasury Wine Estates – the $754m deal will results in a one off exceptional charge of £150m for Diageo.
The weak trading hit the supermarkets too, with Morrisons (MRW) down 1.8% to 171.9, Tesco slipping 0.8% to 192.5p and Sainsbury's (SBRY) down 0.6% to 262.2p.
Major food producers Associated British Foods (ABF), down 1.6% to 3,258, and Unilever, down 1.2% to 2,790p, were also hit. But some smaller UK-based food suppliers enjoyed better days – Hilton Food Group (HFG) was up 2.8% to 480p, while Premier Foods (PFD) improved 2.2% to 34.5p.