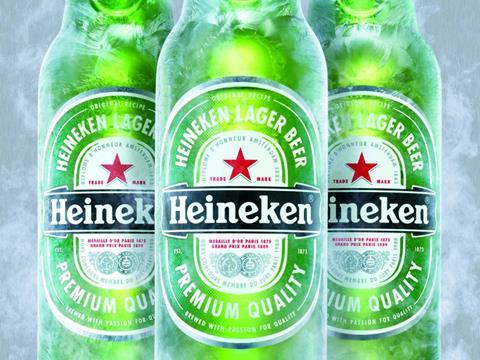 Top story
Heineken has increased first-half sales by 5.7% to €10.5bn (£9.4bn) despite the delisting of its brands by Tesco holding back volume growth.
CEO Jean-François van Boxmeer said the performance, which beat analyst expectations, in the first six months of 2017 was "strong", with all four regions contributing positively to organic growth in volume, revenue and operating profit.
Consolidated beer volume rose 2.6% for the period, with growth in all regions and a 5% jump in Heineken brand volumes during the second quarter.
However, beer volume declined in the half in the UK, mainly as a result of a number of brands being stripped from the shelves by Tesco in March.
Cider volumes were also held back by the delistings. The Dutch brewer said that it recorded double-digit growth excluding the UK where volume declined "partly due to delisting by a modern trade retailer". Volumes in cider recorded a single-digit organic rise to reach 2.3 million hectolitres. Growth was particularly strong in South Africa following the Strongbow launch at the end of 2016, as well as in Vietnam, Ireland and in the Netherlands.
Despite the problems in the UK, group operating profits leapt 11.8% to €1.8bn (£1.6bn) and net profits were up 10.5% to €1bn (£895m) in the half.
"We delivered strong results in the first half year, with all four regions contributing positively to organic growth in volume, revenue and operating profit," van Boxmeer said.
"Europe delivered a good performance, momentum remained strong in Americas and Asia Pacific, and results improved in Africa Middle East & Eastern Europe despite continued difficult market conditions.
"A well-balanced global footprint, sustained investment in our beer and cider brands, market leading innovations and a focus on premiumisation continue to differentiate our strategy and underpin our progress. During the period we also completed the acquisitions of Brasil Kirin and Lagunitas. Whilst economic conditions are likely to remain volatile, our expectations for the full year are unchanged."
Morning update
Heineken aside it is a quiet start to the week on the markets for grocery/fmcg. However, the weekend's papers have stories on a SOS cash call from struggling wholesaler Palmer & Harvery and cash concerns at upmarket northern grocer Booths. Click here to read this morning's Media Bites.
The FTSE 100 has started the week strongly, jumping 0.7% to 7,418.28 points on opening.
Cigarette giants Imperial Brands (IMB) and British American Tobacco (BAT) have both slumped this morning, down 4.1% to 3,180p and 1.8% to 4,870p respectively. Other fallers so far are Greencore (GNC), down 0.6% to 226.2p, Dairy Crest (DCG), down 0.4% to 595p, and Sainsbury's (SBRY), down 0.4% to 245.7p.
Reckitt Benckiser (RB), Compass Group (CPG), Britivic (BVIC) and Tesco (TSCO) are among the early morning risers, up 0.7% to 7,402p, 0.5% to 1,612p, 0.5% to 711.5p and 0.4% to 173.9p.
This week in the City
After a quiet start to the week, updates are steady from tomorrow. Food-to-go bakery chain Greggs will have some tough comparative to lap tomorrow as it reports its first-half results.
Wednesday brings an AG Barr trading update and interims from sausage casing manufacturer Devro in the morning in the UK and second quarter earnings updates from Mondelez and Molson Coors in the US in the afternoon.
Kraft Heinz reports its second quarter (and first half) figures on Thursday, along with an update from Campari.