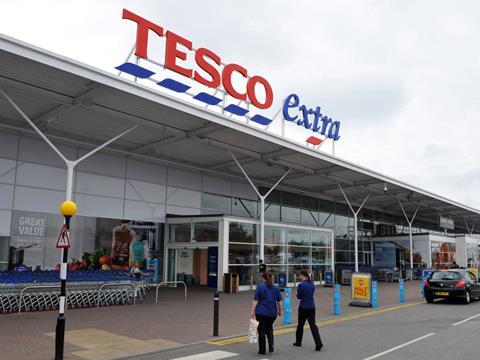 Top story
Tesco is hatching a secret plan to launch a new discount chain in an attempt to level the playing field with Aldi and Lidl, it is understood.
The supermarket is said to be developing a separate brand that would match the German discounters on price and offer a much more limited range than a normal Tesco store, according to a report in The Sunday Times.
Tesco has reportedly hired advisors from Boston Consulting Group to work on the plans. It is believed to have asked key own-label suppliers to sign non-disclosure agreements before contributing to the project.
Tesco has declined to comment on the story, but, alongside last week's announcement that Booker boss Charles Wilson would become head of Tesco in the UK and Ireland, the company said it planned to "develop new formats to better serve customers".
Industry sources speculated that the discount stores would stock about 3,000 products, compared with 30,000 in the typical Tesco Extra.
It is thought the new brand would be run separately from Tesco's One Stop convenience chain, which has about 900 shops, the paper added.
Growth at Aldi and Lidl has continued to surge since the credit crunch in 2008, with Aldi overtaking Co-op in 2017 to become the UK's fifth-largest grocer, having surpassed Waitrose in 2015.
Aldi's market share now stands at 6.9% for the 12 weeks to 28 January, with Lidl's stake at 5%, according to last week's latest figures from Kantar Worldpanel.
Bernstein analyst Bruno Monteyne said this morning that a discount banner for Tesco made economic sense.
"Since the latter days of Phillip Clarke's tenure as CEO we have consistently argued that new formats should be introduced to segment the proposition," the supermarket analyst added.
"Economically it makes no sense that an identical box of cornflakes sells for the same price in a deprived area (where rents & wages are low and the competition is hard discount) as in an upmarket area (where rent and wages are higher and where the competition is Waitrose and Marks & Spencer)."
He said the strategy was a proven one in Canada by Loblaw and would take oxygen away from the discounters.
Independent retail analyst Nick Bubb warned that other supermarkets have tried to take on the discounters at their own game before and failed.
He said the ill-fated Sainsbury/Netto joint venture should acts as a "salutary warning" to Tesco over its secret plan to roll out a grocery discount chain of its own.
"Given how big Aldi and Lidl are now in the UK, news that Tesco is hatching a discount grocery chain plan of its own seems very late in the day," Bubb added.
"The obvious comparison is with the failure of the recent Sainsbury jv with Netto, as the key issue is how to scale such a business quickly, to achieve critical mass in marketing and physical presence. It is possible that the One Stop chain could be converted into a "Victor Value" chain by Tesco, but the most likely catalyst is the impending merger with Booker and the potential to create something new out the various convenience store chains and sites that they will control."
Morning update
Heineken full-year organic revenues increased 5% to €21.9bn as momentum from the first half continued into the second and its flagship brand put in one of its best performances for years.
Heineken volume grew 4.5%, one of the brand's strongest performances in recent years, with positive volume growth across all regions apart from Asia Pacific. Volume grew by double digits in Brazil, South Africa, Russia, Mexico and Romania, with healthy gains across European markets, including Italy, Spain, France and the Netherlands.
Revenue growth was fuelled a 2.9% rise in group volumes in 2017 and a 2.1% increase in revenue per hectolitre. In the second half, sales jumped 4.3%, compared with a 5.7% rise in the first half, with volume growth of 3.5% (2.3% in H1).
Full year operating profits increased 9.3% organically to €3.8bn, a slightly lower pace than the first part of the year as commercial investments increased during the second half as planned.
"We delivered strong results in 2017, with all regions contributing to organic growth in volume, revenue and operating profit," CEO Jean-François van Boxmeer said.
"The Heineken brand performed very well and Heineken 0.0 was launched in 16 countries.
"During the year, we became the second largest beer company in Brazil with the acquisition of Brasil Kirin, we bought 1,900 pubs from Punch Taverns in the UK and acquired full ownership of Lagunitas, where we strongly believe in the expansion of the brand as an IPA of reference outside its core US market. We also made good progress with our sustainability agenda. We have already surpassed our 2020 CO2 emissions target and we have set new ambitious objectives for 2030 with our 'Drop the C' programme."
He warned that future conditions would continue to be marked by volatility and uncertainty.
"We are committed to long-term value creation and will continue to strive for superior top line growth whilst working on improving our operating profit margin. In the coming years, we expect this to be driven by Heineken as well as our portfolio of international brands, craft & variety, low & no-alcohol and cider, with a focus on premiumisation, combined with revenue and cost management initiatives.
"For 2018, excluding major unforeseen macro economic and political developments, we expect to deliver an operating profit margin expansion of around 25bps. This includes a residual dilutive effect on margins from the acquisition of Brasil Kirin, whose integration and results are very encouraging."
Nestlé announced on Friday evening that it has acquired a majority stake in Terrafertil, a company selling natural, organic, plant-based foods and healthy snacks.
The move widens Nestlé's presence in a fast-growing category in Latin America, the US and the UK.
Terrafertil, and its flagship brand Nature's Heart, is recognized for its wide portfolio of natural and mostly organic products. It is the world's largest buyer of goldenberries (Physalis), an Andean superfood high in vitamins and antioxidants.
The company was founded in 2005 in Ecuador by five entrepreneurs and is managed by three founding brothers, David, Raul and Daniel Bermeo.
It quickly expanded its presence in Mexico, Colombia, Peru, Chile, and the United Kingdom. In 2017, it entered the United States with the purchase of Essential Living Foods. The group employs 400 staff and has four factories in Ecuador, Mexico, Colombia and Chile.
Laurent Freixe, CEO of Nestlé Zone Americas, said: "We are excited to welcome Terrafertil and its employees to the Nestlé family. Its natural, organic and healthy products fully support Nestlé's purpose to enhance quality of life and contribute to a healthier future.
"This investment allows us to strengthen our presence in fast-growing categories such as plant-based foods, beverages and healthy snacks, known as 'superfoods' due to their high natural nutrient content."
The FTSE 100 has started the week on the front foot, rising 1.1% to 7,173.07 points.
Tesco is up 0.8% to 200.9p first thing, with Morrisons and Sainsbury's also rising 0.9% to 218.7p and 0.6% to 246.3p respectively.
SSP Group is up 1.2% to 610p, B&M European Value Retail (BME) is up 0.9% to 402.8p and Greggs is up 0.9% to 1,278p.
Ocado is among the early fallers, down 0.5% to 460p.
This week in the City
It's looking rather quiet this week in terms of scheduled announcements. The latest official inflation figures will be released tomorrow as the ONS puts out the consumer price index for January. And European Coke bottle Coca-Cola HBC is set to report its full-year results on Wednesday.