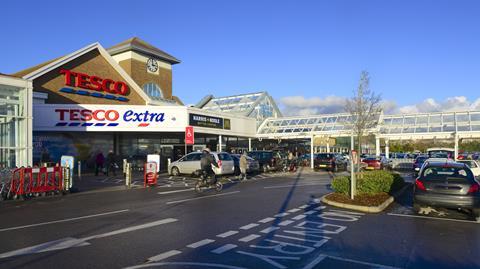 Top story
Tesco has entered into a £733m property swap with British Land as it seeks to mitigate the impact of future rent increases.
The supermarket is taking on sole ownership of a portfolio of 21 superstores that it previously owned in a 50/50 joint venture with British Land. The stores were subject to RPI-related rate increases and the deal to bring them back under full ownership is part of Tesco's effort to "strengthen its core UK business".
In return, British Land will take over Tesco's stake in three shopping centres, three retail parks and three standalone superstores. Tesco said it will "continue to lease the stores at these sites at market rents which are not subject to RPI-indexed increases".
As part of the transaction, Tesco will also receive £96m from British Land.
Dave Lewis, Tesco CEO, commented: "Last year we identified the opportunity to increase the proportion of our stores we own as freehold. This transaction with British Land allows us to increase our ownership and thereby insulate more of our businesses from indexed rent reviews. We have a long way to go but it's a transaction which takes us in the right direction. This agreement makes our business simpler and stronger."
Morning update
Sales at Waitrose were up a far healthier 7% in the week to 14 March as Mother's Day boosted trading.
The supermarket said that bath and body gifts and premium toiletries were up 54% and 56% respectively compared to last year, while sparkling wine was up 13%.
The sales boost takes Waitrose average sales increase (ex petrol) to 1.5% in the first six weeks of its financial year, representing a like-for-like sales decline of close to 3%.
Elsewhere, London-listed Russian supermarket chain Lenta issued a non-denial denial over speculation it is preparing an equity offering. "Lenta continues to consider an equity offering as a possible source of funding on an ongoing basis, but has reached no decision to do so," the group said.
There's little dramatic early share price movement so far today, but the sector's major stocks are generally trending slightly downwards this morning. Tate & Lyle has opened 1.2% down at 604.5p, but Morrisons has edged up 0.6% to 206.4p.
Yesterday in the City
The FTSE 100 reached a new all-time high yesterday, climbing to 6982.8pts after the US Federal Reserve played down expectations of forthcoming interest rate rises by cautioning on the strong dollar's impact on exports.
The index fell back slightly towards the end of the day to close 17 points up to 6962.3, still higher than the previous record of early March. The share index had leapt 1.6% on Wednesday, boosted by the budget.
It wasn't all good news for the UK's biggest stocks yesterday – British American tobacco (BATS) was one of the sector's biggest fallers after news emerged that S billionaires Michael Bloomberg and Bill Gates have created a fund to help smaller countries fend off legal challenges to their efforts regulate tobacco sales. BAT ended the day 3.4% down to 3,668pts having risen sharply on Wednesday after George Osborne declined to increase tobacco duty. Imperial Tobacco was slightly less affected, falling 1.4% to 3,154.6p.
Marks & Spencer (MKS) was boosted by the increase in sales at bullish economic forecast of Next yesterday (even if the clothing retailer had concerns about the performance of its own lines), rising 3.1% to 531.3p.
The supermarkets were up in early trading, but struggled to hold on to these initial gains. Tesco (TSCO) ended the day 0.4% to 242.8p, Morrisons (MRW) was 1% up to 205.2p and Sainsbury's (SBRY) eased back 0.2% to 270p.