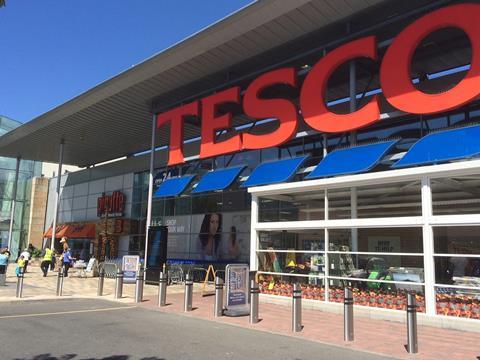 Top story
Tesco (TSCO) continued to show an improving sales trend in the first quarter as its like-for-like sales trend improved once more in what CEO David Lewis called "another step in the right direction".
UK like-for-like sales fell by 1.3% during the 13 weeks to 30 May, marking an improvement on the decline of 1.7% in the fourth quarter and beating analysts' expectations of a 1.6%-3% decline.
Total group sales for the quarter declined by 0.5% at constant rates excluding fuel (a slightly higher fall than the 0.3% recorded in the fourth quarter) and by 1% at actual rates.
Chief executive Dave Lewis commented: "We set out to serve our customers a little better every day and the improvements we are making are starting to have an effect. We are fixing the fundamentals of shopping to win back customers and relying less on short-term couponing. Customers are experiencing better service, better availability and lower, more stable prices and are buying more things, more often, at Tesco.
"These improvements have come during the restructuring of our office and store management teams, which testifies to the focus, skill and commitment of colleagues across the business. We have also seen an improved performance in our international markets, as we continue to focus on serving customers better."
"Whilst the market is still challenging and volatility is likely to remain a feature of short-term performance, these first quarter results represent another step in the right direction."
The UK sales included a drag of around 0.5% from last year's three national '£5 off £40' campaigns which were not repeated. The contribution to total sales growth from new stores fell to 1% from 1.6% last quarter due to a significant reduction in new store openings.
Tesco said it has completed initial range reviews in fifteen categories, reducing the number of lines by up to 20%.
It added that its international like-for-like sales improved again in the quarter to -0.7%, but conditions "remain challenging". Like-for-like sales in our two largest markets, Korea and Thailand, declined by just over 3% and 2% respectively.
Tesco will host its AGM later today.
Morning update
Tesco shares have leapt 3.5% higher to 225.4p in early trading this morning - their highest level since mid-May.
Its more positive than expected quarterly numbers have boosted the wider sector, with Sainsbury's up 2.2% to 280.3p and Morrisons up 1.1% to 185,2p so far this morning.
The supermarkets haven't helped the overall FTSE 100 though, which is down 0.7% to 6,757.3pts in early trading largely thanks to the failure to reach a deal over Greece's debt last night.
Waitrose said this morning that the launch of its "game-changing" Pick Your Own Offers scheme helped total sales (excluding fuel) increase by 2.3% in the week to 20 June compared to last year.
It said the scheme had been "well received" by customers, with the most popular choices from the list of nearly one thousand lines including essential Waitrose bathroom tissues, Waitrose British blacktail free range eggs, Waitrose cherry vine tomatoes and essential Waitrose British chicken breast fillets.
Waitrose sales are currently 0.7% up in the 20 weeks to 20 June, representing a like-for-like sales decline of over 3%. Last year sales were up 5.8% at this point in the year.
Yesterday in the City
The seemingly never-ending saga over Greece's debt renegotiation took the wind out of the FTSE's sails yesterday, with the index recording its first falls of the week after dropping 0.5% to 6,807.8pts.
There was little dramatic movement for the grocery sectors largest stocks, with most of the FTSE 100 food retail and fmcg shares edging down by less than 1%.
Once exception was Tesco (TSCO), which rose 0.9% to 217.7p as the market sniffed the more positive than expected sales news this morning.
Outside the FTSE 100 Greggs (GRG) was up 1.7% to 1,205p and Ocado (OCDO) gained 1.5% to 418.1p. IT was not such a good day for B&M European Value Retail (BME) which fell 1.5% to 345.7p as it published its first annual report and Cranswick (CWK) was down 1.4% to 1,585p.
Packaging firm DS Smith leapt 3.9% to 390.5p yesterday on its robust annual trading figures and acquisition in Spain.