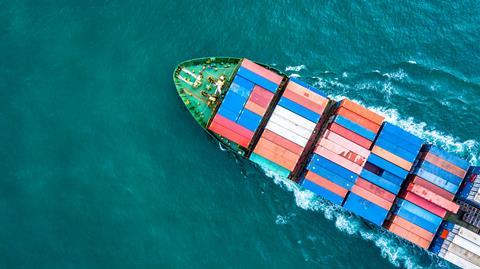 Top story
Food and drink exports have fallen for the first time since 2015 as a result of coronavirus disruption, an FDF report has shown.
Year-on-year exports fell by 13.8% to £9.7bn in the first half of 2020, driven by reduced access to foreign markets and hospitality closures.
Sales fell in all but three of the UK's top 20 foreign markets: China, Canada and Norway. Sales to the EU were particularly hard hit, the report revealed, down almost 15% compared with 13% in non-EU countries.
Dominic Goudie, head of international trade at the FDF, said the figures showed the "huge challenge" facing food exporters, with pork the only one of the UK's top 10 export products to increase foreign sales.
"We also have serious concerns about our access to existing EU trade agreements, with more than £1.7bn of UK exports at risk where continuity deals haven't been agreed," he said.
But the report also highlighted reasons for optimism, most notably the UK-Japan trade agreement announced in September. Japan is the world's largest net importer of agrifood and drink, according to the FDF, and demand for imported food and drink is growing as a result of an ageing population and an ongoing shift towards "western consumption patterns".
Check out the full story on the report today on thegrocer.co.uk/finance
Morning update
Listed logistics group Wincanton has posted a half year trading update for the six months to 30 September, detailing "resilient" performance "despite the challenging external environment".
On 9 September, the group updated the market that the Board expected results for the current year to be materially ahead of market expectations at that time; this guidance remains unchanged.
Its digital and eFulfilment business continues to benefit from increased demand for online retail, while performance and the level of new business wins across the rest of the group has been "encouraging".
During the period, Wincanton secured notable contracts including a dark store and online home delivery service for Waitrose, eFulfilment operations with Dwell, Loaf, The White Company and Wickes, additional transport services with Morrisons, a renewed contract for all Asda operations and a significant PPE storage solution to support the NHS.
The Group is expected to have a net cash position of approximately £60m at 30 September 2020.
Meanwhile, the Group has reached an agreement with the Trustee of the Wincanton Pension Scheme on the 2020 triennial valuation and recovery plan.
It will make annual deficit contributions of £18.2m a year from April 2021 to March 2024 and £21.3m a year from April 2024 to March 2027, both increasing in line with the retail prices index.
These annual cash contributions are around £6m a year lower than proposed for the period from April 2021 to March 2027 under the 2017 valuation due to positive investment returns and longevity experience since the 2017 valuation was agreed.
The actuarial deficit at 31 March 2020 was £154m, down from £221m on 31 March 2017, with the deficit impacted by market volatility in relation to the Covid-19 uncertainty. The estimated actuarial deficit at 30 June 2020 had previously reduced to £105m
CEO James Wroath commented: "I continue to be extremely proud of how our people are responding to the demands placed on them by the coronavirus pandemic. When we outlined our strategy earlier this year, we stated our commitment to focus our business on opportunities in growth markets. The new contracts we have secured are clear evidence that this strategy is being implemented and is working.
"The agreement reached with the Trustees of our pension scheme provides greater certainty and lower risk for both the Group and the Scheme and we welcome the reduction in the deficit and the revision to cash payments for the remainder of the recovery period."
On the markets this morning, the FTSE 100 has dropped 0.7% to 5,836pts as global markets fell in reaction to US President Donald Trump's positive coronavirus test.
Risers so far include Bakkavor, up 4.2% to 68p, McColl's Retail Group, up 3.3% to 24p and Hilton Food Group, up 2.3% to 1,228p.
Fallers include SSP Group, down 3.5% to 181.3p, Marston's, down 2.5% to 41.7p and Ocado, down 2.4% to 2,652p.
Yesterday in the City
The FTSE 100 edged up 0.2% back to 5,879.4pts to continue its recovery from falls earlier in the week.
PayPoint bounced back 7.7% to 543p after a double-digit fall on Wednesday related to an Ofgem objection to its exclusivity agreements for electricity and gas payments at retailers.
Other risers included Premier Foods, which jumped 7.7% to another multi-year high of 99.6p, SSP Group, up 4.1% to 187.9p, Greggs, up 4% to 1,222p after Tuesday's falls, DS Smith, up 3.5% to 305p and Coca-Cola HBC, up 2.9% to 1,966.5p.
Fallers included Pets at Home, down 6.5% to 395.2p, Britvic, down 6.2% to 770p, AG Barr, down 3.3% to 471p and Naked Wines, down 3.2% to 426p.