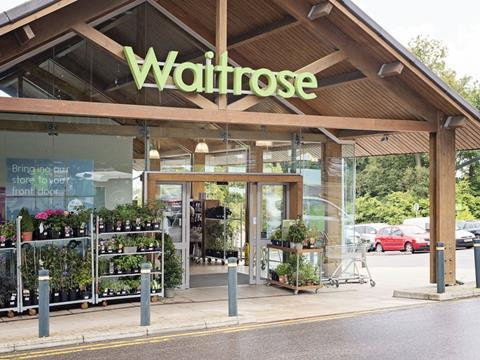 Top story
Waitrose is continuing to find trading tough in 2015, with headline sales (excluding petrol) rising by just 0.3% in the week to 28 February. This brings its overall sales increase in the first four weeks of its new financial year – it announces its annual results for 2013/14 next Thursday – also to 0.3%.
Factoring out the impact of new stores, this flatlining growth translates to a drop of close to 4% in like-for-like terms.
In its equivalent week four last year (to 22 February) it grew by 5.3%, with growth of 6.9% over the first four weeks of its financial year.
Waitrose pointed to food price deflation as the chief culprit in its falling like-for-like sales, with finance director Tom Athron today arguing: "Volumes and customer numbers are up but year-on-year sales growth continues to be held back by both food price deflation and tough comparatives due to major promotional activity this time last year.
"The impact of falling prices is starkly illustrated by the examples of store cupboard essentials such as onions - 80p a bag now compared to £1.25 last year, and butter - 95p a pack versus £1.32 a year ago.
"This means that, despite our positive volumes, falling food prices are having a drag effect on our sales growth."
Waitorse is expected to post a significant fall in annual profits next week – with its second half profit drop topping the 10% decline seen during the first half of its financial year.
Look out for an in-depth analysis of Waitrose's current trading on thegrocer.co.uk later today.
Morning update
Away from Waitrose, it's a typically quiet Friday on the markets so far today.
The only announcements of note have come from Russian supermarket Lenta, which has agreed a new credit facility with OJSC VTB Bank. The three year agreement will see the issuance of loans worth R15bn (£160m).
In early trading Coca Cola HBC (CCH) was 1.7% down to 1,161p – earlier in the week it announced it is to close a bottling plant in Russia as the political and economic problems in Eastern Europe continue to blight its trading.
Yesterday in the City
The FTSE 100 set another record high yesterday - rising 0.6% to reach 6,961.1pts and move within striking distance of the symbolic 7,000 mark. The index was driven up by strong results from UK insurer Aviva, but most of the sector's FTSE 100 constituents also joined in the positive sentiment.
British American Tobacco (BAT) was one of the day's top risers, climbing 2% to 3,888.9p, while retailers Sainsbury's and Morrisons also had strong days rising by 1.7% to 276.5p and 1.4% to 205.6p respectively.
Elsewhere, drinks maker Nicholls (NICL) was up 1.7% to 1,096.2 as investors reacted positively to its full year sales update yesterday. Nicholls saw profits rise by 14% while group revenues climbed by 4%
The rise and rise of Greggs (GRG) continues, with the bakery chain up another 4% yesterday to over £10 a share (1,001p) after its strong financial results on Wednesday. Greggs is up almost 18% just this week. McColl's (MCLS) also had a good day, rising 2.5% to 167p, but remains someway down on the 180p it was trading at on Monday morning.
In France Carrefour was 2.4% up to €30.36 after the hypermarket chain posted higher profits yesterday as consumer confidence in the eurozone picked up.
Other notable movers included Hilton Foods (HFG) (down 4.5% to 405.5p) and Fyffes (FFY) (down 2.6% to 85.25p).
Meanwhile, to no-one's great surprise the Bank of England's Monetary Policy Committee voted to maintain the UK's base interest rate at 0.5% again – making it six years since the base rate has shifted from that level.