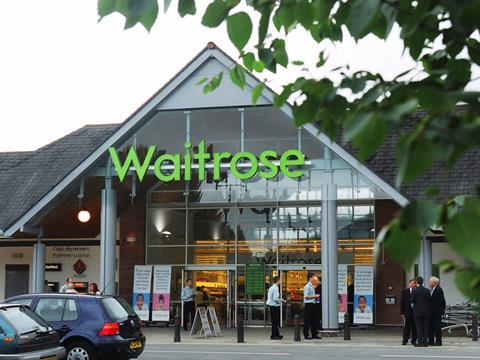 Top story
Waitrose's weekly sales (excluding petrol) were back up 2.1% in the week to 26 September after slipping 0.1% in the previous week.
The 2.1% sales rise to £123.9m takes Waitrose sales for the first eight weeks of its second half up 1.3%. Including petrol, weekly sales were up 1.9%.
Waitrose attributed the rise to The Great British Bake Off and Rugby World Cup.
Home baking sales were on the rise; own-label frozen puff pastry were up 23%, dried fruit was up 37% and sales of colours and essences were up 25%.
As for the rugby, frozen party food sales increased by 60% and frozen pizza sales were up 17%. Sales of its bottled ale selection were up 25% up on last year, while canned ales and stouts were up 2 8%.
Waitrose sales were down 0.1% in the previous week, which followed a weekly sales decline of 0.9%.
Morning update
It's all quiet on the company announcement this morning – with still no news from SABMiller on the official bid from AB InBev, which had been expected this week.
The FTSE 100 is gaining this morning ahead of the US jobs announcement later today. The index is 1.2% up to 6,144.4pts so far today.
Grocery stocks on the up include Marks and Spencer (MKS), up 1.5% to 1,287p, British American Tobacco (BAT), up 1.5% to 3,642p and Diageo (DGE), up 1.4% to 1,791p. In fact, one of the only major FTSE fmcg stocks currently down is SABMiller (SAB) - currently down 0.2% to 3,692p as the market awaits any update on the AB InBev bid.
Yesterday in the City
The FTSE 100 edged up just 0.2% to 6072.4pts yesterday as weak US manufacturing figures pulled back morning gains.
Consumer stocks eased back after Wednesday's huge gains, with the supermarkets amongst the FTSE's biggest fallers.
Morrisons (MRW) fell 2.7% to 161.6p, Tesco (TSCO) was down 2.7% to 178.3p and Sainsbury's (SBRY) – a double-digit riser on Wednesday – was 1.9% down to 256p
Other consumer stocks seeing profit taking included the tobacco firms – with Imperial Tobacco (IMT) down 1.7% to 3,356p and British American Tobacco (BAT) down 1.5% to 3,488.5p. Coca-Cola HBC (CCH) also fell 1.3% to 1,379p.
One of the grocery sector's success stories of the day was Cranswick (CWK), which rose 5.8% to 1,689p after telling the market yesterday that first half revenues were running above expectations and increased by 10%.