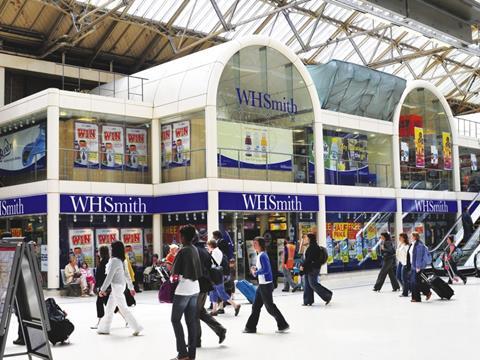 Top story

No great surprises at WH Smith (SMWH) this morning as the group reveals sales fell back again but profits marched forward as it continues to grow its travel business and squeeze savings out of its remaining high street estate.
Group total sales slipped to £611m in the six months to 28 February, compared with £613m a year earlier, with like-for-like sales down 2%. However, pre-tax profits jumped 4% to £72m in the period, with travel making a trading profit of £32m, up £2m from a year ago, and the high street generating £50m, up £1m on the same period of 2013-14.
CEO Stephen Clarke said: "The group has delivered another strong performance. We are seeing improving trends across all formats in travel, and in high street our profit-focused strategy continued to deliver over the key Christmas trading period.
"Of course, none of this would be possible without the hard work of our entire team across the business.
"Looking ahead, we will continue to focus on profitable growth and cash generation while investing in new opportunities in both travel and high street that position us well for the future."
WH Smith added that its travel arm delivered "another strong performance", with like-for-like sales improving across all channels and total sales up 7% compared to last year. In contrast, the high street saw like-for-like declines of 4%, with total sales down 5%, but it saved costs of £6m in the half and is projecting another £5m in the next six months. The retailer now trades from 621 stores on the high street after opening 1 new store and 20 cardmarket stores. Four shops were closed in the period.
In addition to the £50m share buyback WH Smith announced in October 2014, it this morning revealed it was increasing the interim dividend by 12% to 12.1p.
Morning update
It's a busy morning for the sector, with plenty to get through as Diageo (DGE), SABMiller (SAB) and Unilever (ULVR) all update the City on recent trading.
First up Guinness and Smirnoff owner Diageo, which is having a tough time of it at the moment thanks to currency exchange impacts and difficulties in its important emerging markets. This morning it said that, in the nine months ended 31 March, net sales declined 0.3% on an organic basis and were down 0.7% in the quarter, with volume down 1.7% in the nine-month period and 0.8% in the quarter. Net sales did registered growth of 4.6% so far during the financial year but acquisitions, principally United Spirits, which contributed £700m were partially offset by an adverse impact of currency movements of £298m and a reduction of £28m due to disposals.
CEO Ivan Menezes said: "Our performance in the quarter reflects continued tough conditions in the emerging markets and subdued consumer demand in some developed markets. However, it also reflects the actions we have taken to ensure we are building a stronger business. Of key importance is that depletions continue to outpace shipments as we embed our sell-out culture. In addition, our decision to destock some wholesale channels in South East Asia and West LAC will improve our ability to track consumer and customer trends and reduce future volatility.
"Our route to consumer focus, momentum in reserve and successful innovations have each contributed to building a stronger business although lower inflation and weak economies will lead to subdued net sales growth in the current year despite these improvements."
The drinks giant also announced some changes to its executive committee with Andy Fennell, currently president of Diageo Africa, leaving the business after 18 years and John O'Keeffe, currently managing director of Guinness in Nigeria, taking over the role. Soren Lauridsen will step into O'Keeffe's shoes.
SABMiller is another drinks giant which has suffered from trading in so many currencies. In its fourth quarter, group net producer revenue (NPR) grew by 6%, with total beverage volume growth of 4%. Lager volumes increased by 2% in the period, reflecting a strong performance led by South Africa and a recovery in volume growth in China. There was also a continuing growth in soft drinks across the group, with volumes up 8% for the year and the fourth quarter, driven by Africa and Latin America. CEO Alan Clark said: "Our topline performance was strong in the final quarter, driven by double-digit revenue growth in Africa and sustained growth in Latin America. Asia Pacific also returned to growth during the last three months of the year as lager volumes in China returned to growth. In the final quarter our revenues grew by 6%, repeating the strength of the first quarter, while full year revenue growth of 4% was driven by revenue per hectolitre growth in all regions."
However, all figures were on a constant currency basis, with no detail of how the group has been affected by the depreciation of key currencies against the US dollar. SABMiller did add that, particularly during the second half of the year, it had been "adversely impacted" by fluctuations.
Consumer goods group Unilever has surprised the market with better than predicted results in its first quarter thanks to currency tailwinds and underlying growth. Turnover increased 12.3% to €12.8bn, including a positive currency impact of 10.6%, with underlying sales growth at 2.8% – and emerging markets up 5.4%. "We have had a good start to the year, helped by favourable currency movements but also an improvement in underlying sales," CEO Paul Polman said. "This is despite a continued challenging trading environment in many parts of the world. The actions we have been taking to put us on track for higher levels of growth are starting to pay off. We have further strengthened the innovation pipeline, and are increasing investment behind the core of our brands, as well as extending into premium segments and new markets. We continuously strengthen our go-to-market capabilities and sharpen our execution.
In the City
So far this morning on the back of the result announcements, WH Smith shares are up 0.4% to 1,407p, Diageo fell back 2.5% to 1,917p, SABMiller climbed 1.9% to 3,654p and Unilever soared 4% to 3,052p.
Yesterday, the FTSE 100 continued its record-breaking march in the face of UK election worries, finishing the day 0.3% up to 7,096.8 points. In the word of grocery, Tesco (TSCO), Morrisons (MRW) and Sainsbury's (SBRY) all recorded positive figures, with shares up 1.1% to 246.9p, 2.3% to 203.6p and 3.5% to 284.7p respectively.
Elsewhere, Greggs (GRG) continued to enjoy its elevated status, with its stock rising 3.2% to 1,083p. But the start performer of the day was, yet again, Majestic Wine (MJW) which has enjoyed something of a share price resurgence since its £70m acquisition of online rival Naked Wines. It finished yesterday another 6.9% up to take its stock to 384.7p. It has climbed more than £1 since Friday (or a 20% rise) and is almost back at the levels it enjoyed in December before a poor Christmas saw its value plunge. Majestic's market cap has jumped by more than £66m over the past week to £252m.