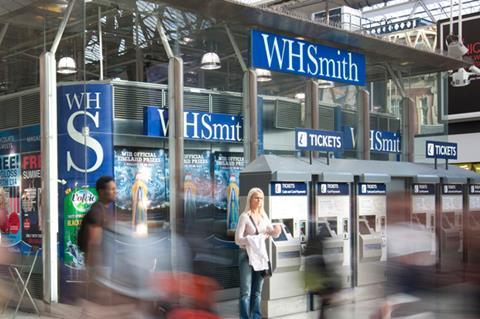 Top Story
WH Smith (SMWH) announced it secured new lending facilities of £120m to strengthen its balance sheet during the coronavirus crisis.
The new financing arrangements are conditional on raising new equity and, the company said it is therefore preparing for a share issue of maximum 13.7% of its capital.
The high street retailer was forced to make these comments in response to recent media speculation, as the Daily Mail reported it was likely to undertake an equity issue after having closed its lucrative travel business.
"WH Smith, along with many businesses, has seen a substantial downturn in economic activity resulting from the Covid-19 pandemic," the retailer said.
"The duration of the Covid-19 related crisis is uncertain and, as a result, the group has secured new lending facilities of £120m, which will strengthen its balance sheet, working capital and liquidity position.
"These financing arrangements, coupled with a broad range of mitigating actions to manage the cost base and cash-flow, will provide sufficient liquidity to deal with this most challenging of trading environments."
WH Smith shares opened up 9.4% at 1105p.
Morning update
UK consumer confidence has collapsed in the past few weeks, according to an interim GfK report.
Data gathered between 16 and 27 March by GfK for a flash coronavirus report shows its long-running index has "decreased drastically" by 25 points between the first two and last two weeks of March, falling to –34.
All measures that make up the index score, including views on personal finances and the general economic situation, have decreased.
Joe Staton, GfK's client strategy director, said: "Our COVID-19 'flash report' shows a dramatic result with consumer confidence falling off the cliff in the last two weeks of March. The last time we saw such a decline was during the 2008 economic downturn. Our falling confidence in our personal financial situation and the wider economy reflects the new concern for many across the UK.
"Despite record grocery sales, and recent peaks for purchases of freezers, TVs and home office equipment as people prepared for a long period in the home, the Major Purchase Index is down 50 points - a stark picture for some parts of the retail industry in the short to medium term."
Wagamama owner Restaurant Group (RTN) has secured new lending arrangements to improve liquidity during "unprecedented times" for the business and hospitality sector.
The company said its lenders have agreed that there will be no covenant test at the half year, while Santander increased their super senior revolving credit facility to Wagamama from £20m to £35m.
Meanwhile, CEO Andy Hornby volunteered to take a 40% pay cut for a period of three months, with CFO Kirk Davis seeing a 20% reduction for the same period. Both have also volunteered to forego their bonuses for the 2019, equating to £98,000 for the CEO and £109,000 for the CFO.
In light of the "very significant" number of colleagues that have been furloughed by the business all non-executive directors have also proposed to reduce their fees by 40% for an initial three-month period.
Furthermore, the board downsized from six non-executives to five, with Mike Tye offering to step down to concentrate on his other business and charity interests.
CEO Hornby said: "These are unprecedented times for our business and our sector. Against this backdrop we have taken decisive action to improve our liquidity, reduce our cost base and downsize our operations. I would like to wholeheartedly thank all of my TRG colleagues for their extraordinary understanding and commitment during this period."
The Restaurant Group shares opened up 15.7% at 41.28p.
The FTSE 100 started the week in the green, up 3.2% at 5,589.50pts.
Early risers saw Marks & Spencer (MKS) open up 4.4% at 98.12p, SSP Group (SSPG) up 4.6% at 276.20p and Diageo (DGE) up 3.6% at 2,545.50p.
Tesco (TSCO) was 2.9% higher at 230.40p, Sainsbury's (SBRY) up 2.2% at 218.10p and Morrisons (MRW) up 1.3% at 188.15p.
There were no noticeable fallers among fmcg businesses.
This week in the City
With the exclusion of Tesco's annual results, scheduled to be release on Wednesday, this week appears to be another quiet one on the calendar.
However, expect several unscheduled announcements and updates related to the ongoing coronavirus outbreak and its effect on trading, current sales and outlook.