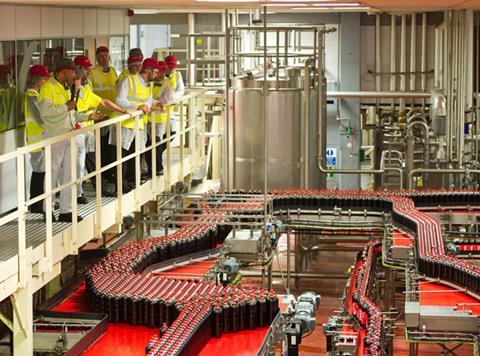 Full year revenues at Coca-Cola Enterprises (CCE) plunged 15% last year as currency movements impacted sales already hit by declining Coca-Cola volumes.
Net sales for the year totalled US$7bn – a decline of 15% on a reported basis and down 1.5% on a currency neutral basis.
Full-year operating income was down 15% to $866m after a 18% negative currency impact. Comparable operating income was down 13.5% to $949m, or up 1.5% on a comparable and currency-neutral basis.
For the full year, total volume declined 0.5% percent, led by a 2% decline in its Coca-Cola trademark brands.
Overall sparkling drinks declined 1.5% in the year, though Coca-Cola Zero contributed growth of 5% during the period.
Sparkling flavour volumes increased by 0.5%, with growth of 10.5% in its energy drink portfolio. Still beverages grew 4%, with juices up 2% and Capri-Sun up 10% largely through expansion to Sweden. Water grew 12%, led by Chaudfontaine and the continued expansion of smartwater in Great Britain.
Total volume in Great Britain declined 0.5% percent, while volume in continental Europe declined 1% for the full year.
John Brock, chairman and CEO said: "In 2015, we managed each element of our business to deliver slightly positive operating income growth, earnings per share growth of 8.5%, and solid free cash flow, all in line with our guidance from a year ago. However, we continued to encounter a softer than expected consumer sector, impacting our business and top-line growth."
CCE expects full-year 2016 comparable and currency-neutral net sales to be up slightly, but the first quarter is likely to be down because of one fewer selling day.
"While we expect soft consumer and category trends to persist in 2016, we continue to see long-term growth opportunities. Importantly, we believe the creation of Coca-Cola European Partners will enable us to leverage the best practices of three leading bottlers as we work even more closely with The Coca-Cola Company to better align our businesses, adapt to current conditions, and improve our growth outlook," Brock added.
The merger of Coca-Cola Enterprises, Coca-Cola Iberian Partners and Coca-Cola Erfrischungsgetränke into a new company called Coca-Cola European Partners was agreed in the third quarter.
Pending collective approval by Coca-Cola Enterprises' shareholders and regulatory agencies, the transaction is expected to close by the end of the second quarter of 2016.